Jump to Winery List
Tuerong Wine District
The Tuerong Wine District includes wineries in the Mornington Peninsula Region near Mount Martha, Moorooduc and Tuerong, located south-west of Melbourne. The locality of Tuerong is a rural community close to Western Port, situated inland between the coastal suburbs of Mount Martha and Hastings. The rural district of Moorooduc lies in the agricultural heartland of the Mornington Peninsula's northern plains. The area has a large number of thoroughbred horse studs, as well as a range of alternative farming ventures. The region's drier, more open landscape provides a distinct micro climate for the local wines, especially of the red grape varieties.

The Mornington Penisula Wine Region includes thirteen districts : Boneo ; Arthurs Seat ; Dromana ; Red Hill ; Shoreham ; Merricks ; Foxeys ; Balnarring ; Tuerong ; Main Ridge ; Moorooduc ; Mt Eliza ; Stanleys.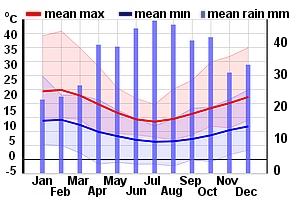 Winery Tour Map
Wineries
Barak Estate, VIC Barak Road, Moorooduc Vic 3933
Barak is a small family operated Vineyard and Winery which specialises in quality boutique wines. Production is limited to maintain quality with Chardonnay, Cabernet Sauvignon and Shiraz planted. Quality of the wines, and smallness of the operation ensure that the wines do not sit on the shelf for a long time....
Barmah Park, VIC 945 Moorooduc Highway, Moorooduc, Victoria 3933
Barmah Park Restaurant and Cellar Door has beautiful vineyard views, a kids' play area and a large cellar door. There is ample parking and being only 7 minutes from Mornington we are in the perfect location! Serving modern Australian cuisine in a beautifully presented, colourful and flavoursome way and in a space that can cater for a romantic dinner, a family breakfast or a friendly lunch you are sure to find what you are looking for here. RESTAURANT Barmah Park Restaurant and Cellar Door is beautifully set in a boutique vineyard and has a focus on delivering an unforgettable dining experience. We are open 5 days a week offering breakfast and lunch daily. We are also open for dinner on Friday and Saturday nights.
Barrymore Estate, VIC 76 Tuerong Road, Tuerong (Moorooduc) VIC 3933
Barrymore Estate, a quiet refuge nestled in the beautiful Tuerong valley at Moorooduc, 70km south of Melbourne, Australia. Producing cool climate wines handcrafted according to traditional methods from estate grown grapes specialising in premium Pinot Noir, Pinot Gris and Chardonnay. Originally part of the historic Tuerong Station, Barrymore Estate continues a tradition of agriculture on the same ...
Crittenden Estate, VIC 25 Harrisons Road, Dromana, Victoria 3936
Crittenden Wine Centre has introduced an exciting new way of experiencing wine on Victoria's Mornington Peninsula. Our full range of alternative and traditional wines are available for tasting in a format that is unique, innovative and, we believe, a game changer in the field of wine tourism. You'll be met at the purpose built cellar door by knowledgeable staff and then guided through carefully designed wine tasting to allow you to gain a full understanding of the wines. Comfortable seating at tables ensures that guests are able to concentrate on the experience yet relax in ambient surroundings with views over the lawn, lake and some of the Peninsula's oldest vines. The large range of wines reflects Rollo Crittenden's passion for traditional varietals as well as his inability to resist the temptation to experiment in the winery with challenging and alternative grapes such as Vermentino from Italy and Tempranillo from Spain. Your wine tasting experience will be informative and comprehensive, but most of all, fun. Like anything to do with wine, this is a new experience best enjoyed with friends and family.
Dromana Estate, VIC 555 Old Moorooduc Rd, Tuerong Vic 3934
Established in 1982, Dromana Estate was instrumental in forging the Mornington Peninsula`s reputation as one of Australia`s leading wine regions. Chief Winemaker, Duncan Buchanan, meticulously crafts outstanding French varietals such as Pinot Noir and Chardonnay as well as leading the way with innovative Italian varieites under the `i` Range label.Award Winning Wines - Click here to read our fabul...
Jones Road, VIC 2 Godings Road, Moorooduc 3933
We warmly invite you to sample our range of prestigious wines in our converted barn. Feast on something from our 'rustic' homemade menu, sumptuous Sunday roast or special desserts on the patio overlooking the unspoilt Moorooduc countryside. Open 11am-5pm Every Saturday & Sunday.
The Garden, VIC 174 Graydens Road, Moorooduc VIC 3933
An established winery producing Pinot Noir and Pinot Gris set in spectacular gardens on the beautiful Mornington Peninsula wine district. A glorious garden with perennial borders, walled garden, Italianate garden, native gardens, shrub borders set in a vineyard. Wine available by the glass on the terrace surrounded by roses, lavender and wisteria. Cellar door tasting and sales open 11am-5pm every ...
Yabby Lake, VIC 112 Tuerong Rd, Tuerong Vic 3933
Yabby Lake is a dynamic Australian wine producer intent on crafting wines with a genuine sense of identity. We own vineyards in three distinct regions of Victoria, producing single vineyard wines under the Yabby Lake and Heathcote Estate labels. Red Claw and Cooralook are regional expressions of Mornington Peninsula, Heathcote and the Strathbogie Ranges. Yabby Lake is a regional varietal specialis...