Jump to Winery List
Foxeys Wine District
The Foxeys Wine District includes wineries north of Merricks North and south of Foxeys Hangout on the Mornington Peninsula, south of Melbourne. Brothers Michael and Tony Lee put their knowledge and interest of fine wines into a winery business on the beautiful Mornington Peninsula. They planted their first vineyard in 1997, at the Peninsula township of Merricks North near the renowned road junction and location named Foxeys Hangout, from which their label is derived. In the 1930s, two fox trappers used a tree in the area as their way of keeping score, hanging the corpses of their day's fox shooting from opposite branches of a tree - hence the name `Foxeys Hangout`. The brothers have undertaken further plantings of Chardonnay, Pinot noir and Pinot gris at Red Hill on a historic farming property, the home of Foxey's winery and cellar door. Another winery in the area is Willow Creek Vineyard that extends over three undulating slopes of 12 hectare. The property is home to multi-award winning Salix Bistro and Restaurant, which offers sensational food accompanied by cool climate wines in a lovely setting.

The Mornington Penisula Wine Region includes thirteen districts : Boneo ; Arthurs Seat ; Dromana ; Red Hill ; Shoreham ; Merricks ; Foxeys ; Balnarring ; Tuerong ; Main Ridge ; Moorooduc ; Mt Eliza ; Stanleys.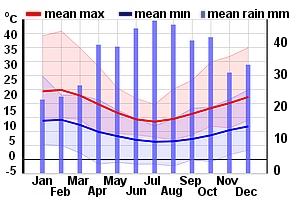 Winery Tour Map
Wineries
Baillieu, VIC 24 Junction Road, Merricks North Vic 3926
Established on Charlie and Samantha Baillieu`s beautiful 64ha property `Bulldog Run` in July 1999, the 10 hectare, North-facing vineyard is ideally situated at the heart of the Mornington Peninsula in Merricks North with boundaries on Tubbarubba and Myers Roads. Wonderful protection from the west is provided by the adjacent 16-hectare bush block, which has abundant wild life including Eastern Grey...
Merli Estate, VIC 19 One Chain Rd, Merricks North Vic 3926
Small vineyard and wine producer in Merricks North
Pt. Leo Estate, VIC 3649 Frankston - Flinders Rd, Merricks, Victoria 3916
Take a road away from the norm and follow the signs to the often-unexplored Westernport-side of the Mornington Peninsula. As you meander up the driveway and past the cascading vines, you are welcomed with the sight of an inspiring Grand Arch, a waved concrete structure, a 70-year-old Queensland King bottle tree and a doorway that offers a teasing glimpse of something truly remarkable. Welcome to Pt. Leo Estate! Pt. Leo Estate is truly a visual feast for all who visit with art, rolling vineyards and ocean views commanding the horizon as far as the eye can see. From the moment guests arrive, they are taken by the sweeping views that emerge in front of them encapsulating glimpses of Phillip Island, across the 50-acre vineyard, landscapes of grazing cattle and an expansive 19-acre Sculpture Park with the vast Westernport Bay.
Rare Hare at Willow Creek Vineyard, VIC 166 Balnarring Road, Merricks North, Victoria 3926
Rare Hare is a special sort of place, defined by aspect, soil, and toil. Here, wines whisper a vinous vernacular, telling tales of seasons past and the winemaking cast. In this world, no vineyard, vintage, or wine is the same and every moment of enjoyment differs too – shaped by the bottle, milieu, food, or mood. We invite you to savour the fruits of our labour, within view of the vines on which they were born. This is a place to ensconce in, not just see – where crafted curiosities from surrounding farms are best consumed excessively and between robust repartee. We look forward to welcoming you…
Stonier Wines, VIC 2 Thompson's Lane, Merricks, 3916
Established 1978. Chardonnay, Pinot Noir and Sparkling wines made on site. Cheese platters and children's playground. Open every day 11am - 5pm.
Tanglewood Estate, VIC Bulldog Creek Road, Merricks North, Vic 3926
At Tanglewood Estate there are eight acres of vines on fifty acres of bushland at Merricks North. The first vines were planted here in 1984. The premium cool climate variety wines are made, bottled and predominately sold from the Estate. The small winery is equipped with facilities for functions and the chefs produce fine meals from local produce. A Restaurant with views over the bay serves lunch ...
Willow Creek, VIC 166 Balnarring Rd, Merricks North Vic 3926
Established in 1988, Willow Creek Vineyard quickly gained a reputation as one of the leading wineries in the district producing some of the finest Pinot Noir, Cabernet Sauvignon and Chardonnay. From the first multiple trophy winning 1994 Pinot Noir it was clear that we had potentially a great vineyard site. Ideally situated on good soils with perfect aspect, the vineyard has been continually refin...
Yal Yal Estate, VIC Yal Yal Road, Merricks 3916
Yal Yal Estate, a picturesque vineyard, was established in 1997. The Gillies launched the Yal Yal Road label in 2010 focusing on low yield, single estate Chardonnay, Pinot Noir, Pinot Gris and Rose that reflects the character of the vineyard's unique terroir. Available online and from specialist wine merchants.