Jump to Winery List
Dromana Wine District
The Dromana Wine District, located on the Mornington Peninsula includes wineries surrounding the townships of Dromana, Safety Beach and Red Hill. The town of Dromana is a bayside tourist centre, nestled between McCrae and Safety Beach and lies at the foot of the towering hill of Arthurs Seat. The surrounding bushland providing a scenic backdrop to the shops and cafes in the town centre and provides opportunities for bushwalking and mountain bike riding. The beautiful foreshore reserve at Dromana extend along the coast and contain walking tracks, grassy picnic and BBQ areas, shelters and designated camping areas. The relatively calm, sandy bayside beaches are excellent for safe swimming and there is wonderful boating opportunities. A chairlift carries visitors to a lookout, picnic area and restaurant at the summit of the 300 m high Arthur's Seat. The surrounding Arthur's Seat State Park has a range of eucalypt forests and woodland habitats. There is a famous maze for the lids. Dromana and neighbouring township of Tuerong to the north, are home to a number of boutique vineyards, some with cellar doors open for wine tasting.

The Mornington Penisula Wine Region includes thirteen districts : Boneo ; Arthurs Seat ; Dromana ; Red Hill ; Shoreham ; Merricks ; Foxeys ; Balnarring ; Tuerong ; Main Ridge ; Moorooduc ; Mt Eliza ; Stanleys.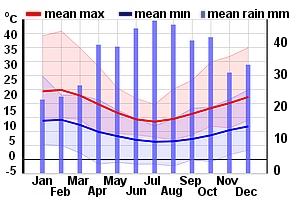 Winery Tour Map
Wineries
Elgee Park Wines, VIC 3460 Frankston-Flinders Road, Merricks VIC 3926
Elgee Park is the oldest vineyard within the picturesque Mornington Peninsula and was planted in 1972. David Wynn first suggested to Mr Baillieu Myer that the property`s aspect appeared to have great potential for wine grapes. The Elgee Park vineyard was established initially as a hobby so that Baillieu Myer could provide fine wines for family and friends. It has now grown to produce approximately...
Hickinbotham, VIC 194 Nepean Highway, Dromana VIC 3936
The Hickinbotham Family have been involved in the art of wine making since 1936. We have been at the forefront of Australian wine production for three generations. In the Hickinbotham tradition, Andrew Hickinbotham has made his mark in cool climate grape production. The Dromana vineyards are planted with chardonnay, pinot noir, cabernet sauvignon, shiraz, merlot and Taminga. Come and see The Wine ...
Massoni Wines, VIC 32 Brasser Avenue, Dromana VIC 3936
Founded by Leon Massoni in 1984. Leon`s passion for fine wine was influenced by his family`s involvement in establishing such culinary icons as Melbourne`s Florentino Restaurant in 1928 and through his relationship with his uncle, legendary winemaker Jimmy Watson. In 1990, Ian Home (founder of Yellowglen) became a partner in the business and introduced a Massoni Pinot Noir and Lectus (sparkling wi...
Stillwater, VIC 25 Harrisons Road, Dromana, Victoria 3936.
Visit the new Crittenden at Dromana and indulge your senses at Stillwater, our new restaurant and special events venue. Visit the new cellar door at Crittenden at Dromana and taste the Peninsula`s most extensive range of wines. We often have 13 wines made by Gary Crittenden on tasting. They are from the `Schinus` brand, the `Crittenden at Dromana` brand and our new range of Italian varietals under...
Trofeo Estate, VIC 85 Harrisons Road, Dromana, Victoria 3936
Nestled in the foothills of Dromana on the Mornington Peninsula you will find Trofeo Estate. We are a vineyard, cellar door, winery and thriving restaurant set in the iconic Harrisons Rd precinct of Dromana - in the original 1930's it was a passionfruit plantation. The moment you enter the oak lined driveway, you are surrounded by vines and beautiful rural views. Trofeo Estate ferments and matures its wine in handmade Terracotta Amphora, imported from Tuscany. Our core philosophy embraces the practice of biodynamics, sustainability, old world winemaking techniques in a new world environment. This is expressed through fresh, seasonal produce from the kitchen and restaurant, and the beautiful range of wines from cellar door.