Jump to Winery List
Balnarring Wine District
Balnarring Wine District includes wineries north of Balnarring in the Mornington Peninsula Wine Region, south of Melbourne. The tourist town of Balnarring is located about 10 kilometres south-west of Hastings and is close to Westernport Bay. Balnarring Beach, also known as Tulum Beach, has a beautiful sweeping crescent of coastline with a lovely foreshore reserve which offers swimming in the sheltered waters of the bay. There are many wineries are located in the rural areas surrounding Balnarring and neighbouring community of Merricks. Marinda Park Vineyard is one of the largest vineyards in the region with over 6 hectares of vines, a charming cellar door outlet for wine tasting and purchases and a cafe. To the east of Balnarring are the Coolart Wetlands which includes a lagoon and popular picnic and BBQ areas. Some of the wineries in the district include: Balnarring Vineyard, Elan Vineyard and Winery, Hurley Vineyard, Kings Creek Winery, Kooyong, Lazzar Wines, Marinda Park, Northway Downs Estate, Silverwood Vineyard.

The Mornington Penisula Wine Region includes thirteen districts : Boneo ; Arthurs Seat ; Dromana ; Red Hill ; Shoreham ; Merricks ; Foxeys ; Balnarring ; Tuerong ; Main Ridge ; Moorooduc ; Mt Eliza ; Stanleys.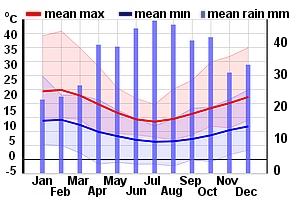 Winery Tour Map
Wineries
Avani Wines, VIC 98 Stanleys Road, Red Hill South 3937
A family-run winery making hand crafted, natural wines. Visit our biodynamic vineyard and cellar door. Syrah, Pinot Noir, Chardonnay and skin-contact Pinot Gris.
Elan Vineyard, VIC 17 Turners Rd, Bittern VIC 3918
Visit this small family run vineyard of 2.5ha in Bittern. You can sit and sip in the Rotunda overlooking the vineyard, while your children can enjoy themselves in the playground. The name Elan was inspired by our desire to produce premium wine made with flair from grape varieties both classic and unusual. Open First Weekend of every month 12 - 5pm or by appointment. They make estate grown, hand cr...
Fenian Wines, VIC 295 Dunns Creek Road, Red Hill 3937
Fine handcrafted wines focusing on Chardonnay, Pinot Gris and fabulous Pinot Noir. Cheese platters available in a beautiful rustic setting. Open 11am-5pm first w/end of month & w/ends during Summer holidays.
Handpicked Wines, VIC Capella Vineyard, 2632 Frankston-Flinders Rd, Bittern
Winner of 2018 Australian Pinot Noir Challenge - trophy for best wine. Regional and single vineyard Pinot Noir and Chardonnay wines. Open by appointment.
Hurley Vineyard, VIC 101 Balnarring Rd, Balnarring Vic 3926
Historic Hurley farm (c 1876) is now a specialist vineyard. Gentle winemaking reveals Pinot Noir of singular flavour, texture and complexity that celebrates terroir. Just look for the bell. Kevin Bell and Tricia Byrnes. 101 Balnarring Road, Balnarring 3926. Mel Ref: 193 A1. Open first weekend of the month and public holidays 11.00am-5.00pm and by appointment....
Kerri Greens, VIC 38 Paringa Road, Red Hill South 3937
Open every Saturday, September - February. Four young vignerons making their mark, producing patient wines from single sites. BYO picnics. Featuring Hop Nation beer.
Kings Creek Winery, VIC 237 Myers Road, Bittern Vic 3918
Kings Creek Winery, established in 1981, is located at 237 Myers Road,Bittern. It produces Chardonnay, Pinot noir, Pinot gris and Cabernet Sauvignon and it is open every day from 11.00 a.m. to 5.00 p.m. for cellar door sales and light lunches, tel: (03) 5983 2102 and fax: (03) 5983 5153....
Kooyong, VIC 263 Red Hill Road, Red Hill South Vic 3937
Surrounded by mounds of native grasses and indigenous spotted gums, the new Port Phillip Estate winery, designed by Wood Marsh Architecture, emerges from the landscape as a dramatic curved sculpture made of rammed-earth. Inside, a large cellar door and tasting room, and a light-filled restaurant open out on to an expansive outdoor deck. Underneath, state-of-the-art winemaking facilities - a barrel...
Lazzar Wines, VIC 910 Frankston Flinders Road, Balnarring Vic 3926
he Lazzar family, with a heritage in Northern Italy, have significant plantings of rare Italian vines as well as the more popular varieties. Our vineyard is chemical free and our vines are grown on steel trellising instead of arsenic treated pine poles. We hand pick and prune all of our vines. You have to have a yearning for wine to be interested in growing and developing a vineyard. Over time a d...
Merricks Wine Store, VIC 3460 Frankston Flinders Road, Merricks, Victoria, 3916
Merricks General Wine Store is a beautiful heritage building which has been renovated and now offers a collective taste of the region, showcasing the wines from three vignerons with deep ties to the Peninsula. Owners of Merricks General Wine Store (MGWStore) and the vineyards represented are; Elgee Park, Baillieu Vineyard and Quealy Wines. All are well known for their commitment to this unique are...
Northway Downs Estate, VIC 437 Stumpy Gully Road, Balnarring, Victoria 3926
Established 1996 this small family owned vineyard grows Pinot Noir and Chardonnay. Since then we have grafter some of our Chardonnay vines to Pinot Gris and Sauvignon Blanc to expand our range of wines. The year 2000 saw the first vintage released, followed by the inaugural opening of the cellar door in 2001. Our guests enjoyed some good toe tapping entertainment and hearty home cooked Austrian favourites such as Beef Goulash, Roast Pork, Sauerkraut and Dumplings finishing off with a slice of 'Apfelstrudel' (Apple Strudel). Northway Downs Estate also boasts a charming Austrian style farmhouse available for accommodation and a delightful wetlands dam to wander around and explore (glass of wine in hand!).
Polperro Winery, VIC 150 Red Hill Rd, Red Hill, Victoria 3937
Polperro Bistro is earthed upon a collaborative partnership between winemaker and chef. Our seasonal menu, incorporates our harvests and is designed to best compliment our wines. Our approach is to offer a casual, yet refined approach to dining. Our dining experience now extends to estate prepared picnics . Our Cellar Door, presents a range of elegant and balanced wines. We produce wine under the Polperro and Even Keel labels. Our wines reflect a passion for the Mornington Peninsula region and beyond.
Prancing Horse Estate, VIC 39 Paringa Road, Red Hill South 3937
The Biodynamic pioneers of the Mornington Peninsula. 100% Estate Grown Single Vineyard Chardonnays, Pinot Gris and Pinot Noirs free from all artificial interferences. A tasting like no other...every weekend...compare our local Peninsula and our Burgundy wines. You will be delighted.
Rahona Valley, VIC 6 Ocean View Avenue, Red Hill South, Victoria 3937
Our estate vineyard, established in 1991, is nestled in bushland in the valley protected from winds. The growing conditions are excellent, with yields kept low through pruning, while ripeness in this cool maritime area is enhanced through the vineyard's northerly aspect and vertical trellising system. Using sustainable farming techniques means no harsh herbicides are used and the soil retains its fertility. Our babydoll sheep help keep the weeds and grass at bay in the off season and during growing season Toby spends hours whipper snipping and mowing the entire vineyard. That's commitment.
Staindl Wines, VIC 63 Shoreham Rd. Red Hill South 3937
With our Certified Biodynamic vineyard on an elevated maritime site, we capture the essence of Pinot Noir, Chardonnay and Riesling in our fine textured wines.