Jump to Winery List
Central Bendigo Wine District
The tradition of wine grape growing in the Bendigo region is nearly as old as Bendigo itself and its Gold Rush Days. Bendigo is situated in central Victoria and has a Classic Mediterranean climate, with wet winters and dry hot summers. The first vineyards were planted in the Bendigo region in 1856, just after the start of the Gold Rush which brought tens of thousands of hopeful diggers from all over the world to seek their fortunes. Bendigo's first vignerons were Jacques Bladier and a German named Delscher, both of whom planted vineyards at Epsom about 1855, and Jean-Baptiste Loridan. The main red varieties grown in the Bendigo area are, Shiraz and Cabernet Sauvignon. Bendigo is also one of Victoria's most elegant and vibrant cities, with a delightful mix of sidewalk cafes, art galleries, antique stores, stunning gold rush architecture and century-old gardens, and of course winery cellar doors and other outlets.

The Central Bendigo district includes wineries south and west of the Bendigo central business area and includes the towns of Bendigo, Sedgwick, Ravenswood, Marong. Ravenswood is home to the magnificent Homestead, which is a Georgian mansion, dating from 1857 that today offers real country-style hospitality, wonderful English gardens, cosy open fires, and stylish family and double rooms. This is the ideal venue for romantic weekends away or for longer holidays with friends. The friendly town of Marong, located 14 km west of Bendigo on the Calder Highway, provides the perfect base to explore all the delights of the district. This includes the many attrctions in Bendigo such as the famous Central Deborah Gold Mine; the renowned Bendigo Pottery; the fascinating Gold Dragon Museum, fabulous gourmet restaurants and the wonderful array of boutique wineries in the district, most of which have cellar door outlets and welcome visitors.

The Bendigo Wine Region includes nine districts : Kingower ; Lower Loddon ; North Bendigo ; Lower Campaspe ; Upper Campaspe ; Central Bendigpo ; Castlemaine ; Maldon ; Maryborough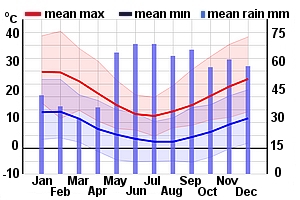 Winery Tour Map
Wineries
Black Estate Vineyard, VIC Patons Road, Axe Creek
Black Estate is a small, boutique vineyard in Patons Road, Axe Creek. Our Shiraz vines were planted in 1999 and we celebrated our first vintage in 2002. The annual harvest is eagerly awaited and hand-picked by family and friends. Our 2005 vintage included a parcel of fruit that was fortified. Our aim is to produce quality Shiraz wine with all the hallmarks of a great Bendigo Red.
Lynnevale Estate, VIC 83 Cahills Road, Mandurang, Vic 3551
Lynne Vale overlooks its lush vineyard situated in the heart of the Bendigo wine growing region. While just a few minutes from central Bendigo, guests enjoy a rural flavour and tranquility enhanced by surrounding bushland and stunning valley views. LynneVale Estate features: * Winery and cellar door with meals available. * Bed and Breakfast accommodation (AAA 4.5 stars) * Regional winery tours. Pac...
Mandurang Valley Winery, VIC 77 Fadersons Lane, Mandurang, VIC 3551
The winery is located in the picturesque Mandurang Valley, a en minute drive from the Alexandra Fountain. Since 1980, Wes has been making wine from Cabernet Sauvignon, Shiraz, Chardonnay and Riesling with Pinot Noir, Merlot, and Semillon/Sauvignon Blanc dded during the last decade. The winery has a Café and Cellar Door utlet, open for lunch and afternoon tea. Function and conference groups are welcome.
Newbridge Wines, VIC 18 Chelsea Street, Brighton 3186
Newbridge Wines is a boutique winery and vineyard situated on the banks of the Loddon River, 35kms west of Bendigo. Our Shiraz wines are well suited to the region but we produce only 50 cases each year. The vines were planted in 1996 and the first wine as bottled in 2003. Our wine is typically elegant, fruit-driven with soft annins.