Jump to Winery List
North Bendigo Wine District
The North Bendigo district includes wineries north of Bendigo and near Marong, Eaglehawk, Bendigo and Epsom. The small township of Marong is located about 14 km west of Bendigo along the Calder Highway. Using as a base you casn enjoy all the delights of the district including the historic Bendigo Pottery; the spectacular Gold Dragon Museum; gourmet restaurants, wonderful local wineries; the Castlemaine Market precinct; peaceful gardens; and the historic buildings and museums in the old gold mining towns such as Inglewood, Maldon and Dunolly. Bushwalkers, campers and those that appreciate natural habitats and wildlife will enjoy visiting Whipstick State Park where you can see eastern grey kangaroos and black wallaby browsing beside the walking tracks at dawn and dusk. The Whipstick State Park also has brilliant wildflower displays in Spring. The old gold mining town of Eaglehawk is located just a few minutes north of Bendigo. It is very elegant with its well preserved stone and timber cottages. Another feature of the town is Canterbury Park that boasts picnic grounds, botanical gardens and a lovely wetland that is a haven for native waterfowl. The park hosts an annual Dahlia and Arts Festival in March.

The Bendigo Wine Region includes nine districts : Kingower ; Lower Loddon ; North Bendigo ; Lower Campaspe ; Upper Campaspe ; Central Bendigpo ; Castlemaine ; Maldon ; Maryborough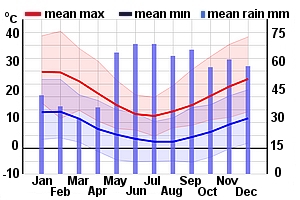 Winery Tour Map
Wineries
Balgownie Estate, VIC Hermitage Road, Maiden Gully Vic 3551
Balgownie Estate is one of Australia's great small vineyards famed for its long lived Cabernet Sauvignon and Shiraz. Established in 1969 by the highly-regarded winemaker Stuart Anderson. The cellar door allows you to experience one of our famous reds or distinctive whites and a regionally inspired 'shared table' lunch in the café. The property also includes the Bendigo Wine Museum and Balgownie House, luxurious accommodation units located within the picturesque grounds.
Burnt Acre Vineyard, VIC 211 O'Sullivans Road, Marong
The vineyard was planted in 1972 and produces rich, full flavoured wines that develop beautifully with cellaring. The hallmarks of these wines are the long lingering finish and soft tannins that merge a mature vineyard with passionate winemaking. These wines are a must when creating a Bendigo red cellar. Wines produced include Shiraz, Shiraz/Cabernet (The Embers) and occasional dry Rieslings.
Connor Park, VIC 59 Connor Road, Leichardt Vic 3516
Connor Park is a 165 hectare rural property located on the banks of the meandering Bullock Creek, only 25 minutes from Bendigo and a comfortable 2 hour drive from Melbourne. Nestled amongst a traditional farming enterprise is one of the Regions oldest blocks of Shiraz which was planted in the late 60s by the late Tom Connor who was better known for his development of Australian farming machinery t...
Ellis Wines, 3025 Heathcote/Rochester Road, Colbinabbin
Ellis wines is a family owned business situated on the rich red Cambrian soil in Colbinabbin. This famous soil extends both sides of the Mt Camel range found within the Heathcote wine growing region. In the words of international viticulturalist Larry Bradley… "This site is suitable for growing premium wine grapes. This Cambrian red soil has the potential to produce very high quality fruit". This region continues to develop an incredible reputation for its wine production. With elegance and style we have harnessed the amazing regional abilities to produce our outstanding range of wines. Joy block (our first block) was planted in 1999. Today our vineyard has grown to over 123.5 acres of vines and includes Shiraz, Merlot, Viognier, Moscato and Cabernet.
Glenwillow Vineyard, VIC Sandon-Yandoit Rd Yandoit Creek
The Glenwillow Vineyard is located on the Sandon-Yandoit Rd at Yandoit Creek in the cooler southern fringe of the premium red wine growing region of Bendigo, Central Victoria. Our vineyard is located in Yandoit Creek, in the cooler parts of the premium red wine growing region of Bendigo, Central Victoria. We produce premium Shiraz with smaller amounts of Cabernet Sauvignon, Nebbiolo and Barbera. Occasionally, we release Reserve wines which are elegant, intense flavoured wines with excellent structure and a superb, long finish.
Sandhurst Ridge Winery, VIC 156 Forest Drive, Marong Vic 3515
A picturesque vineyard and imposing winery, Sandhurst Ridge produces award-winning handcrafted wines, full of character. A visit to the cellar door virtually guarantees an informative conversation with someone with hands-on knowledge of the vines as well as the wines, since the owners – brothers Paul and George Greblo – reside on the estate. Vertical tastings of Shiraz, Cabernet Sauvignon and Merlot; a delightful Sauvignon Blanc.