Jump to Winery List
Axedale, Lower Campaspe Wine District
The Lower Campaspe Wine district includes wineries along the lower Campaspe River between Axedale and Elmore and near the adjoining towns of Goornong, Knowsley and Toolleen. The town of Elmore is home to the renowned Elmore Field Days which is held over three days in October with more than 700 exhibitors displaying the latest innovations in technology, farming equipment and technology within the agricultural industry, and other general displays related to the needs of to regional Australians. See the displays at the Capmpaspe Run H.V.Mcay Discovery Centre that showcases the history and features of the Elmore District and the traditional owner so the land the the Dja Dja Wrung people. Experience interactive displays, soundscapes, murals and live animals all showcasing the history and development of the area and the industrial changes brought about by the revolutionary H.V.McKay Machinery. You can also take a guided tour of the Elmore township and see the historical and buildings, sporting facilities and other places of interest within the township. Both the Northern Highway and Midland Highway cross the Loddon river near Elmore. The Loddon River flows into the Murray River near the town of Echuca. Local wineries include: Avonmore Estate Wines.

The Bendigo Wine Region includes nine districts : Kingower ; Lower Loddon ; North Bendigo ; Lower Campaspe ; Upper Campaspe ; Central Bendigpo ; Castlemaine ; Maldon ; Maryborough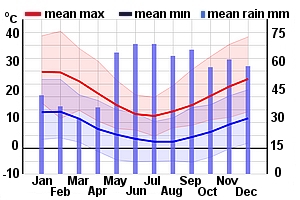 Winery Tour Map
Wineries
Avonmore Estate, VIC Mayreef/Avonmore Road, near Elmore
Rob, Pauline and Shaun Bryans first planted Shiraz vines in 1997, followed by Cabernet Sauvignon, Cabernet Franc, Sangiovese and recent planting of Viognier. Vines and wine are both certified using bio-dynamic principles, without the use of any artificial pesticides, herbicides and are allowed to grow and develop naturally with minimum intervention. Low producing vines assist in enhancing fruit flavours and intense wines.
Rivergate Wines, VIC 580 Goornong Road. Axedale VIC 3551
Rivergate Wines is the Kerr family business producing intensely flavoured, full-bodied wines at Axedale, midway between Bendigo and Heathcote. We specialise in growing and producing Shiraz only, from low yielding, hand-tended vines in this ideal location. Wines are matured in French and American oak barriques. Rivergate produces rich, ripe, powerful, complex and balanced wines. The vineyard is situated just north of Axedale in Central Victoria, midway between Bendigo and Heathcote, in the Campaspe River Valley.