Jump to Winery List
Mansfield Wine District
The Mansfield Wine District includes wineries in the Upper Goulburn River Wine Region North-East of Lake Eildon, near the towns of Mansfield, Lima South, Delatite, Bonnie Doon, Barjarg, Goughs Bay and Lake Nillahcootie. The area around Mansfield is home of Victoria's traditional cattlemen and horse riding and it is a favourite destination for adventure sports such as rock climbing, skydiving,bushwalking, 4WD tours, hang- gliding and a variety of snow sports in the Alpine areas at Mount Buller and Mt Stirling, and water sports in nearby Lake Eildon. It is also renowned for its unique fine local cool climate wines. You can fish for trout in the Delatite and Howqua rivers or you can try canoeing, kayaking and white water rafting. Local activities, events and attractions include: # Horse Riding, # Skiing and Snowboarding, # Heritage tours, # Winery tours # Bushwalking and camping # Mt Buller Beer Fest, held in January # Upper Goulburn Vintage Celebrations held in April # High Country Cycle Challenge held in February # Merrijig Rodeo held in March # Opening of the Mount Buller Ski Season in June # High Country Festival held November # Mansfield Picnic Races held in November.

The Upper Goulburn Valley Wine Region includes four districts : Yea Valley ; Eildon ; Mansfield ; Seymour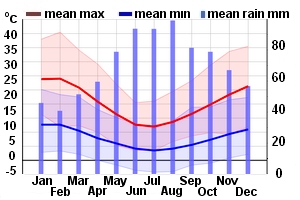 Winery Tour Map
Wineries
Delatite Winery, VIC Stoney`s Road (Off the Buller road), Mansfield VIC 3722
Delatite is a small family run winery that was established in 1982 by Robert and Vivienne Ritchie and now run by their son David. Specialising in cool climate wines, especially white aromatics, it is sited on a picturesque rise overlooking the vineyards toward Mt Buller in North-east Victoria. As part of a family who have been custodians of the land since the late nineteenth century, David and Cat...
Glen Creek Wines, VIC Glen Creek Road, Barjarg VIC 3722
The vineyard for Glen Creek Wines was first established in 1995 by Geoff Alford and Dina Tanphanich. They began with an initial planting of 500 Chardonnay vines. Glen Creek Wines produced its first commercial vintage in 2001, although it has been selling grapes to Delatite for several years. The vineyard has grown progressively to include plantings of chardonnay, merlot, pinot gris and cabernet sa...
Kinloch Wines, VIC `Kainui` 221 Wairere Road, Booroolite Vic 3723
Nestled in a hamlet called Booroolite, between the Delatite and Howqua rivers in the high country of Mansfield, Victoria, Australia. Kinloch Wines is a small family vineyard and cellar door, owned by Malcolm and Susan Kinloch. The vineyard was established in 1996 and the cellar door was open to the public in November 2002. This picturesque property looks down from the northern slopes of the Great ...
Nillahcootie Estate, VIC 3630 Midland Highway, Lima South Vic 3673
Nillahcootie Estate, nestled in the Upper Broken River Valley, offers magnificent views over Lake Nillahcootie and an abundance of activities year-round in a tranquil rural environment. Nillahcootie Estate vineyards are located at the northern end of Lake Nillahcootie in the Upper Broken River Valley. The first vines were planted on the property in 1988 in a small three acre block known as Maggies...
Peppin Ridge, VIC Cnr Barak Court and Peppin Drive, Bonnie Doon Vic 3720
Don and Pat Adams Peppin own the delightful vineyard perched on the shores of Lake Eildon at Peppin Point amidst the sounds of the bush. Enjoy tasting our premium wines while taking in the spectacular panoramic views. Open 10am - 5pm, 7 days....
Ros Ritchie Wines, VIC Magnolia House, 190 Mount Buller Road, Mansfield, 3722
Vineyards planted in 2012 included chardonnay, pinot noir, riesling and pinot gris. The winery was established in 2014. All vineyards are managed with minimal spray regimes.