Jump to Winery List
Yea Valley Wine District
The Yea Valley Wine District includes wineries in the Yea Valley near Yea, Murrindindi, Glenburn, Break O'Day, Flowerdale. This district is part of the Upper Goulburn Valley Region. Yea is a small rural community local just 90 minutes drive from Melbourne and is an ideal spot for a tranquil weekend getaway, daytrip or longer holiday enjoying winery tours of the region and the many other attrctions in the Yea Valley area. There is a wonderful and diverse range of accommodation including farmstays, hotels, motels, camping and caravan parks and beautiful bed and breakfast retreats with stunning views. Some of the local wineries also offer accommodation, cafes and restaurants. There are fabulous bushwalks in the area and many scenic drives exploring the surrounding natural landscapes. Local attractions include The Valley of a Thousand Hills, Murrindindi Cascades and scenery along the lovely Killingworth River. A good time to visit is during the annual Autumn Festival which showcases the talents of the local community and includes art, craft, local food products, boutique wines, market stalls and lots of entertainment.

The Upper Goulburn Valley Wine Region includes four districts : Yea Valley ; Eildon ; Mansfield ; Seymour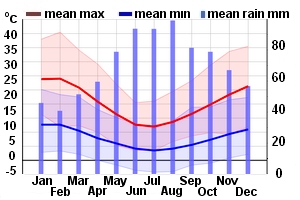 Winery Tour Map
Wineries
Gioiello Estate, VIC 350 Molesworth-Dropmore Road, Molesworth, Vic 3718
Our Central Victorian vineyard is located within the Yea Valley on the Goulburn River, on the lower reaches of 651 meter high Mt Concord which is the eastern most point of the Strathbogie Ranges. The entire property is over one thousand acres of rolling hills, pastures, bush land, and river flats, natural water springs and billabongs. Our 22 acres of mature vines were planted on north facing slopes between 1987 and 1992. Our aim at Gioiello Estate is to create superlative single estate wines which have a distinct character reflective of this unique property and region.
Jean Pauls Vineyard, VIC RMB 6173, Yea, Vic 3717 (postal)
Jean Paul's Vineyard produces small amounts of premium boutique wine. It is the inspiration of William de Castella, a direct descendant of Hubert, Paul, Francois and Rolet de Castella (being his fourth son), of Yarra Valley fame from the midd 1800s, and is Certified Organic/Biodynamic by NASAA (National Association for Sustainable Agriculture Australia, reg no 3465).The Vineyard produces small amounts of premium fruit, which are transformed into truly distinctive wines. It is situated in the Yea Valley (about 60km north of the Yarra Valley).
Melaleuca Grove, VIC vineyard in Yea Vic 3717
Melaleuca Grove Wines are a small concern sourcing grapes from the Yarra and Yea Valleys of Victoria. Melaleuca Grove makes a range of award winning and critically acclaimed wines including Sauvignon blanc, Chardonnay, Cabernet and Shiraz....
Murrindindi, VIC Cummins Road, Murrindindi Vic 3717
Sixteen kilometres south of Yea at the foothills of Victoria`s High Country the Murrindindi township was surveyed in the 1880`s but apart from a church and a hall no other establishment was built because early promise of gold was not fulfilled. Alan and Jan Cuthbertson planted their acclaimed vineyard on their cattle property at Murrindindi in 1978 with Chardonnay, Cabernet Sauvignon and Merlot. F...
Rees Miller Estate, VIC 5355 Goulburn Valley Highway, Yea Vic 3717
The Rees Miller Estate is a compact little operation on the highway to the snowfields, just outside Yea. It is an unfussed, hospitable little farm with a cellar door built in the time-honoured `tin shed` style. Wines from other vineyards in the area are also available here, a great example of regional cooperation. Visit our cellar door and sample our gorgeous wines. All wines are made and grown on...
Sedona Estate, VIC 182 Shannons Road, Murrindindi, Vic 3717
Nestled in the rolling hills of Murrindindi just north of the Great Dividing Range, Sedona Estate was built from the ground up by owners Paul Evans and Sonja Herges. From its humble beginnings in 1998, Paul and Sonja's vision is to produce regionally distinctive wines of impeccable quality. Their passion and dedication are reflected in the Sedona Estate range. Varietal purity and refined complexity makes each bottle of wine a true experience. Discover this hidden gem off the beaten track only 90 minutes from Melbourne!
Yarradindi Wines, VIC 1018 Murrindindi Road, Murrindindi, Vic 3717
I have been working in large and small wine companies for 38 years, both within Australia and abroad. I am now focused on bringing my family and friends wines of ultimate quality that I like to drink. These wines are from my favourite vineyards in regions which over the years I have had the pleasure to deal with. I hope you enjoy the wines as much as I do,