Jump to Winery List
Eildon Wine District
The Eildon Wine District in the Upper Goulburn Wine Region, includes wineries near the townships of Eildon, Yarck, Alexandra, Taggerty, Buxton, along the Goulburn River downstream of Eildon Reservoir. Use Eildon as a base for enjoying a wide range of recreational activities around Lake Eildon, with its sheltered bays, 500 m of shoreline and safe swimming areas and enjoy the many attractions in the surrounding areas and fabulous winery tours. There are facilities for a wide variety of water sports including. fishing, water-skiing, kayaking, canoeing and wakeboarding, as well as the more leisurely pastimes about one of the houseboats available from the area. Away from the lake you can enjoy bushwalking, mountain biking, camping, 4WD adventures in Lake Eildon National Park, which has beautiful scenery and lots of flora and native wildlife.

The Upper Goulburn Valley Wine Region includes four districts : Yea Valley ; Eildon ; Mansfield ; Seymour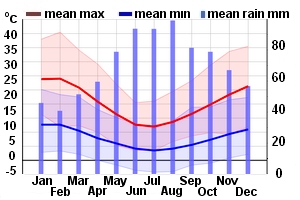 Winery Tour Map
Wineries
Buxton Ridge Wines, Vic 88 Seal Rock Road, Buxton Vic 3711
Situated just 1.5 hours from Melbourne and only 5 mins from Marysville is the Buxton Ridge winery and cellar door. A pleasant drive through the famous Black Spur along the Maroondah Hwy, to the sleepy township of Buxton is where you will find us, nestled under at the foot hills of the magnificent Cathedral Range. Come and sample our award winning wines at our modern cellar door where you will enjo...
Cathedral Lane, VIC 228 Cathedral Lane, Taggerty Vic 3714
Cathedral Lane vineyard was planted in 1997 on the lower slopes of the majestic Cathedral Mountain to the north of the Yarra Valley at a height of 280m. It is here that the grapes for their Bronze Award winning Pinot Noir 2000 (Class 16) Victorian Wines Show 2001 are grown. Former Geelong wine retailers, Rod and Heather Needham, own and manage the vineyard, while the winemaker is the esteemed Mart...
Henke Winery, VIC 175 Henkes Lane, Yarck Vic 3719
We specialise in making old fashioned style Victorian red wines and endeavour to supply them with significant bottle age. In the early years, we received a lot of medals including the highest pointed gold at the 1978 Canberra National Wine Show for our 1977 Shiraz Cabernet....
Mt Cathedral, VIC 125 Knafl Road, Taggerty Vic 3714
Mount Cathedral Vineyards was established in 1995 on the northern slopes of the breathtaking Cathedral Ranges situated just to the north of the Great Dividing Range in central Victoria, Australia. The philosophy behind the establishment of Mount Cathedral Vineyards is one that is still central to the operation today. That is, the production of high quality fruit in order to produce wines of high q...
Scrubby Creek, VIC 566 Crystal Creek Road, Alexandra Vic 3714
The vineyards are planted over the deep red Cambrian soils of the North Western slopes of Mt Camel in Heathcote resulting in Low yields and small bunches. This drives the aromatics forward and allows for the full expression of the Snobs Creek regional character. Many of the vines are now mature and naturally show balanced canopies, this results in the development of natural tannin and allows for the investment of up to 40% new barrels annually.
Snobs Creek Estate, VIC 486 Goulburn Valley Highway via Alexandra Vic 3714
Snobs Creek nestled in the serene Goulburn Valley where Snobs Creek joins the Goulburn River 5 km below the Lake Eildon wall. The Boutique vineyard was planted in 1996 by the Gillon Family to produce fruit for small production quality wines. The fertile river flats are cool in late summer providing longer and slower ripening and thus producing excellent Pinot noir and Dolcetto. The harsher land ab...