Jump to Winery List
Seymour Wine District
The Seymour Wine District includes wineries in the western areas of the Goulburn Valley Region between Seymour, Tallarook, Strath Creek, Flowerdale, Molesworth and Yea. The township of Seymour is popular with tourists who enjoy day-trips and weekend getaway trips to the area which is only 90 km north of Melbourne. It is a major service centre for the surrounding farming community, a tourist hub and it supports the adjoining Puckapunyal Army training base. Visit the Army Tank Museum, located at Puckapunyal, that has over 70 historic armoured vehicles, and it is one of the largest and most comprehensive armour museums in the world. It includes many additional artefacts and displays relating to the history of the Royal Australian Armoured Corps and the Australian Light Horse corps. The town of Seymour has many attractive historic buildings, museum, art galleries and antiques shops that showcase the region's history and heritage. The Seymour Railway Heritage Centre has a wonderful collection of heritage rolling stock and it runs heritage train trips. The Goulburn River offers many attrctions and activities for visitors including: bushwalking, picnics, canoeing, kayaking, fishing and boating. The Seymour Bushland Park, Tallarook State Forest and other nature reserves are ideal for camping, picnics, mountain biking, bushwalks, rock climbing, hang gliding and scenic drives. South of Seymour is the charming historic town of Trawool, which has been classified by the National Trust. Seymour is renowned as the gateway and an excellent base from which to explore the Goulburn Valley wine region. There is a wide variety of accommodation in the area, and many tours depart from Seymour.

The Lower Goulburn Valley Wine Region includes three districts : Stanhope ; Yarrawonga ; Shepparton and this region adjoins the Nagambie Lakes Wine District and Region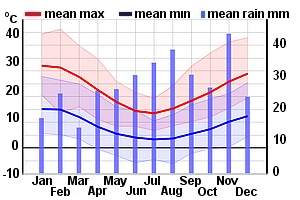 Winery Tour Map
Wineries
Kensington Wines, VIC 1590 Highlands Road, Whiteheads Creek, Vic 3660
We like to think of our company as an Ambassador, introducing the Australia Wine Culture into the Chinese marketplace. The fine quality wines we export to China are mainly grown and produced in the beautiful Goulburn Valley in Victoria, nearby the famous Lake Nagambie. The unique soil conditions and natural environment make it an ideal place to produce a wide variety of grapes. On the 300 acres winery you can find a selection of Cabernet Sauvignon, Syrah, Merlot, Chardonnay and Riesling vines, all carefully nurtured by Andrew, a man with over 40 years in the wine producing business.
Lost Valley Winery, VIC C/o Post Office, Strath Creek Vic 3658
Premium cool climate wines from one of Victoria`s leading boutique wineries. Renown for it`s only planting in Australia of the ultra premium white grape - Cortese, Lost Valley Winery produces wines that are as different as they are enticing. Other than Cortese, Lost Valley produces three other high quality varietals from it`s cool-climate site, namely Merlot, Shiraz and Reserve Verdelho. All can b...
Tallarook, VIC 140 Ennis Road, Tallarook, Vic 3659
Tallarook has been established in 1987 with 11 ha of vines have been planted, mainly to chardonnay, shiraz and pinot noir, but with some marsanne, roussanne and viognier.