Jump to Winery List
Shepparton Wine District
The Shepparton Wine District includes wineries in the Lower Goulburn Valley Region, close to the Shepparton City Centre and to the neighbouring towns of Mooroopna and Kialla. The region surrounding Shepparton and its twin city of Mooroopna, are synonymous with fabulous great food, wonderful wines, fresh fruit, spectacular waterways teaming with fish and terrific weather. The area abounds in a huge variety of attractions and has fabulous facilities for a broad range of cultural, entertainment, artists, adventures, outdoor and sporting activities. The region has a worldwide reputation for dairy products and quality fruit, and is close to some of Victoria's oldest and best wineries in the Rutherglen and Millwalla areas. There is suburb fishing, boating, and other water activities on the Goulburn and Broken Rivers,Waranga Basin and other local lakes and waterways.

The Lower Goulburn Valley Wine Region includes three districts : Stanhope ; Yarrawonga ; Shepparton and this region adjoins the Nagambie Lakes Wine District and Region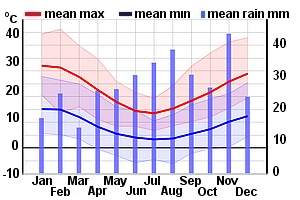 Winery Tour Map
Wineries
Broken River Vineyards, VIC 425 River Road, Kialla Vic 3630
With the purchase of an already established vineyard in 1984, Broken River Vineyards was born. Fred O'Keefe and his family purchased a 10 hectare vineyard at Shepparton in the Goulburn Valley, Victoria. We use a combination of modern and traditional practices in our vineyards to ensure the grape quality is maintained at a very high level to achieve the premium quality we require for our wines as we strive to achieve wines of distinctive varietal character of the region. This is in accordance with our belief and commitment that great wines begin in the vineyard. Our old vineyard is still hand pruned, hand picked, and treated very much in the old traditional way, whereas our new vineyard is partly machine pruned, mechanically harvested and much use is made of modern methods and technology. The new vineyard was planted with automatic drip irrigation and the old vineyard has now been converted to minimal drip irrigation which gives us greater control to help us achieve the grape quality we are striving for.
Melrose Farm and Vineyard, VIC 393 Walshs Bridge S Rd, Kaarimba VIC 363
"Melrose" farm and vineyard was settled in the late 1870s and the original home still stands. It is located 23 kms northwest of Shepparton and 18 kms south west of Numurkah. After the Second World War parcels of the property were sold off. The current 55 acre property supports beef cattle, a small orchard and 1000 Shiraz vines. The Goulburn Valley vineyard is tended by hand, the grapes are picked by hand and, the subsequent wine is made by hand using traditional methods including open vat fermentation, basket pressing and small oak casks. The wine offered is something special from a small boutique winery and cellar door.
Monichino Wines, NSW 70 Berrys Road, Katunga, Goulburn Valley VIC 3640
Monichino Wines was established in 1962 and has become renowned for producing high quality, award winning wines. The rich soil and excellent climate of Katunga in the Goulburn Valley, Victoria make ideal conditions for grape growing and wine making. The vineyard consists of approximately 26 hectares of low yielding vines producing high quality wines. Emphasis is on producing premium wines and rece...
Phillips Cellars, VIC 119 Corio St, Shepparton VIC 3630
The Phillips family's guiding belief is that small wineries produce interesting and unique wines. The Regional Wine Centre in our store represents more than 50 local wineries bounded approximately by Echuca in the Northwest, Rutherglen in the Northeast and Seymour in the South. We also have a wide range of wines from smaller Australian wineries. We at Phillips Cellars are also keen home brewers and have a vast knowledge of Home Brewing techniques, we stock a large range of Home Brew Supplies and run regular Home Brewing Information days.
Tallis Wine Cellar Door, VIC 195 Major Plains Road, Dookie, Victoria, 3646
A secret cellar door tucked away in the Dookie Hills. Just a 25 minute drive from both Shepparton and Benalla, perched above an ever-changing rural landscape in the rolling Dookie Hills, you will discover the Tallis Wine cellar door. Be transported to a natural and relaxed setting as you motor through the property's gates. Discover the warm hospitality and enjoy seasonally selected local produce with distinctive handcrafted single vineyard wines. Tallis Wine is an excellent place to bring visiting guests or get together with family and friends. You can experience the captivating beauty of the Dookie Hills and Strathbogie Ranges, fireside or out on the relaxed deck. Choose to be guided through a wine tasting, share a regional grazing platter or homemade cakes and coffee.