Jump to Winery List
Nagambie Wine District
The Nagambie District includes wineries near Nagambie, Graytown, Murchison and Whroo in the Nagambie Lakes sub-region of the Lower Goulburn Region, north of Melbourne. The grape growing industry in the Goulburn Valley began in this district and dates back to the 1850-1860s when the Tahbilk winery was established. Tahbilk is one of Australia's oldest, most beautiful and well known wineries. It now includes more than 1,200 hectares of rich river flats with along a river frontage of 11 km on the Goulburn River and many permanent streams, backwaters and creeks. Mitchelton winery was established in 1969 and produces award winning wines. The major grape varieties in the district are: Marsanne, Grenache, Shiraz, Roussanne, Viognier and Mourvedre (Mataro) all of which were originally sourced from France`s Rhone Valley. Most of the local wineries and vineyards have been established in the last 30 years and have mostly focused on classical varieties such as Shiraz, Cabernet Sauvignon, Merlot, Cabernet Franc, Malbec, Chardonnay, Riesling, Semillon, Sauvignon Blanc and Verdelho.

The Lower Goulburn Valley Wine Region includes three districts : Stanhope ; Yarrawonga ; Shepparton and this region adjoins the Nagambie Lakes Wine District and Region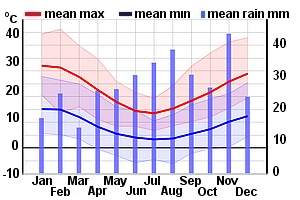 Winery Tour Map
Wineries
Burramurra, VIC PO Box 69, Nagambie, VIC 3608
Burramurra vineyard is located in Nagambie, in the Goulburn Valley wine region of Central Victoria....
David Traeger, VIC 139 High Street, Nagambie, Vic 3608
A very handy location sets you directly adjacent to the local Visitor`s Information Centre, which makes David Traeger a great place to make a start. The Verdelho here has been making waves for a few years and the Shiraz is a lovely soft mouthful of rich and ripe fruit. The David Traeger Range includes: Cabernet, Shiraz, Verdelho. Helvetic Range: Classic Dry, Cabernet/Shiraz/Merlot, Late Harvest, C...
Goulburn Terrace, VIC 340 High Street, Nagambie, VIC 3608
Goulburn Terrace is one of the smaller boutique vineyards in the Nagambie region. Dedicated to remaining small, and concentrating on high quality rather than volume, the wines are elegant in style. Shiraz, the recognised staple of the region, is made here into a less powerful, more aromatic wine than the bigger Central Victorian types. The Cellar Door is conveniently situated in Nagambie`s histori...
Kirwans Bridge, VIC Lobb`s Lane / Kirwan`s Bridge Road, Nagambie Vic 3608
Located on the banks of Picnic Point Lake, the eastern backwater of the Nagambie Lakes system, Kirwan`s Bridge Wines and vineyards are situated about one and a half hours drive north of Melbourne in the Nagambie Lakes Wines sub region. This is an excellent wine growing area that includes world-renowned wineries such as Tahbilk, Mitchelton and David Traeger Wines. Covering nearly 40 ha, the vineyar...
Longleat Wines PTY Ltd., VIC 105 Old Weir Rd, Murchison VIC 3610
Wine is made onsite by Guido; a qualified winemaker with many years experience making wine for both large and smaller boutique producers. All wines produced are single varietal and reflect the Longleat vineyard site, growing conditions of that vintage and the attention given to them by Guido. With many of the vines nearing 40 years of age the wines produced are displaying intense varietal flavours.
McGee Wines, VIC RMB 1780 Wattlevale Road, Nagambie VIC 3608
McGee Wines is a small family owned vineyard situated on the banks of the Goulburn River where the Rhone varietals of Shiraz, Grenache, Mourvedre and Viognier are planted on 12 hectares of rich, red river loam. There is no cellar door outlet for McGee Wines but they are available for enjoyment at selected restaurants and outlets around Nagambie and in Melbourne....
McPherson Wines, VIC Goulburn Valley Highway, Nagambie, Vic 3608
McPherson Wines was formed in 1993 with principal vineyard holdings in the Murray-Darling region near Mildura, one of Australia`s most exciting new regions for grape growing. The recent acquisition of 350 acres in the Goulburn Valley of `red brick dust` soil with deep gravel offers even greater promise for cooler climate red wines in the McPherson portfolio. Since the inception of the McPherson br...
Mitchelton Winery Estate, VIC 470 Mitchellstown Road, Nagambie, Victoria, 3608
Just 90 minutes from Melbourne, yet a world away from the city, Mitchelton Estate is a spectacular winery and tourism destination located on the banks of the Goulburn River in Nagambie. A family owned and operated property, Mitchelton's History dates back to 1836, when explorer Major Thomas Mitchell crossed the Goulburn River on this site. However, it was not until Melbourne entrepreneur Ross Shelmerdine and wine industry heavyweight Colin Preece teamed up with iconic architect Robin Boyd in 1967, that the vision of Mitchelton evolved. A producer of exceptional wines and provider of outstanding hospitality experiences, the Mitchelton property comprises: Mitchelton Estate, The Mitchelton Hotel, The Day Spa at Mitchelton, Mitchelton Winery, Muse Restaurant, Unique Event Spaces including the Mitchelton Tower and Cellar and Mitchelton Gallery of Aboriginal Art.
Osicka Wines, VIC 39 Osickas Lane, Off Heathcote-Nagambie Rd, Graytown, VIC 3608
Osicka Wines, established in 1955, is noted for its award-winning reds and port. It is 24 km east off the Heathcote-Nagambie Rd and is open from 10.00 a.m. to 5.00 p.m. every day but Sunday when the hours are 12.00 p.m. to 5.00 p.m....
Tahbilk Winery and Vineyard, VIC 254 O`Neils Road, Tabilk, VIC 3607
Everything at Tahbilk Winery reflects a passion for history and heritage. The winery buildings are classified by the National Trust and the old Shiraz vines planted in 1860 should be declared national treasures. The place is quite simply a shrine for Australian wine lovers and is a must visit for any wine enthusiasts visiting Victoria. As an added bonus the wines are also good. The Marsanne is a perennial favourite and all of the reds are unmistakably traditional, cellar worthy and great value. Tahbilk Winery and Vineyard was established in 1860. The winemakers are Alister Purbrick, Alan George, Neil Larson and Brendan Freeman. Owners are the Purbrick Family.
Tar & Roses Wines, VIC 61 Vickers Lane, Nagambie, Victoria, 3608
The Tar and Roses range of wines consists of European varietals and grew out of the desire to make iconic European wines at home in Central Victoria. Don and Narelle have drawn from their overseas experience, particularly in Spain, to craft the range in a style that reflects their interpretation of these classic varieties. Fruit for the range is sourced mainly from the renowned premium wine region of Heathcote as well as from the Strathbogie Ranges, Nagambie, Northeast Victoria and the Priorat, Spain. Tar and Roses are the main descriptors for Nebbiolo, the king of red wine in Italy and one of the wines within the range. Don and Narelle also released their first Riesling under the Tar and Roses brand in late 2014. This Riesling is named after Don, acknowledging his 40 years of making award winning Riesling.
Trifon Estate Wines, VIC 185 Wahring-Murchison E Rd, Wahring VIC 3608
Trifon Estate Wines is privileged to have an outstanding vineyard. Experienced and dedicated family members alongside loyal staff take exceptional care to maintain it at optimum condition. This has resulted in the production of consistently high quality fruit and wines beginning with the first vintage in 2001 and carrying through until present. Evidence of the high quality wine created by Trifon Estate is the over 120 awards, including trophies as well as gold, silver and bronze medals we have received in the last 20 months at various leading Australian wine shows such as the Royal Melbourne Wine Show, Royal Adelaide Wine Show, the Australian Shiraz Challenge and the China Wine and Spirits Awards.
Twelve Acres, VIC Nagambie - Rushworth Road, Nagambie, Vic 3608
The Twelve Acres Winery is run and owned by Peter and Jana Prygodicz in rugged bushland near Nagambie. As they enjoyed red wine so much they decided about 1986 to buy their property in Bailieston, set up shop and make their own. They opened their comfortable round cellar doorway off the beaten track in Christmas 1994. Their Shiraz wines consistently win medals, with their 94 Shiraz winning the tro...