Jump to Winery List
Lower Chittering Wine District
The Lower Chittering Wine district includes the town and villages in the Lower Chittering Valley, in the Perth Hills Wine Region, north of Bullsbrook, about 40 km north of Perth. Lower Chittering is a suburb of Perth located within the Shire of Chittering and forms part of the Chittering Valley, which is renowned for its abundance of wild flowers, beautiful green rolling hills, bushwalking and nature trails and fabulous boutique wineries. Surrounding Lower Chittering are many rural and rural residential properties and vineyards. Stringybark Winery and Restaurant is a great dining venue all year round boasting an open log fire in winter and cool air conditioned comfort during the summer months. The popular a la carte menu is based on a wonderful selection of delicious dishes using only the freshest of quality ingredients, including many local food products. The Restaurant is fully licensed and offers a quality selection of the stunning local wines from the Chittering Valley Wine Trail.

The Perth Hills Wine Region includes eight districts : Inner Perth ; Bickley ; Darlington ; Chidlow ; Gosnells ; Jarrahdale ; Lower Chittering ; Upper Chittering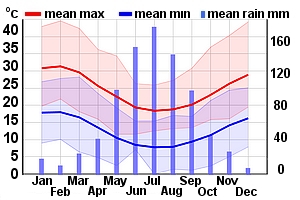 Winery Tour Map
Wineries
Hartley Estate, WA 260 Chittering Valley Road, Lower Chittering WA 6804
There are a great many influences to a vineyards potential for high quality fruit production. Interaction of the various influences is a complex management challenge at Hartley Estate. It is not uncommon for neighbouring vine blocks to produce remarkably different characteristics in the wine produced.`Terroir` is a French term used to explain this concept. Terroir is defined most simply as the nat...
Stringybark Winery, WA 2060 Chittering Road, Chittering WA, 6084
Stringybark Winery and Restaurant is located in the beautiful Chittering valley just one hour north of Perth. This emerging area produces high quality wines with the Stringybark Verdelho being a medal-winning speciality. Also offering Devonshire teas and Alfresco style menu and our own fantastic wines. Wine tastings and live music on selected occasions. They are open every weekend and on Public ho...
Western Range Wines, WA 1995 Chittering Rd, Lower Chittering WA 6084
Nestled in the Lower Chittering Valley, the gently rolling hills form a tranquil backdrop to the myriad of orchards, farms and vineyards that dot the hillsides. Situated up to 300 metres above sea level, the climate and soils of the Chittering Valley are quite different to those of nearby viticulture regions. The climate is typically Mediterranean with cold, wet winters and warm, dry summers. Our first production in 2001, produced medal-winning wines. From there our Branded Wines have flourished winning very many trophies, and medals over the past 10 years. We are within the Perth Hills appellation and currently have approximately 315 acres under vine, most of which are aged between 20-70 years old.