Jump to Winery List
Bickley Wine District
The Bickley Wine District, in the Perth Hills east of Perth includes the area in the vicinity of Carmel, Bickley and Piesse Brook about 40 km NE of Perth. Nestled in the beautiful Darling Ranges, the stunning Carmel and Bickley Valleys include the southern part of the Perth Hills Wine Region. These picturesque valleys, which lie west of Kalamunda, are home to a thriving group of award-winning boutique wineries and vineyards. The best way to your the wineries is follow the Bickley and Carmel Valleys Wine Trail - you can get a map from the local shops and the information centre or join on one of the guided wine tours of the region. Along the trail you will find many delightful cellar doors, such as Cosham Wines, Ashley Estate, Myattsfield Vineyards and the many winery restaurants and cafes such as Hainault Vineyard and Millbrook Estate. The area is also a wonderful place to relax and enjoy the pleasures of nature and the scenic rural countryside. There are stunning forests, fabulous wildflowers, peaceful bushwalking trails and picturesque creeks and waterfalls. Along many of the country roads you will find roadside stalls selling in fresh fruit and other farm produce. There are many scenic picnic and barbeque location in the national parks, f orests and conservation areas. Harvest time: late February to mid March.

The Perth Hills Wine Region includes eight districts : Inner Perth ; Bickley ; Darlington ; Chidlow ; Gosnells ; Jarrahdale ; Lower Chittering ; Upper Chittering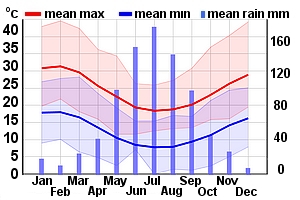 Winery Tour Map
Wineries
Aldersyde Estate, WA 226 Aldersyde Road, Bickley
Formerly Piesse Brook Wines (established in 1974), Aldersyde Estate is essentially a mother-daughter operation in the Perth Hills, specialising in reds from handpicked, estate-grown fruit. Larissa Bray is the family's 3rd generation vigneron and together with her husband Sean, takes care of the vines and winemaking while mother, Di Bray, runs cellar door. Lara's brothers, Peter and Michael, together with our extended family - families Boyanich, Tomanovic and Kovacevic - get roped in to lend a hand at critical times, such as vintage and bottling. Winery dogs, Oban and Zoe, do their best to create chaos during these critical times.
Ashley Estate, WA 284 Aldersyde Road, Bickley, WA 6076
Established in 1988, Ashley Estate produces wines from the Perth Hills region. Winemaker: John Griffiths (Darlington Estate). Open: 11am to 5pm Sundays/Public Holidays....
Brockman Park, WA 8 Riverview Place, Mosman Park
The vineyard is planted on hilly black loam soils. With modern water management quality Shiraz and Chenin varieties are produced. Contact: Tony Rechtner. Not open to public yet....
Brookside Vineyard, WA 5 Loaring Road, Bickley
Located in the picturesque Bickley Valley, just a thirty minute drive from the Perth CBD, you will find one of Western Australia's smallest boutique grape producing properties Brookside Vineyard. With vines tended to by owners and operators Peter and Fay Fels their hands on approach make sure that only the finest Cabernet and Chardonnay grapes find their way into Brookside's award winning wines. With the rustic cellar door serving up fine wines and restaurant 'The Vineyard Kitchen' serving exceptional food, your visit is sure to be a memorable one. Boutique weddings are our specialty and with the ability to host both ceremony and reception at our vineyard and gardens we can tailor a package to suit your needs. Most of all, whether your time is spent relaxing with a glass of wine in the restaurant or wandering though our English style gardens and endless rows of grapevines you will be sure to lose yourself in the beauty that is Brookside.
Carldenn Homestead Wines, WA 80 Mitchell Road, Walliston
Carldenn Homestead Wines is located in the Perth Hills Region amid stunning scenery of the Darling Scarp. The property slopes into the afternoon sun and the vines are grown on famous red gum gravely soil high on the western ridge of the Bickley Valley. These elements combine to produce elegance and subtlety in our wines.
Core Cider House, WA 35 Merrivale Road, Pickering Brook
We are a unique Perth Hills destination steeped in history, with spectacular artisan ciders, wines and fruit wines. Add sublime views over the apple orchards and a Slightly Twisted crew to the mix and you can't help but unwind.
Cosham Wines, WA 101 Union Rd, Carmel, WA 6076
Cosham Wines is a small family-owned and operated vineyard located at Carmel, in the Perth Hills, 25 kilometers east of Perth, Western Australia. The Vineyard is located at the southern end of the Bickley Valley. Planted on an old orchard, the vineyard comprises of two hectares of Cabernet Sauvignon, Merlot, Shiraz, Pinot Noir, Cabernet Franc, Chardonnay and Petit Verdot grapes. The first 4000 vin...
Due Jolly Winery, WA 165 Merrivale Road, Pickering Brook
Due Jolly (Italian for 'two jokers') commenced with the 2006 vintage in a humble winery situated in buildings formerly used for fruit packing. The name was chosen to reflect our attitude towards making wine, in that while the wines may be serious we can have fun in their making. Our winery focuses purely on the production of wines. For grapes we rely upon our friendships with owners of small vineyards. These are located throughout the South West allowing us to choose grape varieties that have been grown in their ideal climate. Our growers are acknowledged on the back label of each of our wines. Our production capacity is a maximum of around 25 tonnes of grapes per year, but typically we only process half this amount as we prefer to concentrate on quality. We believe that traditional methods produce food friendly wines that we strive for, which is fortunate as our modest budget did not allow the purchase of fancy equipment. Our distinctive livery, developed by Andrew Stumpfel and Ursula Shaw, utilises the joker theme and was the final stage in tying together attitudes, methods and ethos.
Fairbrossen Winery, WA 51 Carmel Road, Carmel
'Fairbrossen' is the vineyard and winery of the Bowness family. Our name and family origins are from the Lakes District in the North-West of England where healthy-living and big appetites are common. A phrase often expressed at the completion of a very satisfying meal. Our winery (built 2011) is located in the beautiful Perth Hills where we have lived for over 35 years, and the family also has another small vineyard holding in the Wilyabrup district of Margaret River which we established in 1994.
Hainault Vineyard, WA 255 Walnut Rd, Bickley, WA 6076
The 5-hectare vineyard is located 25 km east of Perth, nestled in Jarrah forest at 400m elevation atop the Darling Scarp in one of the coolest parts of the state. The elevated position and picturesque, relaxing atmosphere provides a memorable experience for the visitor. The site was originally selected as Gungin orchard early in the last century and was replanted as a vineyard in 1978 by Peter Fim...
La Fattoria Perth Hills, WA 211 Merrivale Road, Pickering Brook
Eric and Lucy are the owners of La Fattoria Perth Hills and we welcome you to our home. We are a family of Sicilian and British heritage that has resided on the property since 1945. Currently three generations live and work on our 25 acre orchard. We believe that life is an experience. We love to travel, taste new foods and wine and experience different cultures. We also believe that a healthy family and friendship group is central to happiness and that life is too fast, lost in the noise of technology and closed off from the natural environment. La Fattoria was a subconscious vision back in 2000 when we included in our wedding vows that we wished to build "a home of sanity and serenity in a frenzied world where
Lawnbrook Estate, WA 19 Loaring Road, Bickley
Handmade wines are produced at this vineyard - Pinot Noir, Merlot, Cabernet, Semillon, Chardonnay, Chenin Blanc. Open 10am - 6pm Fri, Sat, Sun and Public Holidays....
Myattsfield Vineyards, WA Union Road, Carmel (corner of Carmel Road East)
Located in the warm continental climate of the Bickley Valley in the Perth Hills and producing a range of sparkling, red, white and fortified wines from familiar as well as some less familiar grape varieties. Visit us for wine tasting, bottle sales and wine by the glass accompanied by a selection of local and international gourmet cheeses. Linger for a while and enjoy the amazing views over a glass of wine. Regular events for food and wine lovers held throughout the year.
Naked Apple Cider, WA 1088 Brookton Highway
Set on 6.4 hectares of lush gardens and native bushland in Karragullen, Perth Hills, Naked Apple Cider House is a family friendly venue where you can kick back, relax and take a big gulp of the serenity. We're open five days a week, Wednesday to Sunday. Feel free to bring your fur babies, too. The venue features four main areas - the restaurant, the deck, the courtyard and the expansive gardens. You'll enjoy a wander around to check it all out before you select your perfect spot. Tables and chairs are dotted all over the property, so you can go mainstream with the crowd or turn up the chill factor in a secluded space. We also welcome you to sprawl out on the grassed area for a kip if that's the way you roll.
Plume Estate Vineyard, WA 91 Glenisla Road, Bickley
Plume-Estate-Vineyard-797329867024101/ Plume Estate Vineyard is a boutique vineyard in the heart of the Bickley Valley situated in the Perth Hills with a Tapas style menu. Opening hours 11am-5pm Sat and Sun and most Public Holidays.
Tonon Wines, WA 44 Carmel Road, Carmel
Tonon Vineyard & Winery is the newest cellar door in the Bickley-Carmel Valley in the Perth Hills wine region. We specialise in the production of boutique wines, hand-crafted from estate grown alternative grape varieties.
Walsh Family, WA 90 Walnut Rd, Bickley, WA 6076
Walsh Family Winery is a family partnership growing 4ha of Shiraz and 1 ha of Gewurztraminer.Winemaker: Rob Marshall at Swanbrook. Established 1995. Open: 10-5 weekends...