Jump to Winery List
Upper Chittering Wine District
The Upper Chittering Wine district in the Perth Hills Wine Region includes the area in the Upper Chittering Valley near Bindoon, about 40 km north of Perth. Located about an hour from Perth, the Chittering Valley is famous for its wonderful food and wine trail. The trail, meanders through the hills of the beautiful Chittering Valley and you can stop and sample many of the award winning wines and fresh food outlets. The trail starts at Bullsbrook and winds its way along Chittering Road and ends at Jylland Vineyard near Gingin. You can stay in one of the many charming accommodation options in the area including farmstays, bed and breakfasts, holiday houses, units and caravan parks and camping areas. Great food is available at Bindoon Bakery, local pubs and the Bindoon Roadhouse and restaurant. The Brockman Centre has a wonderful range of locally made arts and crafts. See the wonderful display of wildflower in spring and join the annual Chittering Wildflower Festival, in September and the local Bindoon Show in October. Call in at the Visitors Centre, located on the Great Northern Highway, Bindoon. They have lots of information and guides on wine an sculpture trails, attractions, accommodation, gifts, local produce and souvenirs. Bindoon's proximity to Perth and its location en route between New Norcia and Perth have led to a major expansion of tourism. There are many wonderful attractions in the area. There is a maze, a herb farm, wineries, the Golden Grove citrus orchard that sells jams, preserves and fresh juice, a commercial rose garden, a marron (freshwater crayfish) farm and a pottery.

The Perth Hills Wine Region includes eight districts : Inner Perth ; Bickley ; Darlington ; Chidlow ; Gosnells ; Jarrahdale ; Lower Chittering ; Upper Chittering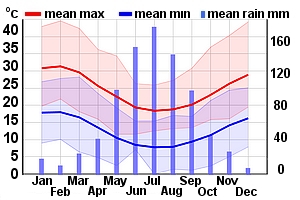 Winery Tour Map
Wineries
Briery Estate, WA 37 Briar Lane, Bindoon WA 6502
Briery Estate Wines of Bindoon is situated on a high hill just 85 Km North of Perth where you can enjoy beautiful views and the ambience of the area. Wine tastings are free and are conducted in a relaxed atmosphere. Chilled wines are available for your enjoyment with your BYO lunch. Wine tastings and sales are available every day, 10am to 6pm, Tuesdays by appointment. From Perth, take the Great No...
Halina Brook, WA Lot 31 Bindoon Moora Road, BINDOON WA 6502
The 11-ha vineyard was purchased in 1999. The Verdelho and Chenin vines are approximately 15 years old and the Grenache vines are 65 years old. The Shiraz is newly planted. The winery is located about 11 kms out of Bindoon township, on the Bindoon - Moora Road. The vineyard is surrounded by magnificent hills with a small creek running through the vineyard a beautiful place to visit and try a drop ...
Nesci Estate, WA Lot 12 Great Northern Highway, Chittering, WA 6084
For nearly fifty years Nesci Estate, have been producing grapes which have become the envy of winemakers throughout Western Australia. Set high in the hills of the Darling Ranges, this emerald green valley is blessed with ideal conditions for the cultivation of grapes...warm days and cold nights, rich fertile soil and natural spring water which runs right through the Estate. The Nesci family, firs...