Jump to Winery List
Coonawarra South Wine District, SA
The Coonawarra South District in the renowned Coonawarra Wine Region in South Australia, includes wineries to the south of Coonawarra and north of Penola along the Riddoch Highway. Coonawarra, Penola and the Limestone Coast have a wonderful range of activities to enjoy that suit the whole family. These activities range from wine tours throughout the region, surfing at one of the many fabulous beaches and seeing the stunning fossils at the world heritage listed Naracoorte Caves. Other local attrcations include # The Mary MacKillop Interpretive Centre # Penola Cycle Trails # Penola Golf Club # The Blue Lake and Tour at Mount Gambier # Naracoorte Caves National Park - see the underground world of ancient fossils and the mega-fauna of prehistoric Australia. Many animals were trapped in the caves and fossilised thousands of years ago. These caves are one of Australia's World Heritage-listed sites.

The Coonawarra Wine Region includes four districts : Glenroy ; Coonawarra Central ; Coonawarra South ; Penola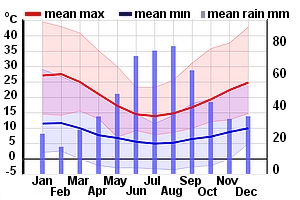 Winery Tour Map
Wineries
Bowen Estate, SA 15459 Riddoch Hwy, Coonawarra SA 5263
Family owned and operated, Bowen Estate produces a select range of classic Coonawarra wines – Chardonnay, Shiraz and Cabernet Sauvignon that reflect the true characteristics of Coonawarra – strong varietal aromas, intense flavours and soft balanced tannins. Utilising innovative viticultural practices our grapes are estate grown in our clonally planted heritage vineyards and the hand crafted, traditionally made wines have become, prized 'classic coonawarra' TM benchmarks. All Bowen Estate vines are individually hand-pruned ensuring each one produces maximum quality; this enables Doug Bowen to restrict the crop size resulting in wines that are full bodied with great depth of colour and longevity. In the winery, daughter Emma, crafts wines using these grapes which have been machine harvested and then crushed within an hour of harvesting. Fermented at cool temperatures, the Cabernet Sauvignon is quietly aged in French Oak whilst the Shiraz is in American Oak barriques.
Highbank Wines, SA 11 Maaoupe Road, Coonawarra SA 5263
Highbank Vineyards are located on the high banks of the classic Terra Rossa soil – each with stunning central locations. We have had an excellent reputation now for 20 vintages, producing high quality wines as the "Artisan of Coonawarra". Our wines are now available in the finest restaurants in Sydney, Melbourne, Brisbane, Perth, Canberra, and Adelaide.
Hoggies Estate Wines, SA 15006 Riddoch Highway Coonawarra, South Australia 5263
Winemaker Gavin Hogg aka. Hoggie has been in the winemaking game since 1973. From 1980 – 1999 he was one of the most senior winemakers in the Mildara-Blass Empire. He was co-responsible for inventing Jamiesons Run, with which he won a Jimmy Watson trophy in 1989. Hoggies has won scores of gold medals and more than 20 trophies with his wines, mainly from fruit grown on the famous Coonawarra red dirt. Hoggies wines are the essence of great vineyards, with a lot more to come over the next few years. They will never be made in great quantities but we will endeavour to make them as inviting and as enjoyable as possible to all wine lovers, no matter what their ilk and where they come from.
Jack Estate, SA 15025 Riddoch Hwy, Coonawarra SA 5263
Located in the heart of Coonawarra's Premium Wine Region is Jack Estate - one of the regions up and coming wine producers. Jack Estate is a family owned and operated winery, passionate and dedicated to growing and producing premium quality wines that showcase the very best of Coonawarra's prime 'terra rossa' soil. As our motto states, we believe it is important to respect traditional winemaking techniques while creating premium wines for wine lovers to enjoy long into the future.
Katnook Estate, SA 15310 Riddoch Hwy, Coonawarra SA 5263
Katnook Estate is one of the most esteemed domains in Australia`s premier red wine district, Coonawarra. Its vineyards are planted in prime Terra Rossa soil in the heart of this comparatively small and remote region in the south east corner of South Australia. Katnook Estate is located in the heart of the Coonawarra wine growing region and produces both the Katnook Estate and Riddoch labels.
Koonara Wines, SA 44 Church (Main) Street, Penola SA 5263
We are very proud of our wines, with all our grapes coming from our family vineyards, right here in Coonawarra. Our vineyards are low yielding, with intense, small berries, to create the highest quality wine possible. The Name Koonara comes from the name of our family`s property. In 1906, Henry Albert and Alice Jane Reschke came to Coonawarra to build a life for their family.
Leconfield, SA 15454 Riddoch Hwy, Coonawarra SA 5263
Embraces the essence of the Coonawarra region, creating rich, elegant and sensual wines, famous for its Cabernet Sauvignon. Leconfield Coonawarra was established in 1974 by noted oenologist, Sydney Hamilton. During winemaking career spanning nearly 60 years, Sydney was highly regarded for his contribution to the industry. He was especially known for pioneering temperature-controlled fermentation of white wines. This technique allowed for the preservation of delicate aromas and flavours and has become the benchmark for production of white wine around the world. Situated in the southern half of the Coonawarra strip, the vineyard occupies some of the area's richest terra rossa soil over limestone, a composition for which Coonawarra is famous.
Majella Wines, SA 2131 V&A Lane, Coonawarra SA 5263
In 1968 Brian and Tony Lynn commenced planting a vineyard on the Lynn family's property, Majella. Eventually the vineyard grew to some 60 hectares, mostly Cabernet Sauvignon and Shiraz, with some small plantings of Riesling and Merlot. After many years of growing grapes for sale to major Coonawarra wineries we decided to market some of the wines under the Majella label. At present all our grapes are processed in the Majella winery under the guidance of Bruce Gregory and Michael Marcus. With well over 900 trophies and other wine show awards Majella is one of the most awarded small wineries in Australia.
Patrick of Coonawarra, SA 15598 Riddoch Hwy, Coonawarra SA 5263
Established by celebrated winemaker Patrick Tocaciu in 2004. Our focus is premium Coonawarra Cabernet Sauvignon with a penchant towards cellaring our wine for a few years before they are released. During a decorated career spanning more than three decades, Pat celebrated international accolades while working as chief winemaker for several major labels. The focus then switched to fulfilling a more personal goal in the establishment of what is still now family owned and operated, Patrick of Coonawarra, in 2004.
Robertson`s Well, SA Riddoch Highway, Coonawarra SA 5263
One of Bellinger Blass` labels - The international fame of Coonawarra is built on Australia`s most prized wine growing soil: Terra Rossa. Terra Rossa (meaning `Red Land`) has made Coonawarra a winemaking paradise, and given rise to the region`s affectionate title as Australia`s other `Red Centre`. At Jamiesons Run we believe that great wine begins in the vineyard and to develop great wine you firs...
St Hugo Wines, SA Riddoch Highway
St Hugo Coonawarra Cabernet Sauvignon was launched with the 1980 vintage to honour Hugo Gramp – a visionary leader who successfully built Gramp & Sons winery into an industry pillar inspiring progress across future generations of the Gramp family. He was the grandson of Johann Gramp who planted his first vines in the Barossa Valley in 1847. St Hugo wines are an acknowledgement of Hugo Gramp's relentless pursuit of the highest quality wines and have been awarded over 1,300 medals at wine shows. Although the Gramp & Sons winery is located in the Barossa, visitors to Coonawarra can see our St Hugo vineyards on both sides of the Riddoch Highway.
The Blok Coonawarra, SA 15535 Riddoch Highway, Coonawarra, SA 5263
A great family owned cellar door in Coonawarra. Established 1997 and proudly owned and run by the Trotter family, we are the heart of Coonawarra. The Blok Coonawarra was established in 1997 with the Trotter family taking ownership in 2005. A family owned and run winery cellar door The Blok Coonawarra is one of the smallest in Coonawarra. Don't let our small size fool you, we pack a punch producing outstanding wines that reflect both our passion and the terroir of the region. As well as traditional red varietals such as Cabernet Sauvignon and Shiraz The Blok Coonawarra also produce Sauvignon Blanc, Riesling, Chardonnay and NV Sparkling Pinot Chardonnay. In a region dominated by red varietals The Blok Coonawarra is producing some fine examples of cool climate whites, most notably our Riesling.
Yalumba, SA 15542 Riddoch Hwy, Coonawarra SA 5263
Established over 166 years ago and now led by fifth-generation Chairman Robert Hill-Smith, Yalumba stands proud. It is dedicated to remaining under family ownership for the sixth generation to nurture; committed to crafting wines of conviction, quality and provenance. To own a vineyard upon the famous 'terra rossa' soil over limestone is the holy grail of all Cabernet Sauvignon purists. Since 1987, the Hill-Smith family has counted themselves among those fortunate enough to make an estate grown Coonawarra Cabernet Sauvignon, naming it after red wine enthusiast and former Prime Minister Sir Robert Menzies, who so generously praised Yalumba's Special Vintage Galway Claret 1961 at an influential gathering in Adelaide in 1966. The Menzies Vineyard is Yalumba's distinguished Cabernet Sauvignon estate, crafting two exceptional single-site Cabernet Sauvignons in 'The Menzies' and 'The Cigar.'
Zema Estate, SA 14944 Riddoch Hwy, Coonawarra SA 5263
Zema Estate is a true Coonawarra family winery, forged in Australia but based on the undeniable passions and traditions of its Italian heritage. Over four decades it has developed a reputation for producing premium quality Coonawarra Cabernet Sauvignon and Shiraz, with a consistency that defies vintage and seasonal fluctuations. It has achieved this through attention to detail – hand pruning, careful fruit selection, meticulous viticulture, passionate winemaking, diligent bottle ageing and a deep respect for the place and provenance of Coonawarra. Zema is proudly independent, deriving its meaning and inspiration from the sense of trust, security and dependability that comes from family and the feeling that everything it does has been influenced by a rich legacy of stories and culture.