Jump to Winery List
Glenroy Wine District, SA
The Glenroy Wine District, located in the Coonawarra Wine Region, includes wineries in the northern parts of the region north of the township of Coonawarra. One of the wineries in the area is Bellwether Wines located at the historic Glen Roy Woolshed that was originally constructed in 1857. It is located on Riddoch Highway at the gateway to the Coonawarra. Winemaker Sue Bell works closely with the environment to capture the essence of the season, soils and climate in her unique wines. She uses the more traditional winemaking techniques such. as hand picking, hand pruning, basket pressing, indigenous yeast and french oak. These methods lead to the production of the unique premium wines from Bellwether Wines. In essence, Bellwether Wines display purity, depth, complexity, concentration, persistence, length and texture.

The Coonawarra Wine Region includes four districts : Glenroy ; Coonawarra Central ; Coonawarra South ; Penola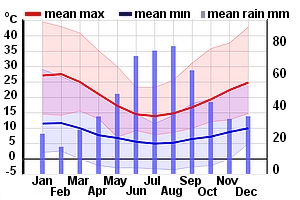 Winery Tour Map
Wineries
Bellwether Wines, SA 14183 Riddoch Highway, Coonawarra
Sue Bell created Bellwether, based at the 1868 Glen Roy Shearing Shed in Coonawarra. She focuses on special parcels of fruit with no ferment larger than 1 tone primarily for herself and some contract work for local growers wanting to start their own brands. Sue believes wine alone is irresponsible and a bit strange, so has established a place to share life with wine in it. People are literally invited to see and get involved in the process.
Clayfield Vineyard, SA Clayfield Rd, Coonawarra SA 5263
Welcome to Clayfield Wines online we hope you will visit us personally and experience the reality of fine Grampians Shiraz soon. You can find our vineyard, winery and cellar door along Wilde Lane, 2 kilometres from Moyston in the Grampians (click here for map). We are open for wine tasting and sales from Monday to Saturday between 10 am. and 5 pm. and on Sunday`s between 11 am. and 4 pm. Our viney...
Flints, SA Flint Road; PO Box 8, Coonawarra SA 5263
Flints have been there for over 140 years growing grapes on their vineyard at the northern end of Coonawarra, Yet they`ve only just begun to make their own wines for, in previous vintages, the award winning Orlando and Majella wineries have readily accepted the very high quality, finely flavoured Cabernet fruit they produce. Flints of Coonawarra`s first release was their Gold Medal Winning 2001vin...
Lindeman's Coonawarra, SA Vineyards in Coonawarra
The Lindeman's Coonawarra Trio are the ultimate expression of Coonawarra, of Lindeman's viticultural and winemaking skills and represent the pinnacle of the Lindeman's brand. Lindeman's has a long history in the Coonawarra region through buying wines for blending in the 1950's before formally arriving in Coonawarra with the purchase of the Rouge Homme winery and its' vineyards and land in 1965. Since then Lindeman's have expanded their vineyard holdings on Terra Rossa soil in central Coonawarra to include the vineyards of St George, Limestone Ridge and Nursery. From these vineyards we produce the Coonawarra benchmark wines of St George Vineyard Cabernet Sauvignon, Limestone Ridge Vineyard Shiraz Cabernet and Pyrus Cabernet blend.
Mount Benson Estate, SA 329 Wrights Bay Road, Mount Benson, Limestone Coast, South Australia, 5275
Our Cellar Door provides a vista across the Estate vineyard where our wines begin their journey from the rich terra rosa soils, fresh clean southern ocean breezes and bright sunshine, transforming at each stage until we have the luscious wines available for sampling. Gaze around the walls at the works of one of Australia's most awarded Archibald Prize winners and local artists. Relax and unwind at tables on the lawn while kicking back enjoying our wines, a scrumptious tasting platter and soaking in the vineyard ambience.
Ottelia, SA 5 Memorial Drive, Coonawarra SA 5263 Australia
It was only ever supposed to be temporary. John and Melissa moved to the iconic Coonawarra region thirty years ago intending to, in John's words, "stay a little while". They bought a parcel of land ringed by tall Red Gum Eucalypts, and with natural wetlands dotted with Ottelia Ovalifolia, a native water lily. In 1993 they planted 2 Ha of Cabernet Sauvignon and over the next 3 years expanded the vineyard to 9 Ha. All these years later John and Melissa are still there. After almost twenty years of experience working within the Coonawarra region, John and Melissa turned their energy towards their own projects; the restaurant Fodder and the wine label Ottelia. Introducing Drink Ottelia + Eat Fodder, walk in and taste the growing portfolio of wine alongside wood fired sourdough pizzas and seasonal dishes made with fresh veggies from the Fodder | Ottelia garden.
Reschke, SA `Rocky Castle`, Rocky Castle Rd, Coonawarra SA 5263
The Reschke family first settled in Coonawarra in 1906, twenty years after the founding of the district as a fruit growing centre by John Riddoch. The family continued to concentrate on their Hereford Stud until 1989 when the decision was made to plant their first vines. Fruit from this first planting ended up in Mildara`s top drop through the 1990`s. They were impressed with the vineyard, mostly ...
Rymill Wines, SA Riddoch Hwy, Coonawarra SA 5277
In the 1970's Peter Rymill, the great grandson of John Riddoch – the founder of Coonawarra – established Rymill Coonawarra. Peter very much embraced the pioneering spirit, strength and sense of adventure of his forefathers, when he planted a diverse range of varieties on the terra rossa soil and built a stunning, high-tech winery that is still home to Rymill Coonawarra today. The iconic Stallions Rampant statue at the entrance to the winery boldly embodies the strength of the wines. Rymill Coonawarra has always strived to create wines that express the very best that the unique soil and cool climate of Coonawarra can deliver; wines of finesse, power and balance – just like a good thoroughbred horse.
S Kidman Wines, SA Riddoch Highway, Coonawarra SA 5263
Located on the Riddoch Highway north of Coonawarra this family winery (the land has been in the Kidman family for four generations) was established in 1984 and specialises in red and white table wines derived from cabernet sauvignon, riesling, sauvignon blanc and shiraz grapes. Situated in the beautiful red gum country at the northern end of Coonawarra, Suzie and Sid Kidman invite you to come and ...
Whistle Post Wines, SA 15712 Riddoch Highway. Coonawarra
The Family owned Whistle Post Wines has a strong commitment to producing quality wine with character and regionality. The fruit is selected solely from the quality grapes grown on the Smibert Vineyard. The vineyard, planted in 1987, consists of predominately Cabernet Sauvignon, Merlot and Chardonnay. The premium wine and fruit produced from the 63 ha Smibert Vineyard has been in demand by various other wineries throughout the region for over a quarter of a century. In 2010 the Smibert family made their first wine from a selected patch, with a view of establishing their own label. WHISTLE POST was established in 2012.