Jump to Winery List
Coonawarra Central Wine District, SA
The Coonawarra Central District, in the heart of the Coonawarra Region, includes wineries close to the centre of the Coonawarra township. The Coonawarra Region is a tiny, thin cigar-shaped strip of red terrosa soil over limestone that runs along the Indochina Highway from the tiny Coonawarra township in the north to the town of Penola in the south, a total distance of just 24 km. Despite its size this small region produces some of the best reds (and great Chardonnays and Rieslings) in all of Australia. The winemakers, grape growers and sellers of this unique wine are very proud of their wines and their region. Some of the `must-visit` places in the area include dining at the Pipers at Penola, Upstairs at Hollick restaurants. You can also enjoy cellar door visits to Balnaves, Wynn's Coonawarra Estate, Rymill, Katnook Estate and Yalumba The Menzies. The Mary MacKillop Centre at Penola is also worth a visit (Mary MacKillop was recently declared a saint.

The Coonawarra Wine Region includes four districts : Glenroy ; Coonawarra Central ; Coonawarra South ; Penola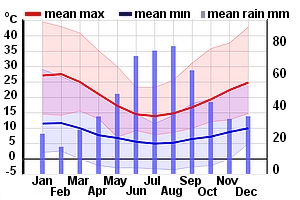 Winery Tour Map
Wineries
Brand's Laira Coonawarra, SA 14860 Riddoch Hwy, Coonawarra SA 5263
Brand's Laira is an iconic winery, nestled in the heart of the famed 'Terra Rossa' strip of South Australia's Coonawarra region. It was in 1893 that an English sea captain named Captain Henry Stentiford, purchased a block of land right in the heart of Coonawarra and named the estate 'Laira' after his beloved ship. The name 'Brand's Laira' was introduced some 50 years later in 1950, when Eric Brand (a baker by trade) and his wife Nancy Redman acquired the same 4 hectare property with just over 2 hectares of Shiraz. Today, the Brand family continue to keep a watchful eye over Brand's Laira with Eric's grandson Trent leading the viticultural team, working alongside eter Weinberg, Chief Winemaker, now in his 18th vintage.
Bundalong Coonawarra, SA Coonawarra winery
Bundalong, in the famous Coonawarra wine growing region, is a vineyard owned by James Porter and his family. The focus is on producing premium wines from top quality Cabernet Sauvignon and Shiraz fruit. Whilst the land has been in the family for over 65 years, in 2018 we celebrated the vineyards' 28th birthday. Our intimate and expanding knowledge of the vineyard enables us to manage the terra rossa soil and microclimate to carefully balance the canopy and crop. We seek to get a layering of flavours which can be produced from our clay based soil. Bundalong makes wine in the very best vintages using specially selected parcels of fruit from our single Coonawarra vineyard.
Di Giorgio Family Wines, SA 14918 Riddoch Highway, Coonawarra SA 5263
The history of the DiGiorgio family has to be partly understood to truly appreciate the commitment to the land and the wine industry. The founding father of DiGiorgio Family Wines, Stefano DiGiorgio, arrived from Italy on July 9th, 1952 as a young man full of hope, aspirations and a promising future in Australia as so many others had before him. Stefano realised through research with the governmen...
Jim Brand Wines, SA 12 Mary St, Coonawarra SA 5263
Jim Brand was born into the third generation of an Australian wine making dynasty. His life was dedicated to producing iconic wines from his family's renowned Coonawarra vineyards. Jim's passion spoke much louder than his words, his influence ftlt long since his time has passed.
Ladbroke Grove, SA Riddoch Highway, Coonawarra SA 5263
A boutique winery, we are founded on the belief that the making of superior wines requires hands-on craftsmanship. Our vision is to balance tradition and experience with contemporary innovation to produce classic, elegant wines with finesse that are unique to Coonawarra. Our winemaking philosophy rests on the principle that the finest wines are those made with the greatest dedication and care. Above all, it is considered paramount to 'respect the fruit'. It is the careful and considered work in the vineyard, from pruning to picking, that determines each wine being allowed to express the season in which it was grown. Our meticulous approach in the vineyard is continued within the winery. Balance, elegance and complexity is what we strive for, using small batch fermentation and French oak maturation to offer structure, complexity and balance to the wine to support the full expression of the vineyard.
Parker Estate, SA 15688 Riddoch Hwy, Coonawarra SA 5263
Parker Coonawarra Estate became a reality in 1988 with the establishment of a company having the objective of producing a fine wine, which, through succeeding generations, would earn a reputation for unmatched excellence. Parker Coonawarra Estate has achieved an unmatched reputation both within Australia and overseas where fine wines are revered for integrity and consistently superb quality.
Penley Estate, SA 148 McLean Road, Coonawarra SA 5263
Penley Estate, in its first vintage (1989) Penley made 5,000 cases of wine. Its production will steadily increase to about 20,000 cases. Penley`s 80-hectare vineyard is planted with Cabernet Sauvignon, Pinot Noir, Shiraz, Chardonnay, Merlot, Cabernet Franc and Pinot Meunier vine. Penley`s 166 hectare estate was established in 1988.
Petaluma, SA Vineyard in Coonawarra SA 5263
Winemaker Brian Croser's vision for Petaluma was to make world class wines from classic European varieties by choosing the best region for each variety and acquiring or planting the best vineyard in that region. Petaluma's choice of Coonawarra to grow Cabernet Sauvignon and Merlot was made in the recognition of its ideal climate for the production of an elegant and dense Australian red wine of pedigree. Petaluma pioneered close spaced,vertical canopy and hand pruned vineyards in Coonawarra. The simple hallmark Petaluma yellow label has come to represent Australian wines of refined elegance but stamped indelibly with characteristics of the their vineyards of origin. Petaluma wines have been established as New World Classics representative of the terroir of Australia's best regions.
Raidis Estate, SA Cnr Riddoch Hwy & Old Cemetary Rd, Coonawarra SA 5263
We reckon most things in life are better when they're shared. At our place, that's done over the table – loaded with backyard produce, a bottle or two of good wine and surrounded by family and friends. It might be our Greek heritage that inspired us to work the land. Since leaving more than 60 years ago Chris, with his wife Fran, has worked the Terra Rossa soils of Coonawarra, growing tomatoes, lettuces and strawberries before Steven joined his parents in the family business, together planting vines in 1990. Our two sites feature both the young and the old; regional classics Cabernet Sauvignon, Shiraz and Merlot along with Riesling, Sauvignon Blanc and Pinot Gris.
Redman Winery, SA 14830 Riddoch Hwy, Coonawarra SA 5263
The Redman family has been making wine in Coonawarra since 1908 when Bill Redman established a winery. This winery was to become Rouge Homme Wines. Bill was joined by his son Owen, who set up Redman Wines when Rouge Homme was sold in 1966. Today Redman is run by Owen`s sons Bruce and Malcom and specialises in the production of premium dry red table wines.
Wynns Coonawarra Estate, SA 77 Memorial Drive, Coonawarra SA 5263
Wynns Coonawarra Estate is the oldest established winery in Australia`s most celebrated fine wine region - Coonawarra. The estate was founded by pioneer John Riddoch, who planted vineyards in 1891 and completed the estate`s famous triple gabled winery in 1895. From the 1950`s onwards, Wynns Coonawarra Estate marketed its wines on the basis of their grape variety and place of origin..