Jump to Winery List
Flaxman Valley Wine District
Flaxman Valley is a locality on the eastern slopes of the Barossa Ranges in South Australia. Flaxman Valley is in the Eden Valley wine region, partly in the High Eden subregion. It was named after Charles Flaxman, the chief clerk of George Fife Angas. Some of the local wineries are located at an altitude of between 480-500 m, about 250 m higher than the Barossa Valley floor. The cooler temperatures are the key to the unique wines in the area, allowing an extended ripening period, which extends well into autumn. The poor soils tend to limit the vigour of the vines and create challenges for the winemaker. Most of the soils are shallow, generally light sandy loams lying over light to medium clay.

The Eden Valley Wine Region includes four districts : Keyneton ; Eden Valley Town ; Springton ; Flaxman Valley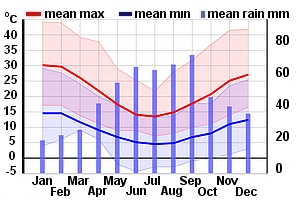 Winery Tour Map
Wineries
Eden Hall Wines, SA Craneford Rd, Flaxman Valley SA 5353
From their historic Avon Brae property set in the rugged beauty of the Eden Valley, David and Mardi Hall select only the best parcels of fruit to be made into wine under the Eden Hall label. The cool climate, ancient soils and the long ripening period provide ideal conditions for the production of exceptional wines of elegance and finesse.
Fernfield Wines, SA 112 Rushlea Road, Eden Valley, Barossa, SA 5235
Welcome to Fernfield Wines, an enchanting experience for your senses, tucked away in our little valley. Meet the owners and winemakers Scott and Bec, who make premium wines from selected vineyards in Eden Valley, Adelaide Hills and Barossa regions, along with artisan chocolates made on our estate to perfectly pair with our wines. Our quaint little cellar door is housed in our beautiful 1856 stone cottage.
Flaxman Wines, SA 662 Flaxmans Valley Road, Eden Valley, Barossa, SA 5235
We are a small boutique Eden Valley winery/cellar door established in 2004. We grow and make our own estate wines onsite consisting of Single Vineyard Riesling, Shiraz and Semillon and buy in small parcels of fruit to add to our range of wines, including Cabernet, Grenache and Mataro.
Gatt Wines winery, SA LOT 184 Boehms Springs Rd, Flaxman Valley SA 5353
The first release from fine Australian wine domaine, Gatt Wines has received top honours at the 14th Japan Wine Challenge. The trophy for best New World red wine at the largest and most prestigious wine competition in Asia was awarded to 2008 Gatt High Eden Shiraz. The elegant shiraz from Eden Valley came out on top of a highly competitive field of leading wines from around the globe. The trophy was presented by H.I.H. Princess Takamado at the Japan Wine Challenge Awards Ceremony. The stunning debut is an impressive coup for Gatt Wines estate owner, Mr Ray Gatt. He was delighted with the triumph, saying he was thrilled to receive the prestigious accolade for his first vintage of Gatt High Eden Shiraz. According to Mr Gatt, the award highlights the quality and diversity of Barossa shiraz. Situated atop the Barossa Ranges on the High Eden ridge, his Eden Springs Vineyard is set in a wilderness of epic natural beauty at the pinnacle of Eden Valley.
Heggies Vineyard, SA Heggies Range Road, Eden Valley; PO Box 10 Angaston SA 5353
The magnificent sweep of country that is the Heggies Vineyard had been grazing land for most of its settled history and was owned by local grazier and bushman, Colin Heggie, before being purchased by Wyndham Hill Smith, then co-proprietor of the Yalumba Wine Company. Friends since school days, Colin and Wyndham`s friendship continued into adulthood and throughout their lengthy negotiation over the...
Hill-SmithEstate, SA Flaxman`s Valley Road, Eden Valley PO Box 10, Angaston SA 5353
Part of the Yalumba stable, drawing upon its own estate plantings comprising 23 hectares of chardonnay and sauvignon blanc. Over the years this vineyard has produced some excellent wines, but quality does seem to vary significantly with vintage, and the winery rating is a compromise between the best and the least. Product Range: Sauvignon Blanc, Chardonnay. Winemaker: Robert Hill-Smith, Hugh Reime...
Pewsey Vale, SA Eden Valley Road, Angaston SA 5353
Altitude with Attitude - With an altitude varying between 485 metres and 500 metres, Pewsey Vale sits 250 metres above the Barossa Valley floor. The cooler temperatures found at this height encourage a longer ripening period which extends well into autumn. This longer ripening period is essential for producing superior quality grapes with exceptional flavour and character - hallmarks of Pewsey Val...
Poonawatta, SA 1227 Eden Valley Road, Flaxman Valley, Barossa, SA 5235
Poonawatta offers original 1880 vines, estate wines and regional character. Call us to arrange an intimate wine tasting around the Poonawatta table. Experience our hand crafted wines from some very special old vineyards. As a small family producer, tastings are by appointment, and while we aren't always available, we will do our best to share the Poonawatta experience with you. If you're interested in the special character of single vineyard wines, the pleasure of Eden Valley's regional expression and the uniqueness and living history of wonderful old vine wines, Poonawatta is an experience you will truly enjoy.