Jump to Winery List
Keyneton Wine District
Keyneton Wine District includes wineries near Keyneton, Mount McKenzie and Moculta in the northern Eden Valley Wine Region. The district is centred on the historic winery town of Keyneton, on the road north of Adelaide that extends to the Murray River. Keyneton has a beautiful set of historic buildings dating from the mid-late 1800s. Just a short drive away is the historic Henschke winery, home to the world-famous Hill of Grace Shiraz. Keyneton is located on the eastern borders of the Barossa Valley and Barossa Hills regions and is an ideal base to explore the Barossa Valley and Eden Valley areas.

The Eden Valley Wine Region includes four districts : Keyneton ; Eden Valley Town ; Springton ; Flaxman Valley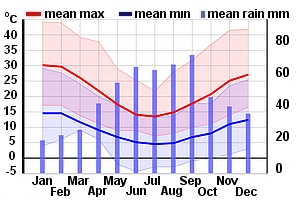 Winery Tour Map
Wineries
Brockenchack Vineyard, SA 351 Sawpit Gully Road, Keyneton, Barossa, South Australia, 5353
Brockenchack Vineyard is sure to delight and impress. Enjoy the surrounding of beauty of the Barossa's Eden Valley as you discover this little hidden gem. Named after Trevor and Marilyn's grandchildren; Bronte, Mackenzie, Charli and Jack, the Brockenchack experience will put a smile on your face. Visit our historic cellar door and embark on a tasting journey through our range of cool climate hand crafted wines, made by our two amazing winemakers; Joanne Irvine and Shawn Kalleske. Off the beaten path, come and discover the beauty of Eden Valley, our exquisite regional wines and the sordid history of our century old vineyard. Built in the 1880's, step down into our cellar door's underground trophy room where the local butcher once hung all his meat. Upstairs, look hard enough and you shall find the red light signals that were used in this old building's brothel days!
Hartz Barn Wines, SA 1 Truro Road, PO Box 22, Moculta SA 5353
Hartz Barn Wines is a family operated vineyard and wine enterprise based in the village of Moculta, Eden Valley, Barossa region of South Australia. The home of Hartz Barn Wines has supported the families of the district as a General Store (known as Hentschke General Store) since 1885 offering an extensive range of goods and services. Our Hartz Barn Wines label depicts the Moculta General Store and...
Heathvale Wines, SA Saw Pit Gully Road, via Keyneton, SA 5353; PO Box 164, Angaston SA 5353
The Heathvale ideal was borne from a sense of history and appreciation of the custodianship that we as a family have over a unique piece of Australian heritage. Heathvale is a family owned, run, and developed enterprise - all of us sharing in a vision of its potential and future. From the initial plantings in 1987 our growth has been characterised by steady, small development as funds and labour w...
Henschke Eden Valley, SA Henschke Cellars, 1428 Keyneton Road, Keyneton SA 5353
Cyril Henschke purchased the Eden Valley property in 1966, and established a large planting of predominantly riesling and shiraz at a time when riesling was scarce and bonuses were being paid by the large wineries. Today the riesling is the source of the Julius Eden Valley Riesling, named in honour of Stephen's great-uncle Julius Henschke, a highly acclaimed artist and sculptor, while the shiraz is used in the Keyneton Euphonium blend.
Torzi Matthews, SA Eden Valley Rd, Mt McKenzie SA 5353
Domenic Torzi and Tracy Matthews are Vignerons and creators of fine Australian extra virgin olive oil on a small 10 acre property in Mt McKenzie sub region of Eden Valley Barossa. In 1996 they purchased and planted Shiraz on a 10 acre property in Mt McKenzie which was run down and bare, to pursue their dream to produce Shiraz fruit for an Italian inspired food wine. The location was perfect, no vi...