Jump to Winery List
Springton Wine District
The Springton Wine District includes wineries near Springton at the southern end of the Eden Valley Wine Region north of Adelaide. Located about 65 km north-east of Adelaide, Springton is located on south eastern boundary of the Barossa Valley. It is a good spot to use as a base for exploring both the Barossa Valley and Eden Valley Wineries. One famous attraction is the Herbig Tree and Homestead Heritage Centre, located in the main Street. Friedrich Herbig set up his family in the famous Herbig Family tree that was a large, hollow red gum. The Heritage Homestead centre includes a range of historic buildings including a barn, original cottages and a cellar.

The Eden Valley Wine Region includes four districts : Keyneton ; Eden Valley Town ; Springton ; Flaxman Valley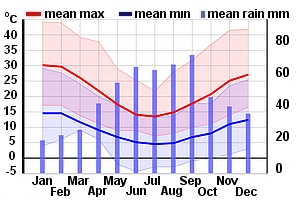 Winery Tour Map
Wineries
Blue Rock Wines, SA Lot 250 Springton Rd, Pewsy Vale SA 5351
Blue Rock Wines is a small family owned winery nestled in the southern end of the Barossa Valley. A specialist producer of cool climate wines, we produce around 4,000 cases of wine a year. Blue Rock Wines is 100% family owned and operated. All of our wines are sourced and hand crafted from our single vineyard property in southern Barossa Valley. Winemaker, Zissis Zachopoulos, puts his passion, knowledge, dedication and commitment into every bottle.
Edenmae Estate, SA 7 Miller St, Springton, Barossa, SA, 5235
Nestled within the Barossa highlands, the cooler climate of Eden Valley produces refreshing Riesling, spicy Shiraz, delicate Cabernet and robust Pinot. Edenmae Estate focusses on terroir and tradition, with a firm commitment to sustainable production. Our wines are crafted from 100% Eden Valley fruit and produced totally within the Barossa grounds. We believe that the seasons dictate fruit destination, resulting in a fluid portfolio ranging from sparkling to fortified – and everything in between! Whether we are sourcing produce, musicians, designers or pickers, we believe in supporting local. It's part of our committment to the region and our home of Eden Valley.
Forbes Wine Co., SA 30 Williamstown Rd, Springton SA 5235
Over the past few years I have discovered that Eden Valley has the same influence on fruit quality in Merlot as it does with Riesling, and I have made some Merlots with amazing aromatics together with great soft complexity. When blended with Cabernet Sauvignon and Cabernet Franc in varying proportions, it is possible to make gloriously elegant reds with true three dimensional character. My quest for this complexity in reds is only just beginning, so, as they say, watch this space.
Peter Seppelt Wines, SA Laubes Road, Springton, Barossa, SA 5235
The Seppelt family has been making wine for more than 150 years and Peter Seppelt is the fifth generation to continue the winemaking tradition. Visit their estate and cellar door. Set in rolling hills, the vineyards all have a north-easterly aspect giving maximum exposure to the sunlight. Conditions are ideal for the production of high quality wines. Old stone buildings on the Estate have been restored and new ones added to make the property historically authentic. The wine grapes are picked from our property and made into wine using traditional methods. The vineyards are planted at an altitude of 450 metres and are cool by comparison to most of South Australia's vineyards.
Poverty Hill Wines, SA 14 Miller St, Springton SA 5235
Poverty Hill Wines brings together a group of men who have had a long connection with the Eden Valley. They include Rob Buck, who owns vineyards on the ancient volcanic soils east of Springton, producing our shiraz and cabernet sauvignon. John Eckert is the winemaker at Poverty Hill. He started his career working with Len Evans. Today he makes the wines at Poverty Hill as well as managing their vineyards – those of Rob Buck as well as his own block of Riesling in the heart of the Eden Valley.