Jump to Winery List
Eden Valley Central Wine District
The Taunton District includes wineries close to the township of Taunton, Eden Valley, and Craneford, in the central parts of the Eden Valley Wine Region. Eden Valley is a picturesque small township that is well known as the `Garden of Grapes and Gums`. Magnificent stands of old river redgums dotted in the extensive patches of green vineyards. This district is renowned for its world famous Riesling and Merlot wines and many other varieties. The area has many historic buildings, museums and a thriving artistic and craft community. Visitors can also enjoy bushwalking through the nearby Kaiser Stuhl National Park.

The Eden Valley Wine Region includes four districts : Keyneton ; Eden Valley Town ; Springton ; Flaxman Valley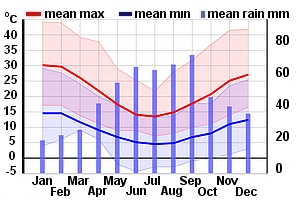 Winery Tour Map
Wineries
Irvine Wines, SA Basil Roeslers Road, Eden Valley SA 5235
Never in 1959 did James Irvine ever think he would one day own his own property in the ranges above the Eden Valley of South Australia. At that time he was with Thomas Hardy and Sons and was responsible for the purchase of grapes from the Eden Valley area for the production of the famous `Siegersdorf` Riesling. The area greatly impressed the young Jim Irvine, and he dreamt of some day being able t...
Mountadam Vineyard, SA High Eden Road, Eden Valley, SA 5235
Mountadam Vineyards is an iconic Australian family owned and operated winery located in the High Eden sub-region of Eden Valley, South Australia.
Rileys of Eden Valley, SA 82 Keynes Hill Rd, Eden Valley SA 5235
The Rileys purchased the Eden Valley property in 1981 and began their amazing winemaking journey. Previously a sheep station, the area was regenerated with understory and resulted in a large number of birds and native animals making their home with the Rileys. The 12ha vineyard is planted on typical Eden Valley soils ranging from deep sands to sandy loams over sandy clays. Originally the vineyard was to be a part time venture but the success of the vineyard soon grew. In 1998 , Terry retired from his position of Professor of Mechanical Engineering at the University of South Australia to concentrate full time on the vineyard and later the winemaking activities.
Robert Johnson, SA Bartschs Road, Eden Valley, SA 5065
Former teacher of vinous secrets, Robert Johnson, has now turned his full attention to the Alan and Vietch and Robert Johnson Vineyards projects. He has a modest plot in Eden Valley and buys in carefully selected parcels to fill out the range. This excellent Viognier is sourced from the Charleston district of the Adelaide Hills and reflects the quality of Hills Viognier from this vintage. Where so...