Jump to Winery List
Arundel Wine District
The Arundel Wine District includes vineyards and wineries on the outskirts of Melbourne, in the Sunbury Wine Region near Arundel, Sydenham, Keilor and Melbourne's Airports. The district is located on the outskirts of Melbourne, about18 km north-west from Melbourne's central business district. A major environmental attraction is Brimbank Park which is a large amphitheatre shaped feature created by high bank that flanks the Maribyrnong River. The park is very popular with bushwalkers, campers anglers, canoeists, kayakers and bird-watchers. Another local attraction is Organ Pipes National Park which contains the unusual rock formation known as the Organ pipes formed from volcanic basalt. The Organ Pipes are located near Jacksons Creek. Fossils found in the park date back 400 million years. Native plants in the park includes variable spear grass, lightwood and bloodwoods, wallaby grass, river red gum along the waterways, and acacias such as silver wattle. The many boutique wineries in the area include: Arundel Farm Estate, Kennedy's Keilor Valley Vineyard and Rose Creek Estate.

The Sunbury Wine Region includes four districts : Kilmore ; Sunbury ; Melton ; Arundel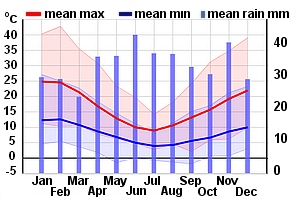 Winery Tour Map
Wineries
Arundel Farm, VIC Arundel Road, Keilor Vic 3036
On the southern boundary of Melbourne airport, high above the Keilor Valley, the core business is broodmares - winemaking is a new enterprise. A single acre of Cabernet and Shiraz was planted by a previous owner in 1970s and abandoned. When the Conwell family purchased the property in the 1990s, the vineyard was resurrected, and the first vintage made by Rick Kinzbrunner in 1995. The Cabernet has ...
Kennedy`s, VIC Lot 3 Overnewton Road, Keilor, Vic 3036
No data...
Rose Creek Estate, VIC 2 Craig Street, East Keilor Vic 3036
Rose Creek Estate has been described as `Tuscany in East Keilor`, with the house and vineyard surrounded by 300 olive trees, fresh fruit and vegetables all just a step from the back door. The Sicilianos established Rose Creek Estate based on their home town Varapodio in Italy. The views and family atmosphere around Rose Creek Estate and their passion for traditional Italian cuisine and living give...