Jump to Winery List
Sunbury District
The Sunbury District includes wineries in the North East of the Sunbury Wine Region, near the town Sunbury, close to Melbourne, and near the other towns of Diggers Rest, Craigieburn, Bulla, Yuroke, Sunbury is 215 m above sea-level, and is located about 30 km north-west of Melbourne's central business district, close to Tullamarine Airport. Sunbury has been a primary and pioneering wine growing district in Victoria for more than 100 years, which is showcased at the famous Sunbury Wine Festival held in August every year and attracts thousands of visitors. The historic wineries include Goona Warra and Craiglee that were first planted in the 1860's and were replanted in the 1970. Some of the many attractions and events in the area include: # The Dilkara Arts Festival is held in February # Sip-n-Sup Wine Festival on the last Sunday in August # Sunbury Fair in March # Arts Society Exhibition in May # Agricultural Show in August and a craft market on the first Saturday of the month # Rupertswood is an historic two-storey 50-room mansion. Some of the many wineries in the area include: Andraos Bros Wines, Craiglee, Digger's Rest Vineyard, Fenton Views, Goona Warra Vineyard, Longview Creek Estate, Mount Aitken Estate, Olde Winilba Vineyard, Ray-Monde, Sunbury Winemakers, Wildwood Winery, Yuroke Vineyard.

The Sunbury Wine Region includes four districts : Kilmore ; Sunbury ; Melton ; Arundel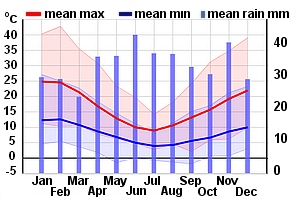 Winery Tour Map
Wineries
Bindi Wines, VIC Gisborne-Melton Rd, Gisborne VIC 3437
Bindi', 50 kilometres north-west of Melbourne in the Macedon Ranges, is the family property of the Dhillon family. Originally purchased in the 1950s as part of the larger grazing farm 'Bundaleer', 'Bindi' is a 170 hectare farm of which 7 hectares are planted to Chardonnay and Pinot Noir. Fifteen hectares are dedicated to managed plantation eucalypts for high grade furniture timber whilst the remainder of the land is maintained as remnant bush land and important indigenous grasslands. The Bindi vineyard is the fundamental focus of our endeavors. Our vineyard and winemaking philosophy is to seek balance and purity in the expression of our various individual vineyard sites and this philosophy is applied to farming and conservation at 'Bindi'; the preservation of the natural harmony. The Bindi labels featured under the link 'wine styles' provide some of the stories of people and place that define our endeavour.
Born & Raised, VIC 1507 Melton Hwy, Plumpton VIC 3335
Born and Raised are dedicated to bringing you the finest in small batch, alternative Australian wine styles. Born from the Other Side. Raised by those with designs on your grape derived drinking pleasure.
Craiglee, VIC Sunbury Road, Sunbury, Vic 3429
James Stewart Johnston, a member of the Victorian Parliament, and a prominent local businessman, originally planted vines at Craiglee in 1863. James S Johnston made wine at Craiglee for about 12 years, during which time he built a substantial bluestone winery that utilised the gravity feed system. Grapes were brought to the upper level by horse and dray, crushed, fermented on the next level and fe...
Fenton Views, VIC 182 Fenton Hill Road, Clarkefield VIC 3430
Follow the Tullamarine Freeway past the exit to Melbourne Airport, through Bulla, then take Melbourne-Lancefield Road. Follow for approximately 10 minutes, then turn right into Konagaderra Road, then left into Boggy Gate Road. After 2km, turn right into Fenton Hill Road. We are located approximately 2km along, on the right. This boutique producer of quality award-winning wines, is a family operati...
Goona Warra Vineyard, VIC 790 Sunbury Rd, Sunbury VIC 3429
Goona Warra Vineyard is a winery, wedding and event venue in Goona Warra, just outside of Sunbury, Victoria. Established in 1863, Goona Warra means 'Black Swan' in the local Indigenous language. Everything we do, from our events to our wines, is guided by our motto 'tradition, authenticity and integrity' Our wine and events bring people together in the tradition of celebrating with shared food and wine.
Pitruzzello Estate Olive Grove & Winery, VIC 25 Deverall Rd, Sunbury VIC 3429
Wonderful wines and great function centre.
Ray-Monde Deux, VIC 250 Dalrymple Rd, Sunbury VIC 3429
High on the hills above Sunbury, the pinot noir is planted on the Lakey`s family`s soldier settlement block. The Lakey family established 5ha of pinot noir on their 230ha grazing property, at an altitude of 400m. Cellar Door by Appointment: Mob: 0418 542 833...
Wildwood Winery, VIC St John`s Lane, Bulla, Vic 3428
Wildwood is in a quiet rural setting with views down the Oaklands Valley to the Melbourne skyline. Wildwood is situated just 4 kilometres past Melbourne airport, at an altitude of 130m. Dr Stott, a Melbourne plastic surgeon, is the winemaker; his viticulturist Kirk McDonald has recently come from WA. In 1846, Madame Daniel and her five sons planted vines and fruit trees on their Bulla property Nar...
Yuroke Vineyard, VIC 830 Craigieburn Road, Yuroke Vic 3063
Peter and Robyn Simmie planted grapes in 1997 and 1999 on a cattle property near the remnant river red gums that roll up the hills of Yuroke. There are 20 acres high on a hill with 360...