Jump to Winery List
Melton Wine District
The Melton Wine District includes vineyards and wineries in the Western part of the Sunbury Wine Region, north of Melbourne near the towns of Melton, Bacchus Marsh, Toolem Vale and Darley. You can also sample the fruits of regional wines at Witchmount Estate where the cellar door is open from Wednesday to Sunday. Melton also has many historic buildings. Visit the Long Forest Flora Reserve just a short drive west from Melton includes a diverse range of flora and fauna and is an excellent spot for bushwalking and camping. Melton lies on a ancient volcanic basalt plain and there are two extinct volcanoes nearby: Mt Kororoit and Mt Cottrell. Local attractions include: # Historic Buildings # Pluperfect Antiques - sell collectable Australiana - pens, linen, prints, china, fully restored furniture and lots of other antiques and items. Some of the local attractions include: # Hannah Watts Recreation Reserve# The Honey Shack # Melton Waves Leisure Centre # Toolern Creek Heritage Trail # The Willows Historical Park # Warrensbrook Faire # Witchmount Estate Winery # Galli Estate Winery # Mt Atkinson Olive and Nut Grove # Melton Reservoir # Parwan Estate Winery # Long Forest Flora Reserve. The many boutique wineries in the area include: Bacchanalia Estate Vineyard, Bacchus Hill, Black Hill Estate, Cameron`s Estate, Galli Estate Winery, Parwan Estate, Toolern Vale Estates, Toolern Vale Hills, Witchmount Estate.

The Sunbury Wine Region includes four districts : Kilmore ; Sunbury ; Melton ; Arundel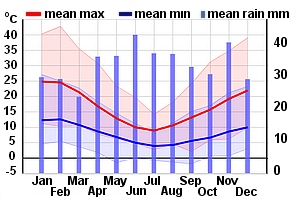 Winery Tour Map
Wineries
Bacchus Hill, VIC 100 O'Connell Road, Bacchus Marsh, Vic 3340
The vineyard is planted with 2 ha each of riesling, semillon, sauvignon blanc, chardonnay, pinot noir, shiraz and cabernet sauvignon, 1 ha of chenin blanc and 0.5 ha of nebbiolo, plus a more recent planting of sangiovese. Lovely wine, some of which is exported to Canada.
Galli Estate, VIC 1507 Melton Highway, Rockbank VIC 3335
Galli Estate was established in 1997 by Lorenzo and his wife Pamela at Rockbank in the renowned Sunbury Wine Region of Victoria. The 100 acre vineyard is close to the city of Melbourne, just 30 minutes away. With its rich, red volcanic soil, attention to detail in vine management and low yield targets, the estate is focused on producing premium quality wines. The vineyard is planted predominantly ...
Parwan Estate, VIC Telephone Road, Parwan VIC 3430
The vineyard is established on a grazing property on the southern bank of the Melton Reservoir, with a 3 Ha Vineyard. The very dry climate allows perfect ripening for the grape crop and gives a low incidence of pests and diseases....
Toolern Vale Hills, VIC McPhersons Road, Toolern Vale VIC 3337
No Data...
Witchmount Winery, VIC 557 Leakes Road, Rockbank, VIC 3335
Witchmount Estate is a family business focusing on the quality of the grape rather than the quantity and aiming to produce the finest possible wine. On Rockbank`s rich red soil, the more than 20ha of vines have been established by the Ramunno family who run the vineyard, a restaurant and a function room....