Jump to Winery List
Red Cliffs Wine District
The Red Cliffs Wine District is centred on the towns of Red Cliffs, Karadoc, Irymple on the Murray River in the Murray-Darling Wine Region in north-west Victoria. The popular town of Red Cliffs is situated about 8 km south of Mildura, and is located in the heart of a major citrus and grape growing area, with reliable water provided by irrigation from the Murray River. Take the short drive eastwards along Pumps Road to the famous Red Cliffs Scenic Reserve. The spectacular Cliff Top Lookout offers beautiful views of the river and the surrounding floodplain landscape. LOcal attractions and events include: # The Carringbush Glass Gallery # Hattah-Kulkyne National Park # Murray-Sunset National Park # Kings Billabong Wildlife Reserve # Murray-Kulkyne Regional Park. There are many outstanding vineyards and wineries in the district including: Alambie Wines, Brockville Wines, Deakin Estate, Evans & Tate, Freck's Vine Nursery, Irymple Estate Winery, Lindemans Karadoc Winery, Milburn Park Winery, Nursery Ridge Estate, Salisbury Estate, Thurla Farms, Zilzie Wines.

The Murray Wine Region includes four districts : Robinvale ; Mildura ; Nangiloc ; Red Cliffs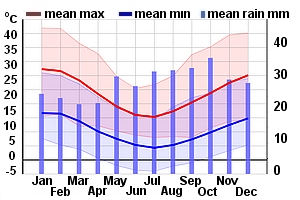 Winery Tour Map
Wineries
Azahara, VIC Kulkyne Way, Red Cliffs VIC 3496
ABOUT The Wingara Wine Group is one of Australia's Top 20 (by volume) wine companies and is fully owned by the Ferrer Family. Wingara was founded in 1967 when land was purchased and vineyards planted in Coonawarra, South East South Australia, and Red Cliffs, near Mildura, North West Victoria.
Cappa Stone Wines, VIC 107 Twenty Second St, Red Cliffs VIC 3496
Cappa Stone Wines is made up of two families who share a passion and love for wine and viticulture. The Stephens and the Cua families. We are a local Sunraysia, boutique winery. Our Cellar Door is only a 10 minute drive from the Mildura CBD, in Sunnycliffs. To make our wines, we select super premium parcels of fruit from the local Sunraysia wine region as well as other Cool Climate regions like the Coonawarra, Adelaide Hills and Clare Valley wine regions. We transport these carefully selected parcels of fruit to our winery to be hand made and nurtured into super premium wine.
Chateau Mildura, VIC 191 Belar Ave, Irymple VIC 3498
In 1887 Canadian brothers George and W B Chaffey established Irrigation colonies at Mildura and Renmark to produce a wide range of horticultural crops, on their own property on Belar Avenue Irymple. They planted 150 acres of wine grapes and established Chateau Mildura, giving birth to an industry that in the Sunraysia and Riverland areas has grown to produce over 50% 0f Australia's wine grapes. Chateau Mildura until 2002 was part of the company originally Mildura Wines Pty Ltd that has grown into Beringer Blass the worlds largest premium wine Company. In 2002 it was purchased by 4th generation local horticulturist Lance Milne who has re-established table wine production and cellar door sales in the building. Lance's Grand father and great grandparents were original settlers at Merbein when the area was opened for irrigation in 1913. He has spent his working life producing a wide range of different horticultural crops and has a passion for the districts irrigation and horticultural heritage.
Deakin Estate, VIC Kulkyne Way, Red Cliffs, VIC 3496
Deakin Estate is home to Deakin Estate and Deakin Select wines. The vineyard has 350 hectares - mostly Chardonnay, Cabernet Sauvignon, Shiraz, Merlot, Sauvignon Blanc, Riesling , Ruby Cabernet and Colombard. Deakin Estate - so named for Victoria`s brilliant and visionary politician, Alfred Deakin - is a winery and extensive vineyard holding producing high-quality, great value table wines that only...
Nursery Ridge Estate, VIC 8514 Calder Highway, Red Cliffs VIC 3496
Established in 1999 and located on the Calder Highway in Red Cliffs, the Estate takes its name from the Vineyards that are situated on the site of the original vine nursery. It is a family-owned and operated boutique winery, with Shiraz, Cabernet Sauvignon, Chardonnay and Petit Verdot in production. All wines produced are basket pressed and hand plunged. The wine maker treats the fruit with care a...
Zilzie Wines, VIC 66 Kulkine Way, Red Cliffs, VIC
Zilzie Wines is an Australian company established by the Forbes family and is based at Karadoc in North West Victoria. The Forbes family - fourth generation farmers - are from hardy Scottish stock and have called Zilzie Estate home since 1911. Zilzie, translated from the Scottish, means `first home`. The Forbes family has farmed at Zilzie Estate in north-west Victoria since 1911. The farm has seen...