Jump to Winery List
Mildura Wine District
The Mildura Wine District is part of the Murray-Darling Wine Region and is centred of the towns of Mildura and Burgonga (across the river in NSW). Other towns in the area include: Irymple, Nichols Point, and Paringi. he major centre of Mildura is located about 400 km from Adelaide and about 550 km from Melbourne. Mildura is a very popular tourist destination that features wide, tree-lined streets and has wonderful local foods, wineries, restaurants and a fabulous set of attractions, activities and events. Mildura's best known natural attraction is the mighty Murray River which has great facilities and many activities, such as canoeing, kayaking, boating, paddle steamer cruises, waterskiing, swimming, fishing and house boats and live-aboard cruise vessels. Just 90 minutes away is South Australia's rich Murray Riverland region surrounding Berri and Renmark. The historic town of Wentworth in New South Wales is just 30 km north-west of Mildura and is located at the confluence of the Murray and Darling Rivers. Local attractions and events include: # Mildura Brewery # Hattah-Kulkyne National Park # Kings Billabong Wildlife Reserve # Murray-Kulkyne Regional Park # Mildura Arts Centre # Murray-Sunset National Park # Mildura Country Music Festival # Mildura Jazz, Food & Wine Festival # Mildura Sun Festival # Mildura Wentworth Arts Festival.

The Murray Wine Region includes four districts : Robinvale ; Mildura ; Nangiloc ; Red Cliffs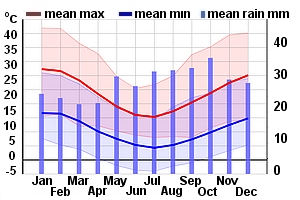 Winery Tour Map
Wineries
Carn Estate, VIC Eleventh Street, Nichols Point VIC 3501
Carn Estate Wines is located in Nichols Point, in the Murray Darling wine region of the North West Victoria`s Murray River area. Cafe on site....
Duxton Vineyards, NSW 926 River Road Boeill Creek, NSW 2739
Established in November 2015, Duxton Vineyards Pty Ltd will showcase the best of the Murray Darling Region through its unique and diverse grape and wine offerings to the global wine industry. Duxton Vineyards brings a passionate new group of successful and experienced entrepreneurs to one of Australia's most significant wine regions. By consolidating some of the district's most exciting vineyards and applying specialised viticultural knowledge and techniques, Duxton Vineyards is poised to set the benchmark for Murray Darling grapes and wines into the future. Duxton Vineyards also engages some of Australia's most respected viticultural and winemaking consultants to ensure that products meet the very highest of standards required from their astute clientele.
Oak Valley Estate, VIC Deakin Ave - between 17th and 18th St Mildura, Vic 3500
Oak Valley Estate is located in the Sunraysia district of north-west Victoria Australia, which is well known for its unique climate and delightful fresh produce. Oak Valley Estate produces unique wines and magnificent gourmet produce ranging from olive oil, pickles, jams and dried fruits. Oak Valley Estate has a range of wines. These include Verdehlo, Muscatel Blanc, Moscato Rosso, Merlot, Grenach...
Stanley Wines, NSW Silver City Highway, Buronga NSW 2739
Stanley Wines was an integral part of the Hardy Wine Company and is now part of the Constellation Wines group. The Stanley cask is an icon, being enjoyed by millions of Australians every year on a multitude of occasions. It is located in Buronga, New South Wales Murray Darling River (Big Rivers)....
Tall Poppy Wines, VIC 82 Lemon Ave, Mildura, Vic 3500
Tall Poppy Wines are made for an energetic world that appreciates those times of relaxation, celebrates the convivial company of friends and does so with a degree of style. The philosophy of Tall Poppy Wines is straightforward - to produce `fine wines at an affordable price`. One might add - with a consistent quality that can be relied on. The Tall Poppy range is the fruit of that philosophy. Thes...
Varapodio Estate, NSW 60 Sturt Hwy, Buronga NSW 2739
Our Cellar Door- Cafe was built on farm in 2009, after operating for a couple of years from a temporary site in our garage. Tastings of our award winning olive oils are available. We also have olives, salad dressings and a range of olive oil moisturisers and soaps for sale. In addition, we stock a wide array of other locally produced products, such as Murray River Salt, Outback Almonds, Jamie's Fine Dressings, Roy Farm's Summer Fruit, CosiGrape local dried fruit and Just Go Nuts pistachios, to name a few, as well as our own ever increasing range of preserves. Our Cafe serves a home cooked menu of morning and afternoon teas and light lunches, including vegetarian and gluten free choices. Local seasonal produce is used where ever possible. Our olive oil ice-cream (as seen recently on the Postcards T.V. show), is also available in the cafe served with one of our desserts.
Winegrowers Inc., VIC 31 Deakin Ave, Mildura, Vic 3500
The site is co-hosted by Murray Valley Winegrowers` Inc and the Murray Valley Winegrape Industry Development Committee. These organisations represent around 1,000 winegrape growers, who produce more than 300,000 tonnes annually. The Murray Valley, incorporating the Murray-Darling and Swan Hill wine regions, contributes up to 25% of Australia`s wine production for worldwide brands such as Deakin Es...