Jump to Winery List
Robinvale Wine District
The Robinvale Wine District is located in the Murray-Darling Region of north-west Victoria near the border with NSW and South Australia. The town of Robinvale is situated between the River towns of Swan Hill and Mildura in the north-west corner of Victoria. Other major towns in the district are: Robinvale, Euston, Bannerton, Weinen, Balranald. Robinvale is a rural service centre and popular and picturesque holiday destination, located in a unique position on a peninsula of land surrounded on three sides by the Murray River. South of the town is a major irrigation area producing fruit and vegetables, dried fruits and large vineyards. To the south of town, off Pethard Road, is the Euston Weir and Lock 15, built as reservoirs to store water for irrigation. Some of the attractions and events in the area include: # Hattah-Kulkyne National Park # Murray-Kulkyne Regional Park # Mallee Almond Blossom Festival. Some of the wonderful boutique wineries and vineyards in the district are: McWilliam's (Robinvale), Robinvale Organic Wines.

The Murray Wine Region includes four districts : Robinvale ; Mildura ; Nangiloc ; Red Cliffs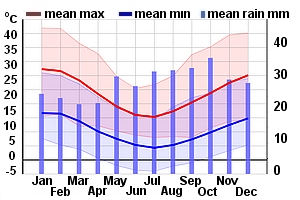 Winery Tour Map
Wineries
McWilliam`s, VIC Moore Street, Robinvale Vic 3549
McWilliam`s Wines is one of Australia`s largest and most highly regarded family-owned wine companies. Since 1877, when Samuel McWilliam planted his first vines at Corowa in New South Wales, successive generations of the McWilliam family have been pioneering the art of fine winemaking in Australia. Always innovative, McWilliam`s has ensured its position at the forefront of Australian winemaking by ...
Robinvale Organic Wines, VIC 243 Robinvale-Sea Lake Rd, Robinvale VIC 3549
Mr. & Mrs. George Caracatsanoudis established Robinvale Organic Wines in 1976. Today sons Steve, Bill and their families continue to produce quality Wines and Non-Alcoholic beverages. Essentially, Bio-Dynamics is a chemical free regenerative agriculture that produces both healthier food and soil. It has been called an advanced organic method of farming. Soil is developed and then maintained..
Trentham Estate, NSW Sturt Highway Trentham Cliffs NSW 2738
Trentham` s winery has been operating since 1988, where it has grown from the initial 30 tonne crush, to a minimal but state-of-the-art facility handling 2,000 tonnes of premium fruit each vintage. It allows the flexibility to perform different winemaking styles, resulting in the diverse and always consistent Trentham Estate wines. Anthony Murphy, Chief Winemaker and Managing Director, oversees al...