Jump to Winery List
Harvey Wine District
The Harvey Wine District in the Geographe Wine Region, includes wineries on the coast between Bunbury and Harvey, south of Perth. Some of the townships in the area include: Harvey, Yarloop, Brunswick and Myalup. Harvey is charming service town and rural community that is focused on farming and tourism. The major industries are beef and dairy farming, fruit and citrus. In the past timber was the major focus. There are a number of water reservoirs in the hills behind Harvey that provide excellent venues for water skiing, canoeing, kayaking, camping and bushwalking.
The Geographe Wine Region includes five districts: Collie ; Donnybrook ; Ferguson Valley ; Capel ; Harvey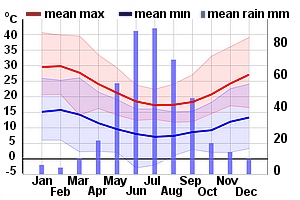 Winery Tour Map
Wineries
Fifth Estate Wines, WA Lot 55 Fifth Street, Harvey, WA, 6220
Owned and operated by Julie and Mark Moloney, the Fifth Estate vineyard was established in 1999 and is dedicated to the production of premium Geographe wines. Winemaker Peter Stanlake has been crafting small-batch wines within the Geographe region for over 20 years, and his personal attention to detail during every step of grape and wine production has seen the estate go from strength to strength. Varieties include Chardonnay, Rose, Shiraz, Sparkling Shiraz and Tempranillo. The winery is open by appointment only.
Fuddling Cup, WA 18 Purdie Ave, Ardross, WA, 6153
Colin and Gail Higgins founded Fuddling Cup 20 years ago when they saw potential in the Geographe region for high-quality wine-making. Fuddling Cup has since evolved into a boutique wine business that creates a memorable Cabernet Sauvignon and a small production of Semillon Sauvignon Blanc. Garnering a large amount of acclaim, the winery takes pride in their ability to produce a fruit-driven style wine with a delectable French Oak component.
Moojelup Farm Wines, WA 129 Thompson Road, Cookernup, WA
Moojelup Farm takes its name from the Nyoongar word Mooja, the Aboriginal name for the famous Western Australian Christmas tree. Established by John Thompson in the 1880's, the property was originally used for beef cattle, sheep and dairy farming. In the 1990's, new owners Stephanie and Owen Holthouse developed the land into a winery with the first vintage released in 2000. Traditional winemaking methods include handpicked fruit, open fermentation and basket pressing. The winery is particularly suited to production of warm climate varieties including Shiraz, Cabernet Sauvignon, Semillion and Vermentino. Take the opportunity to indulge in the superb Sparkling Shiraz; not to mention our classic Cabernet, Shiraz and Semillon. The Cellar door is open 7 days a week.
The Skipworth Wine Company, WA Hoffman Road Yarloop WA 6218 Australia, Yarloop, WA
Situated on the edge of the Darling Scarp near Yarloop, just over an hour south of Perth, the winery was established by Kim Skipworth in 1998. Since acquiring the property, Kim has constructed the cellar door and winery as well as hand-planting the many acres of vines. Wine varieties include Sauvignon Blanc Semillon, Vino Bianco, Shiraz, Cabernet Sauvignon, Petit Verdot, Shiraz and a Sparkling Shiraz. White Port, Liqueur Tokay and Brown Muscat are also produced.
Vineyard 28, WA 270 Bagieau Road, West Harvey, WA, 6220
Back in 1989, a Kiwi girl named Pip met a West Aussie boy named Mark whilst working in Melbourne. The two shared a love of all things to do with wine, and in 1997 relocated to WA, purchasing a 10 acre property near Harvey (that was later named Vineyard 28). Some twenty years later, the property now boasts an extensive vineyard planted with mostly Italian varieties. '28' is the colloquial name for the Port Lincoln Ringneck, a local parrot, due to their contact call, a whistled "twenty-eight". When planting the first vines, these cheeky birds were a little too helpful, thus it was decided to take their name for the property. Enjoy Italian Arneis, Dolcetto Freddo and Nebbiolo wines alongside classic Sauvignon Blanc Semillon, Moscato and Cabernet Sauvignon varieties.