Jump to Winery List
Donnybrook Wine District
The Donnybrook Wine District, south-east of Perth, includes wineries in the Geographe Wine Region near the townships of Donnybrook, Boyanup, Capel and Kirup. Donnybrook is known as the Apple Capital of the South West. The town began life as a small goldfield town and later developed as the centre of an apple and fruit growing area. Visitors are attracted to the area for its wonderful spring wildflower displays, lush native forests, and fabulous fresh foods.Some of the local food delights include: farm fresh marron (a small crayfish), rich olive oil, organic beef, a variety of local fruit and vegetables, nuts and sun dried fruits. The area also produces outstanding wines, apple cider and fresh apple juice. Donnybrook has a large range of accommodation including: hotels and motels, bed and breakfasts, units and houses and some wonderful resorts.
The Geographe Wine Region includes five districts: Collie ; Donnybrook ; Ferguson Valley ; Capel ; Harvey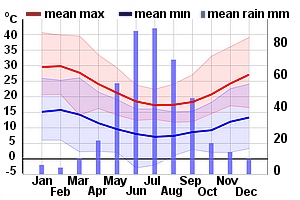 Winery Tour Map
Wineries
Balingup Fruit Winery, WA 32 Bridgetown Road, Balingup 6253
Established in 1992, the Fruit Winery is set in a picturesque valley amongst 35 acres of orchard at Balingup, which is midway between Donnybrook and Bridgetown on the Southwest Highway from Bunbury to Albany. Our Cellar Sales outlet is located in Balingup's main street. We are in "The Packing Shed" on the South Western Highway next to the War Memorial and Peace pergola. Plenty of parking (including caravans) on the corner of South Western Highway and the Balingup-Nannup Road.
Barrecas Wines, WA South Western Highway Donnybrook WA 6239 AUSTRALIA, Donnybrook, WA, 6239
Located in country town Donnybrook, 40km South East of Bunbury, Barreca's is family owned and operated, offering varieties of Shiraz, Barbera, Malbec, Zinfandel and Sangiovese. After a work trip to his family's homeland of Italy in the early 1990s Fil Barreca, aged just 21, discovered his intrinsic connection to working in a vineyard and growing grapes on a highly innovative Sicilian winery. He took inspiration and passion back to Donnybrook and begun planting vines immediately establishing the winery in 1994. With 46 hectares under vine the predominant varieties include Shiraz, cult favourite Barbera, Shiraz Malbec, Zinfandel, Sangiovese and many more. The sparkling and fortified wines are proudly 100% estate bottled, including the Estate's premium Extra Virgin Olive Oil which is produced from the Estates premium olive plantatio
Barton Jones Wines, WA 39 Upper Capel Road, Donnybrook, WA, 6239
Visit our amazing cellar door and enjoy our boutique premium wines from the oldest vines in the Geographe region, available for tasting and purchase, try some local produce from our cafe and local art. Barton Jones Wines is a boutique winery with some of the oldest vines in the Geographe Region, six acres were planted in 1978 with the first wines produced in 2007. Our grape varieties include Cabernet Sauvignon, Shiraz, Semillon and Chenin Blanc and we are part of the Geographe Wine Region of Western Australia. We're situated just 1.5km from Donnybrook town centre. Mature vines and fruit quality underpin the production of premium wines. The 56-acre property includes Cabernet Sauvignon, Shiraz, Semillion and Chenin Blanc. The vineyard is dry grown and has no requirement for irrigation. Two distinct wine styles are produced: the Premium Series is a wooded style vintage with food matching in mind, and the Cellar Series, restrained with oak and a fresh, vibrant fruit driven style.
Crooked Brook Wines, WA 566 Crooked Brook Rd, Crooked Brook WA, Crooked Brook, WA
The aim of Crooked Brook Wines is to produce wines displaying excellent varietal characters, expressing the 'terroir' of the unique and beautiful Western Australian Geographe region. The grapes are grown in free-draining red loam soils with a micro climate that is perfect for producing medal winning wines. An advantage of a single vineyard adds to the reliable quality and consistency over each vintage.The wines include Shiraz, with hints of pepper, nutmeg and cardamon apparent and award winning Chardonnay; winning awards at Winewise Small Vignerons Awards and the Blackwood Valley and WA Boutique wine show. The Grenache Shiraz Mataro offers a strong berry taste and the Grenache Mataro displays fresh easy and smooth drinking characteristics. The Crooked Brook Winery has no cellar door but does offer online order to it's customers.
Henty View Vineyard, WA 11 The Dress Circle, Dardanup, WA, 6236
Over the last 10 years, Brian and Dianne Allen have been developing their property into a boutique winery, producing quality wines with a hands-on, family approach. The vines are planted on steep, well-drained slopes with very complex soil types. Cooling sea breezes provide excellent air circulation, ideal for extended fruit ripening and flavour development of the grapes. The wines are grown, made and bottled on site by winemaker Sharon McEvoy. Varieties include Merlot, Cabernet Sauvignon, Shiraz, Semillon and Rose. The wines have been awarded numerous times at the Geographe Wine Show, including Best White Wine and Best White Varietal for the Henty View Vineyard Semillon.
Iron Cloud Wines, WA 1078 Henty Road, Dardanup, WA
James Halliday's 2018 Dark Horse, and 5 Star winery growing single-vineyard wines at a stunning property lined with Peppermint Trees upon the gentle hillside slopes of the Ferguson Valley. Warwick Lavis and Geoff and Karyn Cross purchased the then-named Peperilly Estate in 2003. Situated in the picturesque Ferguson Valley in the hills of Geographe wine region, the first vines were planted in 1999 on sloping hillsides; with superb red gravelly loam soils and full access to the coastal breeze of the Indian Ocean. West Australian Peppermint Trees line the Henty Brook, the natural water source for the estate's vineyard. Winemaker Michael Ng was born in China and worked vintages in Turkey, New Zealand and St-Emillon before returning to Western Australia. The owners are committed to producing signature, terroir-driven wines that pair well with food. Varieties include Chardonnay, Cabernet Sauvignon, Shiraz, Semillon, Sauvignon Blanc, Malbec, Grenache and Mourvedre.
Mazza Wines, WA 89 Trevena Road, Queenwood, WA
David and Anne Mazza were inspired by the great wines of Rioja and the Douro Valley, and continue a longstanding family tradition of making wine. Established in 2002 near Donnybrook, the Mazza Wines vineyard is planted with six Spanish and Portugese varieties, and is the only of its kind in the Geographe Region. The vineyard has ten acres of carefully-managed vines that receive a lot of attention, where the most labour-intensive practices are a priority in the vineyard to grow the best quality grapes. Mazza Wines produces six red grape varieties; Bastardo, Graciano, Tempranillo, Tinta Cao, Touriga Nacional and Sousao. From these, straight varietal wines, a Tempranillo Graciano blend and fortified wines are produced.
Oakway Estate Wines, WA 575 Farley Road, Paynedale, WA, 6239
Three generations of the Hammond family have toiled together to create the vineyards of Oakway Estate within the Geographe Wine Region. Owners Wayne and Ria planted their vines in 1997, and following success with winemaking, the former orchard farm now supports a boutique winery and cellar door, nano brewery, vineyard, a plantation of sustainable blue gum trees and beef cattle. Oakway Estate takes a very hands-on and natural approach to vineyard management to carefully monitor vine vigour and growth, undertaking labour-intensive tasks including fruit thinning and leaf plucking to grow superb quality grapes. Varieties include Sauvignon Blanc (and blends), Chardonnay, Vermentino, Nero D'avola, Malbec, Merlot, Cabernet Sauvignon, Shiraz, Old School Liqueur and a delicously sweet Moscato.
Smallwater Estate, WA 52 Tramline Road, Newlands, WA
Nestled on the hillside of Newlands just south of Donnybrook, Smallwater Estate was purchased by John Small in 1993 with the intention of developing a marron farm and a vineyard to grow contract grapes. For ten years the grapes were supplied to established wineries, with Smallwater wine (a tiny parcel of Zinfandel) made in 2006. The near-perfect Mediterranean climate of the Geographe region is ideally suited to growing quality grapes. The estate's abundance of pure, fresh water and sunny days also permit for the estate's production of award-winning wines that are characteristic of the area.Varieties include unwooded and barrel-fermented Chardonnays, Rose made from Zinfandel, Shiraz, Cabernet Sauvignon and a Vintage Port.
Talisman Wines, WA Weetman Road, Wellington Mill, WA, 6236
Situated in one of the most elevated areas of the Ferguson Valley, development of the Talisman vineyard began in 1999 by Kim and Jenny Robinson. The unique site is surrounded by the Wellington National Park, with select grape varieties matched with the property's soil types and sloping landscapes. The superb quality fruit of the vineyard, which is grown under the watchful eye of Victor Bertola, is complemented by the delicate style of acclaimed winemaker Peter Stanlake. The winery was notably awarded 'Small Producer of the Year' in 2017 by the West Australian Wine Guide. Tastings of Talisman wines take weekly at the Subiaco Farmers Market. There is currently no cellar door at the property, but watch this space. Talisman's range includes Sauvignon Blanc, Chardonnay, Shiraz, Cabernet Malbec, Malbec, Zinfandel, Riesling and Merlot.
Thomson Brook Wines, WA 131 Thomson Road, Donnybrook, WA
Located 7km from Donnybrook, in the Preston Valley, Thomson Brook was established in 1993 by Pam and Terry Foster. Traditionally, the region has been renowned as WA's premier apple-growing area, however, in recent years Donnybrook has established a steady reputation as a new and vibrant viticultural area. The estate produces a range of quality wines from hand-picked grapes, which are grown in the rich loam soils of the region. White varieties include Riesling, Semillon, Verdelho and Semillon Sauvignon Blanc; and reds include Cabernet Sauvignon, Cabernet Merlot, Shiraz, Tempranillo and a Port.