Jump to Winery List
Ferguson Valley Wine District
The Ferguson Valley District, south-east of Perth, includes wineries between Collie, Donnybrook and Dandarup. The Ferguson Valley lies at the northern end of the Geographe Wine Region. The Ferguson Valley has a long link with farming and a griculture and boasts fabulous soils that are high in nutrients. The climate is Mediterranean cooled by the maritime incluences of the Indian Ocean. The major varieties in the Ferguson Valley are: Chardonnay, Sauvignon Blanc, Pinot Noir, Cabernet Sauvignon, Merlot and Shiraz. The Ferguson Valley has many wineries that have a world-wide reputation and you can enjoy wine tours in an area with beautiful scenery. Guided winery tours can also be booked at Bunbury and the other major towns. There are also a number of local breweries offering unique boutique beers brewed on location.
The Geographe Wine Region includes five districts: Collie ; Donnybrook ; Ferguson Valley ; Capel ; Harvey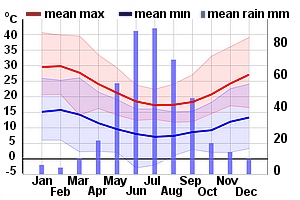 Winery Tour Map
Wineries
Aylesbury Estate, WA 72 Ratcliffe Road, Ferguson Valley, WA, 6236
A farming property owned by the Gibbs family in Ferguson Valley since 1883 which began its wine journey in 1998 with the aim to capture the best of the valley, in a bottle. The estate is named after the town of Aylesbury from which the Gibbs family hailed, first moving to the Ferguson Valley in 1883. The 22 acre vineyard is part of a family owned farm that has been passed down through five generations. It was cleared by hand by current owner Ryan Gibbs' ancestor Samuel in the late 1800s. Various crops and herds were farmed on the land until vines were planted in 1998. The property is 200 hectares in total with approximately 9 hectares under vine.
Ferguson Falls Estate, WA 172 Pile Road, Dardanup, WA, 6236
Located 20 minutes east of Bunbury within the lush Ferguson Valley, this estate was one of the first vineyards to be planted in the region. Established by the Giumelli Family in 1983, the property's rich soils are home to the 3 hectare vineyard in which the family has planted award-winning vines. The wines include Shiraz, Cabernet Sauvignon, Sauvignon Blanc Semillon and Chardonnay and are known for their full flavour and elegant structure. Generous samples of the estate's wines are available at the cellar door, Friday through Sunday from 10am - 4pm. Alternative times for tastings can be arranged by appointment.
Ferguson Hart, WA 3 Gardincourt Dr, Ferguson, WA, 6236
Ferguson Hart Estate is located on the corner of Pile Road and Gardincourt Drive, Ferguson Valley,Geographe Region,South West Coast,Western Australia. This boutique vineyard currently offers Gold Medal and multiple trophy-winning shiraz, Gold Medal winning Semillon, and an ever-popular Sauvignon Blanc Semillon. All wines are made with fruit from the estate, except the shiraz which has 5% Viognier.
Green Door Wines, WA 1112 Henty Road, Henty WA 6237, Henty, WA, 6237
Located on the high slopes of the Darling scarp, Green Door Vineyard is a boutique winery and estate offering scenic views and Spanish and Italian wine varieties. With 8 hectares under vine, producing fruit primarily of Spanish and Italian origin, Ash and Kath Keeffe use European winemaking techniques and minimal intervention wine practices. This approach produces fruit of a high quality, imperative to the production of quality wines. All fruit are handpicked and enter the winery in full bunches and then soft basket pressed. The cellar door is open 11:00am- 4:30pm Thursday to Sunday offering wine tastings and a selection of platters to share. Booking is recommended.
Hackersley Estate, WA 1133 Ferguson Road, Ferguson, WA, 6236
Jeff and Kerry Ovens originally had eyes on Margaret River to start up their Vineyard, but found the prime land they were looking for in the Ferguson Valley. Originally a dairy farm for than 100 years, the land was perfect for a Vineyard and 15,000 rootling's were planted in 1998. In 2014 Hackersly won the Gold plate Award for the best Restaurant in a Winery in Regional WA. The restaurant and cellar door have a casual atmosphere and offer locally sourced food paired with tastings of fine wines. The restaurants and cellar door are open Thursday - Sunday from 10am to 4pm. Restaurant bookings are recommended. Look out for our Sunday Lunchtime Jazz sessions.
St. Aidan Wines, WA 754 Ferguson Rd, Ferguson, WA, 6236
The 10 hectare property was purchased in 1991 by Phil and Mary Smith, who wished to partake in horticulture from a base nearby Bunbury where Phil works as an anaesthetist. The property was planted with citrus trees and table grapes, before they made the exciting progression to wine grapes on the estate in 1997. Subsequent plantings ensued . With focus on extraction and blending to craft the perfect wine, with minimal impact the team at Saint Aidan aim to create 'Art in a Bottle'. Home grown varietals include Chardonnay, Cabernet, Semillon, Sauvignon Blanc, Muscat, Malbec and Tempranillo.
Willow Bridge Estate, WA 178 Gardincourt Drive, Henty, WA, 6236
After an extensive search, Jeff and Vicki Dewar found their Ferguson Valley property, situated high on the western watershed of the Darling Ranges. In 1997 they planted vines on the picturesque, 180 hectare hillside property, which high rainfall, dry summer seasons and Marri soils to produce quality fruit for premium wine production. Respected Western Australian winemaker Rob Bowen joined the team in 1999. Wines are made under four labels; Dragonfly, Estate, Black Dog and Maris Sol. Varieties include Chardonnay, Chenin Blanc, Merlot, Shiraz, Sauvignon Blanc Semillon, Cabernet Sauvignon and a Tempranillo Cabernet and a traditional method Blanc de Blancs.
Windfall Wine Estate, WA 7 Dardanup West Road, North Boyanup, WA, 6237
Our passion is Merlot. Our vision is to produce world class wine with elegance, depth and complexity which allow the natural fruit charecters to shine. Our path has been to establish a naturally balanced eco-system in the vineyard and on the property.