Jump to Winery List
Lithgow Wine District
The Lithgow Wine District, based on the City of Lithgow is located in the Blue Mountains Wine Region on the west facing slopes of the Blue Mountains, about 200 km from Sydney. Lithgow is at an altitude of about 900 m and boasts warm summer days, cool winters with frosts and occasional snowfalls in Winter. There are a delightful range of natural, historical, and scenic attractions in the Lithgow district and lots to see and do with great facilities and many fabulous local events. The local attractions include: # The Glow Worm Tunnel # Jenolan Caves # Hartley Historic Site # State Heritage Parks and the Blue Mountains National Park # The Zig Zag Railway # Lithgow Small Arms Museum # Bushwalking in the Wollemi National Park.

The Blue Mountains Wine Region is home to 5 districts: Springwood ; Lithgow ; Oberon ; Katoomba ; Blackheath.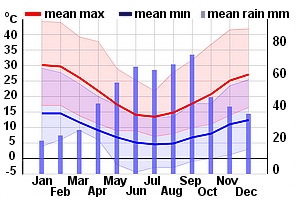 Winery Tour Map
Wineries
Zig Zag Brewery, NSW Brewery Lane Lithgow NSW 2790
The Old Zig Zag Brewery, built in 1888, was one of the largest and most famous breweries west of the Great Divide. It maintained its popularity until the late 1950's when the last brew was made. Now refurbished and given a new lease on life, the Zig Zag Brewery is back with tours of the property conducted almost every week for visitors from far and wide. The famous brewery is once again striving to make award-winning beers using pure spring water and regionally sourced grains.