Jump to Winery List
Oberon Wine District
The Oberon Wine District, located about 170km west of Sydney in the Blue Mountains Wine Region is centred on the charming rural and tourist centre of Oberon. The area has a fabulous range of attractions and activities for visitors including, food and wine trails, bushwalking, fossicking for sapphires and trout fishing in the local streams, rivers and lakes. Oberon is the town with the highest altitude in the Blue Mountains area and is the gateway to the world-renowned Jenolan Caves, which is only 30 km away. Oberon supports a thriving rural community producing beef cattle, lambs and a wide range of fruit and vegetables. The area is surrounded by a range of stunning natural reserves such as Abercrombie River National Park, Kanangra Boyd National Park and the huge Blue Mountains National Park. Oberon has a wonderful range of events and recreational activities and delightful cafes, restaurants, arts and craft outlets, antique shops, cafes and fresh food outlets. The area is renowned for its trout fishing, the natural exotic mushrooms that can be harvested in the State Forests, from late January to early May. Local events and attractions include: # The Daffodil Festival # Oberon Show # The Oberon Community Art and Craft Exhibition # The Museum in the old 1920s Railway Station # The local Golf courses # Fossicking for gold # Abercrombie and Jenolan caves # Bushwalking, cyling and camping in the Kanangra Boyd National Park.

The Blue Mountains Wine Region is home to 5 districts: Springwood ; Lithgow ; Oberon ; Katoomba ; Blackheath.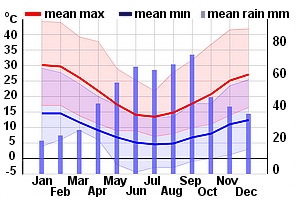 Winery Tour Map
Wineries
Casey's Vineyard, NSW 960 Hazelgrove Road, Oberon
Casey's Vineyard, 960 Hazelgrove Road, Oberon was established in 1995. It's a small family run business and the first established in the district. Specialising in cool climate wines, our varieties are Pinot Noir, Shiraz, Chardonnay and Rose. We have recently developed a Tawny Port. Casey's Vineyard Cellar Door is open on the 2nd and 4th Saturday of the month from 11am until 3pm, any other times by appointment.