Jump to Winery List
Springwood & Bilpin Wine District
The Springwood Wine District, located in the Blue Mountains Wine Region is centred on the area surrounding the town of Springwood, which is the second-biggest town in the Blue Mountains, located about 74 km from Sydney and at an altitude of 371 m above sea-level. Springwood is a friendly, attractive, interesting and charming township that is famous for its bushwalks, hiking, rock climbing and ecotours. Springwood has a range of interesting old buildings and museum where you can learn about the heritage of the area, including: 'Braemar' in Macquarie Road, Frazer Memorial Presbyterian Church, Springwood Railway Station, Christ Church built in 1889 and the Catholic seminary building which is now St Columba's High School. For bushwalkers, the most famous attraction at Springwood is the Fairy Dell walk, which extends from Springwood Avenue to Picnic Point or you can walk all the way to Lawson's Lookout. Other walking and natural reserve areas include Sassafras Gully Reserve and the Blue Mountains National Park itself. Another local attraction is Norman Lindsay's House, located between Between Faulconbridge and Springwood.

Bilpin is a small town on the historic Bells Line of Road in the northern areas of the Blue Mountains in the uplands of the Hawkesbury River catchment west of Sydney. Bilpin is known as "Land of the Mountain Apple". Fruit orchards and beautiful gardens thrive in the fertile soil and the road is lined with roadside stalls selling home-made produce, especially during summer. Bilpin apples and Bilpin apple juice are famous throughout Australia. Experience Bilpin and enjoy a mountain climate along with spectacular scenery and quality, honest produce.

The Blue Mountains Wine Region is home to 5 districts: Springwood ; Lithgow ; Oberon ; Katoomba ; Blackheath.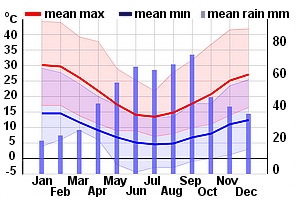 Winery Tour Map
Wineries
Bilpin Cider, NSW 2369 Bells Line of Road, Bilpin NSW 2758
At Bilpin Cider we create pure, fresh apple and pear cider - no added sugar, artificial flavours or concentrates. We use only the freshest fruit from Bilpin and the surrounding region and believe nothing beats the natural taste and aroma of real mountain fruit. Steeped in history, the tiny hamlet of Bilpin is located in the heart of NSW's Blue Mountains region. Surrounded by World Heritage listed mountains, majestic rivers and six national parks, the fertile soil, mountain elevation and mild climate have all contributed to Bilpin's reputation as one of the premium orchard growing regions in Australia.