Jump to Winery List
Bellingen Wine District
The Bellingen District is located in the North Coast Wine Region. It includes wineries located near Bellingen and areas south of Coffs Harbor on the Mid North Coast of New South Wales. Bellingen lies in the heart of the Bellinger Valley surrounded by rich agricultural lands much favoured for hobby farms and alternative lifestyles. It historically serviced the surrounding dairy farmers and timber cutters. But these industries declined with a transitional period in dairy farming which saw the local farmers selling off the odd 30–40 hectares in small lots. The rich soils of the valley and the extensive sunshine and good rainfall have ensured that the town will always be prosperous for many crops.

The North Coast Wine Region is divided into seven districts for mapping and listing purposes: The local wine districts are: Coffs Harbour ; Kempsey ; Nambucca heads ; Bellingen ; Dorrigo ; Orara Valley ; Woolgoolga.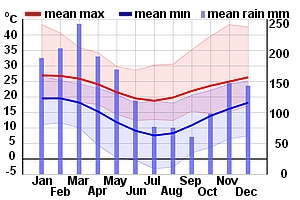 Winery Tour Map
Wineries
Lonely Palate, NSW 7 Church Street, Belligen NSW 2454,
Good Food Shop and Lonely Palate Winery is a Butchers and Deli business located in Bellingen, NSW...
Raleigh Winery, NSW 36 Queen St, Raleigh NSW 2454
The award winning Raleigh Winery & House is a must visit Coffs Coast destination, located just 15 minutes South of Coffs Harbour. Raleigh Winery & House is your destination to relax, unwind and create long lasting memories. Sit on the deck, overlooking the Bellinger river and watch the cheeky birds play. Stay amongst the vines in the newly renovated Raleigh House. Laze by the pool with five star poolside service. Play amongst the vines, take a vineyard tour and learn how our family vineyard runs. Go fishing, canoeing, bush walking or simply kick back and relax and enjoy the local produce and our award winning wine. Day trips to Coffs Coast and Bellingin Valley can be arranged. Or fly in by helicopter and let us roll out the red carpet and put the champagne on ice.
The Bellingen Brewery & Co., NSW 3/5 Church St, Bellingen NSW 2454
Craft Brewery and Boutique Bar