Jump to Winery List
Nambucca Heads Wine District
The Nambucca heads District is located in the North Coast Wine Region. It includes wineries located near Nambucca heads, Macksville and South West Rocks on the Mid North Coast of New South Wales. It also includes wineries scattered in areas to the south. Nambucca Heads lies at the mouth of the Nambucca River, about 500 km north-east of Sydney. The major local industries include tourism, timber, beef cattle, dairying, bananas, forestry, fishing, oyster farming. The local towns function as a service centres for the surrounding district.

The North Coast Wine Region is divided into seven districts for mapping and listing purposes: The local wine districts are: Coffs Harbour ; Kempsey ; Nambucca heads ; Bellingen ; Dorrigo ; Orara Valley ; Woolgoolga.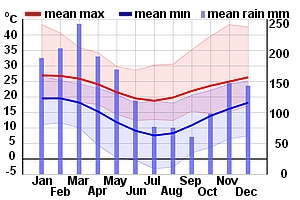 Winery Tour Map
Wineries
Bago Vineyards, NSW Milligans Rd, Wauchope NSW 2446
Bago Maze & Winery is a family owned business, with Jim and Kay Mobbs having grown grapes for fine wine production since 1985. Their eldest son Ian is the architect of the Bago Maze, while their daughter Kellie has designed their logo and branding. Their youngest son Steven is currently gaining winemaking experience in the Orange and Central Ranges of NSW and is still very much a part of the winemaking at Bago, having just released his own range called "My Dreaded Friend"now available in Bago's Cellar Door. Click here to read more about The Bago Vineyards Story…
Ghinni Wines, NSW 17584 A1, Ghinni Ghinni NSW 2430
Small vineyard near Manning Point
Great Lakes Paddocks, NSW 115 Herivels Rd, Wootton NSW 2423
Great Lakes Paddocks is a family friendly destination offering delicious wine, grass-fed angus beef, local produce, music events and private functions. Nestled in the stunning hinterland of the Great Lakes region on the mid-north coast of New South Wales, we are a part of the magical natural landscape that surrounds us. Nearby are legendary coastal areas such as Forster Tuncurry, Seal Rocks and Pacific Palms – home to amazing beaches, crystal clear lakes, rivers and an enviable lifestyle. Great Lakes Paddocks has evolved from Great Lakes Winery, reflecting the diversity of what is on offer for locals, not-so-locals, tour groups, and families. You are welcome to explore our website to find out more or come visit us and soak up the tranquil back paddock and savour a grazing board with a glass of our wine – we'd love to meet you!
Gruber's Winery, NSW 536 Welshs Creek Rd, Yarranbella NSW 2447
Gruber's Winery is a winery based in the Nambucca Valley, since starting in December 2009 they have begun to start producing a wide variety of products. These products include Wines, Ports, Meads, Lacquers, Honey and various assortments of fresh fruits and vegetables.The Winery is a participant of many market days up and down the Mid North Coast including the Nambucca Valley Farmers Market every Sunday at the Bowraville Racecourse, Medlow Growers Market on the 1st and 3rd Sunday's of each month, Dorrigo markets on the 1st Saturday of each month and other markets on the Mid North Coast.Gruber's Winery is located a small 20 minute trip out of Macksville (Mid North Coast, New South Wales, Australia). Visit us and enjoy the free tasting from Honey Mead to our White Savignin.Why not take a guided tour of the winery and vineyards, and then sit back and relax tasting our range while enjoying the stunning views of the Nambucca Valley and its wildlife. Opened in 2009 the winery has been holding strong, growing the range of products, from Honey Mead to the White Savignin, with no exception of the natural Bush Honey, fresh Honey comb and a variety of fruits and vegetables.
Jacaranda Estate, NSW 35 Appletree St, Wingham NSW 2429
Jacaranda Estate takes its name from the two magnificent old Jacarandas at our front gate and is located in the township of Wingham on the Mid North Coast of NSW. We are within walking distance to the main street, Wingham Brush and the beautiful Manning River. At Jacaranda Estate our vinegarden includes our Pinot Noir and Chardonnay vines along with many fruit and nut trees and exotics, bordered garden rooms and native rainforest along our bank of our Cedar Party Creek. Our fruit is estate grown, hand picked and basket pressed on site to produce a wide range of artisan wines.
Tugwood Wines, NSW 450 Mograni Creek Rd, Gloucester NSW 2422
Tugwood Wines began in 1998 after a long and extensive search when we purchased 250 acres in the beautiful Mograni Valley just east of Gloucester. Starting with a bare block we planted our first experimental vines in 1999 to gauge which grape variety best suited our soil and climate. From the start it was obvious that Chambourcin and Chardonnay thrived on the gentle slope of rich loam soils under the shadow of Mount Mograni. The rows in our vineyard are orientated east west and spaced 4 metres apart to take advantage of the gentle summer breezes from the coast and to reduce the incidence of mildew which plagues most coastal vineyards.
Villa d'Esta Vineyard, NSW 2884 Wallanbah Rd, Dyers Crossing NSW 2429
Villa d'Esta Vineyard is a small, family-owned vineyard. The vineyard is located on the mid north coast of NSW, which is about one-hour's drive north of the NSW Hunter Valley winemaking region, and approximately 20 minutes inland (west) of the popular holiday towns of Taree and the twin towns of Forster-Tuncurry. The mid north coast region currently houses 2 wineries, and there are 4 more located in the north-coast winemaking region. Directions and contact details for Villa d'Esta are given on other pages on this website. Villa d'Esta Vineyard was established in 1997, with both table and wine grapes being planted by family and friends wanting to experiment with winemaking. In the 10 years since then, plantings and production have steadily increased. At Villa d'Esta, we grow all the grapes that go into producing our wines. 12 acres of grape vines have been planted at Villa d'Esta. Of the 11 acres of wine grape vines, the majority are Chardonnay, Chasselas Doré and Chambourcin grapes. There are also some small plantings of Pinot Noir, Merlot, Cabernet Sauvignon and Shiraz grapes. These plantings started bearing fruit suitable for use in the 2003 vintage. In addition to wine grapes, just under one acre of vines produces table grapes, of which there are over 32 different varieties. These grapes mature between December and the end of February, and fruit will be made available for sale to the public (if it hasn't all been eaten by family and friends!). At Villa d'Esta, our winemaking places the emphasis on producing easy-drinking styles, suitable for the table and ready to be enjoyed in the short term. The proprietors, the manager and the winemaker all share a Hungarian heritage and have adopted traditional Hungarian winemaking techniques. Our wines are mostly matured in oak barrels - French and Hungarian oak was mainly used originally, although 2002 saw us begin to use some American oak for the first time.