Jump to Winery List
Lovedale - South Wine District
The Lovedale South Wine District is located at the south end of the magnificent Lovedale Wine Region that is part of the Hunter Valley Wine Region, that lies inland of Newcastle and just two hours drive by car north of Sydney. The area has spectacular natural surroundings, with a diverse offering of natural areas that feature abundance of wildlife and great bushwalking opportunities. There are many boutique wineries in the area and a range of other local fresh food products in the area. The area adjoins the Broke Fordwich Region and Pokolbin Regions and the which offer additional wineries for your tours of the region. A splendid time to plan your visit to the district in May to join the famous Lovedale Long Lunch. This delightful event takes the form of a progressive lunch involving seven or more local wineries that offer their wine, food and lots of fabulous music and entertainment. This is a great way to taste the local wines. You can take one of the package tours offered from Sydney and Newcastle, that include travel and accommodation. Some of the local wineries in the district are: Allandale Winery, Braydon Estate, Capercaillie.

The Lovedale Wine Region is home to 5 districts: Lovedale-Talga Road ; Lovedale-Wilderness Road ; Lovedale-Central ; Lovedale-South ; Lovedale-Greta.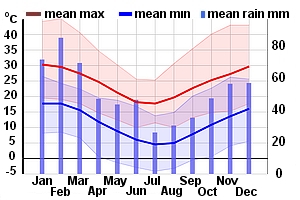 Winery Tour Map
Wineries
Allandale Winery, NSW Lovedale Road, Lovedale NSW 2320
Allandale is a modern small to medium size winery situated in the Lower Hunter Valley wine growing area just north of Sydney Australia. The winery was established in 1978 and over the time has built an enviable reputation for premium quality varietal wines. Over the last few years the winery has sourced grapes from the Mudgee area, the Hilltops region (near Young, NSW), McLaren Vale and of course ...
Braydon Estate, NSW 40 Londons Road, Lovedale NSW 2320
Braydon Estate produces small quantities of classic Hunter Semillon and Shiraz. Associated with the Small Winemakers Centre....
Capercaillie Wines, NSW Londons Road, Lovedale NSW 2320
Capercaillie Wine Company was established in the Hunter Valley by Alasdair and Trish Sutherland in late 1995 when they built a small modern winery on an excellent 20 year old vineyard. Alasdair is a Scot, and his heritage is reflected in the very name `Capercaillie`. It is the Gaelic name given to the black woodlands grouse, native to the pine forests of Scotland. Capercaillie`s ambition is to rem...
De Bortoli, NSW 532 Wine Country Drive, Lovedale 2320
The De Bortoli winery in Lovedale is at the gateway to the Hunter on Wine Country Drive directly opposite Broke Road, Lovedale. The 34-hectare property includes an on site winery and barrel where the 100% estate grown fruit is processed. De Bortoli Hunter Valley is a welcoming place where you can taste superb Hunter Valley vintages, including award winning mature Semillon and delicious local Shiraz. The region is especially famous for its wonderful Semillon wines that have the ability to age gracefully over many years. De Bortoli regularly feature over 20 wines on the tasting list which changes monthly. Also on tasting everyday is the world class selection of Premium Fortified wines and the iconic Noble One Dessert wine. A great range of Sparkling wines and Moscatos are also a permanent feature on the tasting list.
Lucy's Run Vineyard, NSW 1274 Wine Country Drive, Lovedale NSW 2325
Lucy's Run vineyard was planted in 1998 and is sited on the bottom slope of the property, adjacent to Black Creek, and our first vintage (produced by David Hook) was in 2002. With 9 acres (3.6ha) of vineyards we're only small, but we're punching way above our weight. We also count ourselves very fortunate to have three of Hunter wine country's best-known winemakers working their magic to take our grapes to the bottle: David Hook, Mike De Iuliis and Nick Paterson. We take great pride in our award-winning Shiraz (two trophies, count 'em!), Merlot and Verdelho (including our luscious Sweet Sophie). We're also home to Woof Woof wines, created to support PetRescue. We might be one of the smaller vineyards in wine country, but we pack a punch with our trio of well-known winemakers: David Hook, Mike De Iuliis and Nick Paterson.
Wirral Grange, NSW 168 Lomas Lane, Nulkaba 2325
Small boutique vineyard growing top quality, award-winning pure Hunter Valley Shiraz and delicious Verdelho. The present owners Terry & Carol Hughes moved into the property 12 years ago from Sydney. After "going back to school" at Kurri Kurri Tafe studying Viticulture and Wine Making they have enjoyed the process of growing grapes and farming. Contact us for more information and to order wine – internet or phone orders only (sorry, no cellar door). Stocks sell quickly. Call now to order 02 4991 2874 and join the wine club.