Jump to Winery List
Lovedale - Wilderness Road Wine District
The Lovedale - Wilderness Road, Wine District is located in the centre of the Lovedale Wine Region and is part of the magnificent Hunter Valley Wine Region, inland of Newcastle and about two hours drive north of Sydney. The area has a beautiful natural setting, a range of natural area and an abundance of wildlife. There are also a range of local fresh food products in the area to delight the tastebuds. The area adjoins the Pokolbin Region and the Broke Fordwich Regions which offer additional wineries for your tours of the region. A good time to visit in during May each year when you can take part in the famous Lovedale Long Lunch. This is a delightful event that features a progressive lunch requiring participants to move around seven or more participating wineries to taste their food and wine. This is a great way to enjoying tasting the local range of wines, accompanied by fabulous food and entertainment at the friendly wineries. Several tour operators offer tour packages from Sydney and Newcastle including accommodation and one of the wonderful places to stay in the region.

The Lovedale Wine Region is home to 5 districts: Lovedale-Talga Road ; Lovedale-Wilderness Road ; Lovedale-Central ; Lovedale-South ; Lovedale-Greta.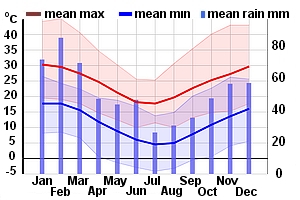 Winery Tour Map
Wineries
Emma's Cottage Vineyard, NSW 438 Wilderness Road, Lovedale, NSW 2320
Established in 1989, Emma's Cottage Vineyard is a family owned boutique vineyards in the Hunter Valley. The wines are produced using premium handpicked grapes from 2 ½ hectares of vines, nurtured at every step from soil to cellar door. Emma's Cottage Vineyard, is one of the smallest vineyards in the Hunter Valley and the lovely garden makes it a favourite participant of the famous Lovedale Long Lunch. Partake in a wine tasting guided by the friendly staff in the Cellar Door and experience the delight of quality award winning wines. And while you are here you might find that perfect piece of art in our art gallery which supports local Hunter artists.
Madigan, NSW 504 Wilderness Road, Lovedale NSW 2320
Amidst an ambience of seclusion and serenity, Madigan Vineyard is located approximately ten minutes from Cessnock. The vineyard is sited in the valley amongst many boutique wineries and restaurants. Here you will find four luxury cottages, where the weary urbanite can embrace tranquillity and totally relax. Each cottage has been designed to enjoy the views of the vineyard. The cottages are contemp...
Saltire Estate, NSW 113 Wilderness Road, Lovedale NSW 2320
Saltire Estate was born in 2006 when land was acquired that was originally part of the much larger George Hunter Estate established by the Sydney restaurateur, Oliver Shaul in the 1970's. Our Semillon, Chardonnay, Shiraz and Merlot vines are all that remain of the 500 acre estate. ​ In the past, they have also owned other neighbouring Lovedale estates, Warraroong and Wandin Valley. Some of the stock from these properties remains and is sold through their website at bargain prices! In particular the Warraroong aged Semillons which have won much critical acclaim and grow even more delicious with age. The Cellar Door on Wilderness Road is open from 10am-4pm on Saturday & Sunday.
Stomp! Wines, NSW 504 Wilderness Road, Lovedale NSW 2325
Stomp! Wines is a family owned and operated boutique wine company. At Stomp! Wines, they stomp to the sound of a different drum. Their two stunning contemporary brands, stomp! and Pssst 'n' Broke, say it all – relaxed, casual, maybe a little irreverent, but always authentic! Join Stomp for a relaxed, friendly tasting, to share the tastes, sights and people that make their stomping ground unique. Their winemakers will guide your tasting of their highly awarded, contemporary brands and share their knowledge, passion and hands-on approach to crafting stylish, fresh, fruit driven wines. Whilst you're visiting pick up some of the home grown, home made gourmet delicacies such as chilli jam, extra virgin olive oil, vinegars, olives and local honey.
Thirsty Palette, NSW 247 Wilderness Road, Lovedale, 2325
Thirsty Palette vineyard and cellar door was established approximately 40 years ago. Initally the vineyard was known as Frasers the vineyard, and was then renamed Warraroong. It became know for some excellent award winning wines under winemakers whose reputations now enable them to make wines under their own labels. Jacquie and Andrew purchased the vineyard in 2013 and have maintained the semillon and expanded the shiraz. They have regrafted some vines to support chardonnay and red frontignac (to produce the extremely popular Moscato). The excellent vibrancy and health of their vines meant a very high success rate with the grafting and so the next chapter begins. Why not bring a picnic and stay a while? The views over the vineyards to the Brokenback Ranges are breathtaking and there is plenty of space for alfresco lunching.
Wandin, NSW Wilderness Road, Lovedale NSW 2320
Wandin Valley Estate was purchased in 1991 by James and Philippa Davern. Originally called Millstone Vineyard, the 100 acre property with its 20 acres of vines had been a working vineyard and winery since the mid 70s. For ten years, from 1988 until 1999, the winemaker was Geoff Broadfield and during this time the wines won many awards, including gold medals for our Chardonnay at the Melbourne and ...