Jump to Winery List
Lovedale - Talga Road Wine District
The Talga Road Wine District of the Lovedale Region in the Hunter Valley, New South Wales includes a range of fabulous vineyards, wineries and cellar doors. These wineries are located on Talga Road which extends from Wine country Drive, between Rothbury and North Rothbury, east to join Lovedale Road, that leads eventually to Allandale on the New England Highway. The Talga Road District is located in central part of the Hunter Valley Wine Region and is easily accessible from Branxton on the New England Highway and from Maitland and Singleton. Wineries in this district include: Ballabourneen Wines, Molly Morgan Vineyard, Rothbury Ridge, Sovereign Hill Wines. There are a wide range of accommodation options in this Region. The major local event is the Lovedale Long Lunch that is a progressive-type of food and wine tasting where visitors progress along a food and wine trail around the various participating wineries. Music, entertainment and art add to the enjoyment of visitors. Take all weekend to enjoy the beauty of Lovedale wineries and savour the best of Hunter cuisine and wine. There are many other attractions in the area.

The Lovedale Wine Region is home to 5 districts: Lovedale-Talga Road ; Lovedale-Wilderness Road ; Lovedale-Central ; Lovedale-South ; Lovedale-Greta.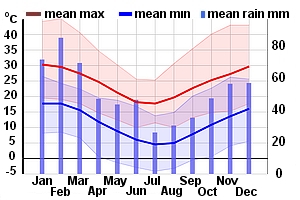 Winery Tour Map
Wineries
Midnight's Promise Estate, NSW 300 Talga Road, Lovedale NSW 2320
The vineyard at Midnight's Promise is managed with a combination of traditional and modern viticultural practices so as to maximise fruit quality rather than quantity. While it would be nice to say that the grapes are harvested by a team of local maidens, harvesting is usually done by machine at night (often around midnight) so as to ensure that the grapes are cool and sound – a promising start to the winemaking process. The brand name of the wines – Midnight's Promise – is an allusion to this practice. Each vintage small quantities of wine are produced under contract by the talented winemakers Bill Sneddon and Matt Burton for release under the Midnight's Promise label. The cellar door is open for tasting on public holiday weekends and by appointment. Give them a call!
Molly Morgan, NSW 496 Talga Road, Lovedale NSW 2325
Welcome to Molly Morgan Vineyard, a boutique Hunter Valley vineyard producing hand crafted wines in the heart of Lovedale. Be swept away by the gorgeous views and the friendly homestyle accommodation. Drink in the peace and serenity while tantalising your tastebuds at our cosy Vineyard. Find yourself transported by the beauty and the lifestyle at Molly Morgan Vineyard. There is also a Homestead available for accommodation.
Sovereign Hill, NSW 34 Talga Road, Lovedale NSW 2320
Sovereign Hill is a 6-room lodge, five rooms with queen size beds and one with twin beds, which can be converted to a king size bed. All rooms have an ensuite, air-conditioning, electric blankets, TV and telephone. Shared facilities include a lounge room with an open fire, fully equipped kitchen, barbecue, 12-metre pool and a tennis court. All rooms have quite spectacular views over our vineyard a...