Jump to Winery List
Myponga Wine District
The Myponga Wine District includes wineries, the Southern Fleuieu Wine Region in the area surrounding Myponga, Sellicks Beach, Sellicks Hill. This district is close to the coast and the proximity to the water merates the climate. The big, prominent hills of Sellicks Hill Range roll down towards Gulf St Vincent and the broad sandy beaches run north towards Adelaide. Sellicks Beach is one of the few beaches where parking is allowed on the sand and it's as popular with families for its safe swimming as it is with surf fishermen. There are good boat launching facilities and excellent windsurfing when off-shore winds prevail. For a bite to eat, the historic Victory Hotel has commanding views over the area and has been delighting travellers for years. Myponga is at the centre of rich grazing and dairy country, where herds of Friesian cows are often joined at dusk by mobs of Grey kangaroos. Much of the region's water comes from the nearby reservoir, on which the thriving local floriculture and specialist nurseries depend. Most of the wineries are located in the area between Sellicks Beach and Willunga Hill.

The Southern Fleurieu Wine Region includes five districts : Delamere ; Yankalilla ; Mount Compass ; Myponga ; Victor Harbor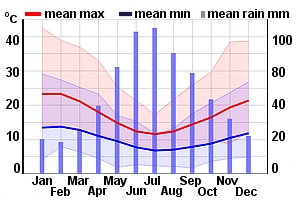 Winery Tour Map
Wineries
Aldinga Bay Winery, SA 3525 Main South Road, Aldinga, Fleurieu Peninsula, South Australia, 5173
Established in 1979, Aldinga Bay Winery is situated on the Fleurieu Peninsula of South Australia under the picturesque hills of Sellicks and two and a half kilometres from the beautiful sandy beaches of Aldinga Bay. The cellar door provides an excellent opportunity for visitors to experience premium wines produced from traditional and alternative grape varieties.
Battle of Bosworth Wines, SA 92 Gaffney Road, Willunga, Fleurieu Peninsula, South Australia, 5172
Battle of Bosworth make organically grown and certified wines from our family owned vineyards in McLaren Vale. We also make the Spring Seed Wine Co range of wines from our organically grown grapes. Cellar door is open daily from 11-5pm in a converted 1850's chaff shed and stables which look north over our vines and west to the Gulf St Vincent.
Cascabel Winery, SA 360 Plains Rd, Sellicks Hill SA 5174
A Cascabel is a small bell used in Spanish celebrations and is synonymous with festivity, liveliness and charm. Cascabel Winery is located on the slopes of the Sellicks Hill Range, near Willunga, at the southern end of McLaren Vale, in South Australia. Completely independent, small and functional, set up by us at the end of 1997 and is fully equipped and designed to handle all winemaking processes entirely by us, from crushing the grapes to bottling. We are two qualified and experienced winemakers, Duncan Ferguson and Susana Fernandez, focusing mainly on our own grapes (we have 9 varieties and mostly Spanish), but we also buy grapes from two mature and very low yielding vineyards for our riesling and shiraz wines.
Cradle of Hills Wines, SA 76 Rogers Rd, Sellicks Hill SA 5174
At cradle of hills we have 17 acres of ultra premium Shiraz and Cabernet sauvignon grapes grown using organic practices and the sustainable use of resources. We have watched this approach yield superior grape quality and flavour evidenced from the moment our wines are experienced.
Geoff Merrill Wines, SA 291 Pimpala Road, Woodcroft, Fleurieu Peninsula, South Australia, 5162
Geoff Merrill Wines is situated at the historic Mount Hurtle Winery-dating back more than 100 years to 1897. Geoff purchased the beautiful, but run down property in 1985 to restore the winery and vineyard to its former glory to cope perfectly with the rigors of modern day winemaking. A large family of geese and ducks also inhabit the winery grounds and dam near the front entrance to the estate. Geoff Merrill's winemaking philosophy is to produce wine that allows regional, varietal and vintage expression, without excessive winemaker intervention. Great wine is a matter of balance and his passion for subtle, elegant and harmonious flavours in wine is well documented. He believes that maturation, both in barrel and particularly in bottle, prior to release, plays an important role in achieving this aim.
Hither & Yon, SA 17 High Street, Willunga, Fleurieu Peninsula, South Australia, 5172
Hither & Yon is a McLaren Vale based wine brand, built from the soil up. We are a family and friend run business, with each member of our tribe as equal investors into the passion we put into our wines. Every aspect is a curated one, right down to the grapes we pick, the blends we create, the labels we design and the space in which our wines are consumed. Hither & Yon reaches far beyond a bottle on a shelf, it's an experience, a lifestyle and celebration of friends, memories and the good things in life. We hope you enjoy the journey with us by sharing our wine with food & friends, whether you're at hearth & home or hither & yon.
Magpie Springs Wines, SA 1870 Brookman Road, Magpie Springs, Hope Forest, Fleurieu Peninsula, South Australia, 5172
Visitors experience authentic Adelaide Hills rural living at Magpie Springs. A working vineyard with an unusual rustic quality, relaxed and natural. Adelaide Hills Wine Region. We grow all of the fruit for our boutique wine. The vineyard produces premium fruits - Chardonnay, Semmillon, Shiraz, Pinot Noir, Riesling, Merlot and Sauvignon Blanc. Available for tasting/ purchase at the cellar door. Meet the people who grow the grapes to make the wine. Freshly roasted coffee and teas available. The gallery and cellar door a cosy retreat in winter, the garden cooling in summer. See original art at this winery.
Rockyridge Wines, SA 468 Plains Rd, Sellicks Hill SA 5174
Offering an intimate touch and exclusive feel where you can expect to travel to another world of simple delights and an extraordinary wine tasting journey. We hold our wine tasting in our Cellar door and awaiting outside are ocean and vineyard views while you sit back and enjoy a glass or two of Rocky Ridge wine on our private viewing deck.
Sellicks Hill Wines, SA 3737 Main S Rd, Sellicks Hill SA 5174
If you're looking for old-school, rustic, traditional honest wines and outstanding food experiences, then you've come to the right place.
Top Note Vineyard, SA 558 Peters Creek Road, Kuitpo, Fleurieu Peninsula, South Australia, 5201
Just over the hill from McLaren Vale, on a beautiful road winding past Kuitpo Forest, lies Top Note, a premium cool climate Adelaide Hills vineyard. Top Note is the creation of an opera singer and a computer chip designer who decided to pursue a career change by buying a vineyard. The vineyard is a world apart from the vale, sitting at 330 metres elevation. Exposure to cool south-easterlies blowing up off the Southern Ocean keep us up to 10 degrees cooler than our neighbours, allowing us to grow cool climate varieties like Pinot Noir, Chardonnay and our rare Red Semillon as well as producing elegant Shiraz and beautifully structured Cabernet Sauvignon.