Jump to Winery List
Yankalilla Wine District
The Yankalilla Wine District includes wineries near the township of Yankalilla, South West of Sellicks Beach and North West of Victor Harbour. The other townships in the area are Lady Bay, Normanville, Carrickalinga and Terrenes Vale. The historic township of Yankalilla lies in the Bungala River valley, beneath the tree-covered hillsides of the southern Mt Lofty Ranges. Yankalilla is a great place to explore the interesting tree-lined streets and see the historic buildings, the Agricultural Museum, the lovely cottage gardens and the delightful art, craft and antique shops. Some of the local attraction include: # The historic Christ Church # The Old Schoolhouse # Gnomeland # Normanville is a pleasant holiday resort town focused on fishing and boating.

The Southern Fleurieu Wine Region includes five districts : Delamere ; Yankalilla ; Mount Compass ; Myponga ; Victor Harbor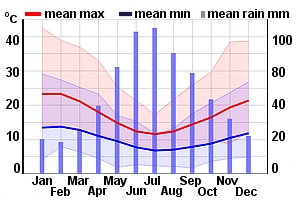 Winery Tour Map
Wineries
Allusion Wines, SA 127 Smith Hill Rd, Yankalilla, SA 5204
Steve and Wendy Taylor purchased the property on which Allusion Wines is established in 1980. Since then four hectares of vines and 35,000 trees have been planetec. Steve Taylor`s 20 years experience as a chef has strongly influenced both the varietal plantings and the wine styles made, which (not altogether surprisingly) are designed to be consumed with good food. The wine is fermented off-site, ...
Brocks View Estate, SA Carrickalinga, Southern Fleurieu Peninsula, South Australia
From wines with a view comes a wine with altitude. This boutique vineyard is situated 270 metres above sea level overlooking the Gulf of St. Vincent. The cool maritime climate, Scott Henry trellis and organic principles allow a long slow even ripening producing low yields and small berries. Peter and Julie Brocksopp have planted a single ha of shiraz at Carrickalinga, with coastal views out over Y...
Carrickalinga creek vineyard, SA LOT 8 Willson Dr Yankalilla SA 5203, LOT 8 Willson Dr, Yankalilla SA 5203
We began Carrickalinga Creek Vineyard in 2001 by planting 2 hectares (5 acres) of shiraz and cabernet cuttings. A hectare (one acre) of chardonnay (G9V7 clone) was planted in 2002. The vineyard is 2 kilometres from the coast with the rows in a north, north-east orientation and sloping down towards the Carrickalinga Creek gorge. We no longer have a cellar door but ours wines are available - please contact us.
Lady Bay Vineyard, SA Willis Drive, Lady Bay SA 5204
Lady Bay is 70 kilometres south of Adelaide on the coast of the scenic Southern Fleurieu Peninsula. The vineyard is just 500 metres from the waters of Gulf St.Vincent and sheltered by Great Gorge, part of the Southern Mt. Lofty Range. This protection and coastal influence creates an ideal microclimate of cool days and warm nights, encouraging early ripening of fruit. Elevation of between 89-101 me...