Jump to Winery List
Victor Harbor Wine District
The Victor Harbour Wine District includes wineries in the vicinity of Victor Harbor on the southern coast of Southern Fleurieu Region. The other towns in the district include: Victor Harbor, Encounter Bay, Maccracken, Hayborough and Port Elliot. The beautiful township of Victor Harbor has long been a popular holiday destination on the Fleurieu Peninsula, about 80 km south of Adelaide. It features a wonderful coastline with panoramic views of the rugged granite cliffs, great beaches and wonderful boating and fishing. In winter vistors can see the famous Southern Right Whales basking in Encounter Bay, close to the shore line. Visitors can enjoy the renowned Victor Harbor Farmers Market, held in the Grosvenor Gardens, that showcases regional produce from the Fleurieu Peninsula. There are over 33 fascinating stalls with delicious local produce including seasonal fruit, gourmet pies, home-made jams, dips and chutneys, fresh local fish and other seafood, organic vegetables, the regions honey, fresh flowers, mushrooms, and of course a range of fabulous Fleurieu Regional wines.

The Southern Fleurieu Wine Region includes five districts : Delamere ; Yankalilla ; Mount Compass ; Myponga ; Victor Harbor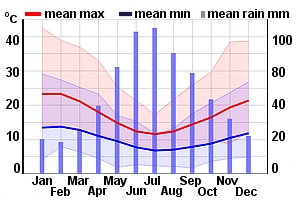 Winery Tour Map
Wineries
Mount Billy Wines, SA 18 Victoria St, Victor Harbor SA 5211
We are producing hand made `henchmark` ultra premium wines from some of South Australia`s premium viticultural regions. We aim to produce 500 dozen of each wine. Our red wines are deliberately Rhonish in style showing developed secondary, savoury flavours along with primary fruit characters. The wine flavours and aromatics are maximised by not fining or filtering our rose and red wines. Our style ...
Victor Harbor Winery, SA Crn Adelaide and Mont Rosa Rd, Hindmarsh Valley SA 5211
Victor Harbor`s first winery was established in 1991 by Adrienne and Neville Scott in the picturesque Southern Fleurieu Peninsula Hills behind Victor Harbor. This Family Boutique Winery specialises in producing from their estate vineyards, a range of premium cool climate red, white and fortified wines unique to Victor Harbor. Planting of a 4 hectare (10 acre) Vineyard to serve the Winery commenced...
Corduroy Wines, SA 15 Bridge Terrace, Victor Harbor SA 5211
Our mission is simple. We make wines in the pursuit of balance and harmony between nature and winemaker. Our aim is to create wines with character, complexity and longevity, wines that evolve as you enjoy them with friends. We hope you enjoy what we love to do. The evolution of Corduroy Wines has always been Phil LeMessurier's so-called love child. Starting Corduroy in 2009 as a small side project, it has now developed into a boutique and respected wine brand producing wines out of his beloved Adelaide Hills, SA. Phil expresses his dream and art through the range of wines he has handcrafted for Corduroy. He brings balance, thoughtfulness and a deep and committed mastery to his wines.