Jump to Winery List
Broke Wine District
The Broke Wine District is located in the famous Broke Fordwich Sub-Region of the Hunter Valley Wine Zone and is centred on the town of Broke on Broke Road south west of the Singleton Military area on the shores of Wollombi Brook, which is a tributary of the Hunter River that flows through the Region. The other villages in the area are Mt Thorley, Milbrodale, Paynes Crossing, Fordwich, Branxton, Howes Valley, Pokolbin and Cessnock. Renowned as the relaxed and tranquil, and less commercial part of The Hunter Region, the Broke Fordwich Region became an official wine sub-region in 1994. The warm climate with mild winters and few frosts, and fertile soils create a unique terroir and produce distinctive wines – Chardonnay, Semillon, Shiraz and Verdelho, including recent plantings of Italian varieties such as Barbera, Sangiovese and Dolcetto. The Broke district is also home to other agricultural products such as olives, dairies, orange orchards and market gardens, and there and many food stall and local cafes and restaurants that feature local produce. There are many local attractions and activities in the area including: # Hiring a bike for a unique way to tour the vineyards # Bushwalking in the Yengo National Park and other nature reserves in the area. # Enjoy the Broke Village Fair in September and the Garden Ramble in October # The Spirit of the Vine Festival held in October # Folk in Broke event held in November. # Visiting the many local villages such as Wollombi and Milbrodale with fabulous Aboriginal rock paintings # Hot-air balloon rides over the vineyards at dawn.

The Broke Fordwich Region is home to 4 districts: Bulga ; Broke ; Paynes Crossing ; Fordwich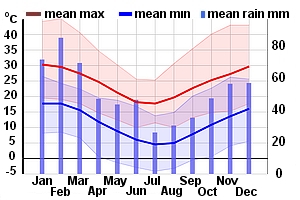 Winery Tour Map
Wineries
1813, NSW 1273 Milbrodale Road, Broke NSW 2330
Located on Tinonee Vineyard Estate in the tranquil Broke Fordwich region of the Hunter Valley, our boutique cellar door offers a select variety of estate grown, single vineyard, limited release 1813 wines. Relax and enjoy our unique wines in our air-conditioned cellar door during the warmer months and fireside in the adjoining atrium during the cooler months, whilst admiring the picturesque scenery and spectacular sandstone formation known as Yellow Rock. Our cellar door is available for corporate events and more intimate private functions.
Barefoot at Broke, NSW 596 Milbrodale Road, Broke 2330
Set on 23 acres surrounds, Barefoot at Broke offers guests some spectacular views of the pond, mountain ranges and neighbouring vineyards to completely unwind, relax and rejuvenate whilst exploring the tranquil Hunter Valley. Barefoot is set on a private acreage cradled by the Yengo mountain range with a commanding position overlooking the Broke/Fordwich wine region and provides guests with complete serenity and tranquility to relax in the countryside. Barefoot can be enjoyed all year round, relax by the fireplace in the cooler months and reverse cycle air-conditioning for all year round comfort. Without leaving the property, you can find your favourite picnic spots overlooking the pond with views of the neighbouring vineyards and Brokenback mountain ranges beyond with lots of wildlife including kangaroos, wombats and native birds.
Broke`s Promise, NSW 725 Milbrodale Rd, Broke NSW 2330
Jane Marquard and Dennis Karp (and their young children) have established Broke`s Promise as a small family owned vineyard and olive grove, nestled between the foothills of the Yengo National Park and the banks of the Wollombi Brook with an amazing view of the Brokenback Range and Yellow Rock. The 8 acre vineyard is made up of plantings of Chardonnay and Barbera. The Chardonnay was planted in 1994...
Brush Box, NSW 40 Rodd Street, Broke NSW 2101
Beginning in 1997 Paul and Suzanne Mackay established their 6.5-hectare Brushbox Vineyard at Broke. It is situated in a secluded part of the Fordwich Hills, with views across the Wollombi Valley to the northern perimeter of Yengo National Park. It is planted to Chardonnay, Verdelho, Cabernet sauvignon and Merlot and so far sold by mail order only.BRUSH BOX is part of the recently formed Private Ir...
Echo Hill Wines, NSW 20 Adams Peak Rd, Broke NSW 2330
Echo hill vineyard is a gorgeous 100 acre property nestled at the base of Yengo National Park Mountain Range in the Hunter Valley of New South Wales, Australia. At present approximately 10 acres are under cultivation producing 500 cases of Premium Shiraz & 500 cases of Premium Chardonnay annually.
Glenguin Wine, NSW River Oaks Vineyard, Lot 8 Milbrodale Road, Broke NSW 2330
Glenguin is the Tedder family wine label and is named after the Scottish Whisky distillery where ancestor William was born (later becoming Deputy Supreme Allied Commander in WWII and the Baron of Glenguin). Arthur`s grandson, Robin is one of Australia`s twelve qualified Masters of Wine and the proprietor/vigneron of Glenguin. Glenguin began in the early 1990s with the purchase of the established O...
Greenway Wines, NSW 350 Wollombi Road, Broke NSW, Australia
GREENWAY Wines are a small family owned and operated boutique vineyard, found, nestled against Wollombi Brook near Broke in the Hunter Valley Wines at GREENWAY are made from 100% estate grown single vineyard fruit, nurtured using sustainable farming practices. Passionate and dedicated to the making of our great wine, we only bottle when the vintage is at its best, producing limited releases, approximately 500 cases in any given year. You won't find our wines in bottle shops or restaurants - so GREENWAY is definitely worth the adventure into the vineyards of the Hunter Valley! Include us in your 'must see list' as we invite you to taste and enjoy the fruits of our vines. At Greenway we believe in leaving nothing to chance. It is why we think wine making begins long before the fruit leaves the vine, and it is why our people, this place and our passion cannot be recreated. So here we stand with a real sense of place.
Lavender Ridge, NSW 681 Milbrodale Rd, Broke NSW 2330
Lavender Ridge is a small family-run vineyard that offers spacious and modern accommodation with a true country feel. The 100-acre property is nestled at the foot of the Brokenback Mountains. Enjoy a weekend away in unique surroundings with stunning views and incredible sunsets over the local vineyards and magnificent Brokenback Ranges. They also offer our award winning wines for tasting and purch...
Margan Winery & Restaurant, NSW 1238 Milbrodale Road, Broke Australia
Margan wines are all estate grown and estate made in the Broke Fordwich region of the Hunter Valley. The business was established in 1996 and is owned and operated by Lisa and Andrew Margan who are proud to have over 100 hectares of quality vineyards, a state of the art winery and striking cellar door and Margan restaurant as part of their onsite wine tourism operations. The beautiful rammed earth Restaurant and Tasting room provide the ideal setting for a unique food and wine experience. The Barrel Room is much sought after for weddings, events and ceremonies looking for that all important WOW factor.
Mount Broke Wines, NSW 130 Adams Peak Rd Broke NSW 2330
Established in 1997 Mount Broke Wines has defined Shiraz quality in the Broke Fordwich/Hunter Valley Region across the last decade. Centrally located 20 minutes from Wollombi, Singleton and Pokolbin. Our low yielding single origin vineyard operates with a focus on producing small batches of premium wines. The range also includes fine examples of Semillon, Verdelho, Chardonnay and Barbera. Take in the beautiful outlook of the Brokenback Range whilst enjoying one of our delicious menu options for lunch at our Mount Broke Restaurant.
Mount Eyre, NSW 1325 Broke Rd, Broke NSW 2330
Mount Eyre Vineyards combines a European family tradition of winemaking, a generation of experience in Australian viticulture, as well as one of the most dynamic winemakers in the world. From their roots in the tiny towns of Alestena, in the Peleponese, Greece, and Vallo della Lucania, Italy, the Tsironis and Iannuzzi families have an unbroken involvement in wine extending back centuries, tilling ...
Nightingale Wines, NSW 1239 Milbrodale Road, Broke NSW 2330
Enjoy the relaxed ambience of wine country at one of the Hunter Valley`s prettiest vineyards. Your wine experience will be enhanced by the surrounds of our beautifully manicured vineyard and the magnificent valley vista. On entering the Tasting House you will be greeted by a member of the Nightingale family or one of our friendly staff. In a relaxed atmosphere, the boutique wines can be sampled. P...
Running Horse Wines, NSW 1133 Milbrodale Road, Broke 2330
We will take you on an adventurous ride and unprecedented tasting experience. Running Horse Wines embrace unique viticulture methods based on allowing the land and the vines to form a partnership based on their natural capabilities. Intercession with the process is based on constant care with minimum interference in the growing process. This approach produces quality wines with unique characteristics that are special to the region in which they are grown.Running Horse produces an exceptional range of classic aged wines, which include; Semillon, Verdelho, Rose, and Shiraz. Our architecturally designed cellar door is a sight to behold. Six unique shipping containers elevate the cellar door above the vineyard allowing visitors spectacular views of Yellow Rock, the vineyard and stables. It truly is a great place to sit and enjoy some fantastic wines.
Vinden Estate Wines, NSW 138 Gillards Road, Pokolbin 2320
We hand-craft our wines (literally not figuratively) on-site at our Hunter Valley vineyard and winery from hand-picked grapes using the traditional methods of open fermentation, hand plunging and basket pressing, as well as incorporating the best of modern wine making techniques. In 1990, Guy and Sandra Vinden purchased 25 acres of land on Gillards Road, Pokolbin, in the Hunter Valley wine making region. Soil tests determined that the rich, heavy red clay Hunter Valley soil was ideal for the production of red grapes. We conducted numerous soil preparation processes for our Pokolbin vineyard including deep ripping, adding gypsum to break up the clay and planting cover cops to balance the soil naturally. We planted the vineyard trestles and tended the vines for three years before our first harvest in 1998.
Whispering Brook, NSW 165 Hill St, Broke NSW 2330
Whispering Brook is set on a rare strip of terra rossa soil - a key ingredient behind our boutique wine brand established in the prestigious Hunter Valley, Australia. Whispering Brook is located amongst the natural beauty of the Broke area, and is a boutique, family owned winemaking business developed by Susan Frazier and Adam Bell to turn a passion into reality - making premium wines. Red wines a...