Jump to Winery List
Fordwich Wine District
The Fordwich Wine District occupies the North-Western section of the Broke Fordwich Sub-Region of the Hunter Valley Wine Zone and is centred on the rural centre of Fordwich on the tranquil waters of Wollombi Brook. Fordwich is located on F ordwich Road that branches off the Broke Mount Thorley Road. The vineyards are surrounded by forest and natural reserve areas and is very popular for bushwalking, mountain biking, camping, 4WD adventures and ecotours. Fordwich is about 6 km north-west of Broke. There is a range of charming accommodation in the district which provide a great base to stay while exploring the wonderful wineries in The Broke Fordwich Region.

The Broke Fordwich Region is home to 4 districts: Bulga ; Broke ; Paynes Crossing ; Fordwich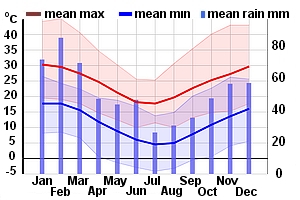 Winery Tour Map
Wineries
Ascella Organic Wine, NSW 203 Thompsons Road, Milbrodale NSW, Australia
Ascella Organic Wine is the largest certified organic vineyard in the Hunter Valley. Ascella has a full line of award winning wines and offers unique accommodation in a pristine environment surrounded by National Parks.
Caprera Grove Vineyard, NSW 657 Milbrodale Rd, Fordwich NSW 2330
Bindy and Chris Elsmore established Elsmore's Caprera Grove vineyard in 1995. "We found some very empty paddocks with excellent, sandy loam soil on the banks of the Wollombi Brook. We planted the stock, laid the irrigation and trained the vines, assisted by our sons Peri and Bart". Ten acres of grapes have been planted - six acres of chardonnay, two acres of shiraz and two acres of verdelho. These produce limited quantities of premium wines - Chardonnay, Shiraz, Verdelho, "Peregrinus" Methode Champenoise and "Bartolomeo" Botrytis Dessert Wine. Bindy and Chris continually strive for the highest quality grapes and use natural products and processes wherever practical. They carry out all viticulture themselves.
Catherine Vale Wines, NSW 656 Milbrodale Road, Fordwich NSW 2330
The Lawson Family welcome you to Catherine Vale Vineyard located between Broke and Bulga in the Broke Fordwich wine growing sub-region of the Hunter Valley. Producing from Semillon, Chardonnay and Verdelho. The Northern Italian Varieties from the Piedmont region are a special feature of the property with Arneis*, Barbara and Dolcetto* being produced (*Catherine Vale is the only producer of these 2 varieties in the Hunter Valley). 4 star in the 2017 James Halliday Wine Companion
Talits Estate Vineyard, NSW 722 Milbrodale Rd, Fordwich NSW 2330
Talits Estate is a family-owned vineyard and luxury holiday home in the Broke Fordwich winemaking region of the Hunter Valley. The estate sits on 50 acres of beautifully crafted gardens, olive trees and meticulously managed and award-winning Merlot and Shiraz vines. The vineyard is James Halliday rated and has won multiple awards in boutique and Australian/NZ wine shows.