Jump to Winery List
Bulga Wine District
The Bulga Wine District is located in the renowned Broke Fordwich Region in the Hunter Valley is centred on the small village of Bulga on The Putty Road on the northern side of the Wollombi Brook, which is a tributary of the Hunter River. Wollombi Brook flows through the Broke Fordwich Region in the foothills of the Brokenback Range. The other villages in the area are Mt Thorley, Milbrodale, Branxton, Pokolbin and Cessnock. There are many places to stay at these villages including beautiful bed and breakfasts, cottages, winery cottages, hotels and motels. There are many vineyards, wineries and cellar doors throughout this district.

The Broke Fordwich Region is home to 4 districts: Bulga ; Broke ; Paynes Crossing ; Fordwich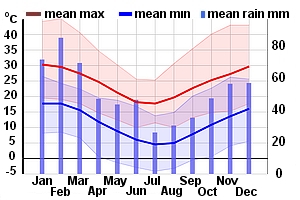 Winery Tour Map
Wineries
Bacchus Estate, NSW 381 Milbrodale Road, Broke NSW 2330
A little over 10 hectares of vineyard have been established, with a further 12 hectares to be planted in the near future. As the new plantings mature, production will increase significantly. Product Range: Chardonnay, Unwooded Chardonnay, Shiraz.. Opening hours: By appointment....
Beaumont Estate, NSW 155 Milbrodal Road, Broke, NSW 2330
The estate vineyards were planted in September 1999 on the river flats of Parson Creek, nestled between the Yengo and Wollomi National Parks. The soils were enhanced with organic preparations, including New Soil and Sweetpit from Boral and a Nutratherm microbial solution. After 17 months the 2.2 hectares of semillon and 1.3 hectares of merlot produced a substantial crop, the vine growth, so it is ...
Elysium Vineyard, NSW 393 Milbrodale Rd, Broke NSW 2325
Elysium, a Verdelho specialist, was once part of a much larger vineyard established by John Tulloch. John Tulloch (not part of the Tulloch operation owned by Southcorp) continues to look after the viticulture, with the 1 hectare of verdelho being vinified at Tyrrell`s. Elysium Limited Release Verdelho is a consistent medal-winner, including Gold for the 1999 vintage. Accommodation is available at ...
Louis-Laval, NSW 160 Cobcroft Road, Broke NSW 2330
This winery and Vineyard was part of the Old Saxonvale Winery and Vineyard. The winery has developed as part of planting a nursery and developing an organic vineyard and then setting up a small winery to make wine. The name Louis-Laval is the owner`s late mothers maiden name, as she herself helped plant the vines in the late eighties. Wine is available by appointment at the winery or at the Small ...
Mabrook Estate, NSW 258 Inlet Road, Bulga NSW 2330
The Swiss-born Kalt family began the establishment of Mabrook Estate in 1996, planting three hectares of semillon, two hectares of shiraz and one hectare of verdelho. Parents Mona and Tony Kalt decided to use organic growing methods from the word go, and the vineyard is now certified organic by NASAA (National Association Sustainable Agriculture Australia). Daughter Larissa, having obtained an Hon...