Jump to Winery List
Collector Wine District
The Collector Wine District includes grazing towns centred on the historic township of Collector on the Federal highway between Canberra and Goulburn, just north of Lake George which has several wineries on its western shores and wind farms to the east. The Federal Highway now by-passes the town, but visitors should take to time to visit this delightful including historic Bushranger Hotel and the many memorabilia linked with the bushranger Ben Hall and his gang that frequented the town. The Bushranger Hotel is the last of five hotels that once dominated the streetscape. It was built in 1860 and it is famous for the event that occurred on 26 January 1865, when Ben Hall and his bushranger gang bailed up the publican. In a subsequent gun fight John Dunn, a member of gang shot the local constable, he was later caught and hanged on 19 March 1866 at Darlinghurst Gaol. The name of the pub was changed to the 'Bushranger' in memory of the event and the pub has a wonderful collection of memorabilia of the bushranger years including some historic guns.

The Southern Tablelands Wine Region is home to 5 districts: Araluen ; Braidwood ; Crookwell ; Goulburn ; Collector.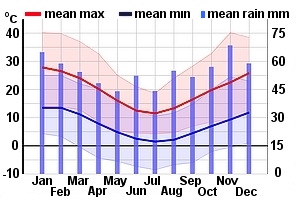 Winery Tour Map
Wineries
Collector Wines, NSW 7 Murray St, Collector NSW 2581
Collector Wines produces small quantities of table wine. Grapes are farmed on the characteristic lean pink granites and reddish shale loams of the Canberra District. The wines are hand-made for balance, character and depth of flavour. Our wine is made near Collector, on the Southern Tablelands of New South Wales.