Jump to Winery List
Goulburn Wine District
The Goulburn Wine District includes the sheep grazing areas surrounding the Historic township of Goulburn which is renowned as Australia's first inland city, located about 200km south of Sydney and about 80 km north of Canberra. The Goulburn district is part of the Southern Tablelands Region and lies between the Canberra Region to the south and the Southern Highlands Region to the north-east. Goulburn has some magnificent heritage-listed buildings, churches and cathedrals and has an enthusiastic rural community and is a well developed centre for the performing arts and features many live entertainment events. The many local attractions and activities include: # National Festival of Australian Blues Music in held in February each year # Motor sports at the Wakefield Park racing circuit # Tours of the Old Goulburn Brewery, which has been in operation since 1840. # The Rail Heritage Centre located at the old Roundhouse. # The Goulburn Rotary Swapmeet held in autumn. # The Big Merino, which is one of Australia's famous 'big things' that showcases Goulburn's wool industry. # The intriguing arts and crafts at the District Arts and Craft Centre # Displays of Old steam engines at the Waterworks Museum on the Wollondilly River.

The Southern Tablelands Wine Region is home to 5 districts: Araluen ; Braidwood ; Crookwell ; Goulburn ; Collector.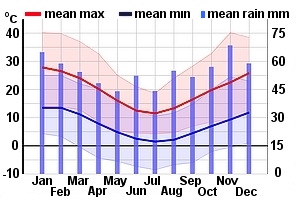 Winery Tour Map
Wineries
Black Marble Wines, NSW 3219 Windellama Rd, Windellama NSW 2580
Tony Cole and Sally Heycox established Black Marble Wines at their historic Hillcrest property in 2001. Despite battling frost and dry summers, the boutique winery thrived and five years later Hillcrest produced its first commercial riesling, with a viognier coming to market two years later.
Bungonia Creek Wines, NSW 1367 Jerrara Rd, Bungonia NSW 2580
We are a small farm practising regenerative agricultural practices. We manage our pastures using Holistic Management. We grow a garlic crop interspersed with cover cropping. Our market garden uses NO DIG for soil beds and we also use Aquaponics, Wicking Beds and Hugel Kulture. We produce nutrient dense food for our own consulption and sell our surplus. We run a series of monthly courses teaching people how to use NO DIG for themselves. We also have a small boutique vineyard producing quality Cabernet Sauvignon (and other varieties) located in the Merino Country District (between Canberra and the Southern highlands). Our wines include Cabernet Sauvignon, Shiraz, Merlot, Rose, Sauvignon Blanc and Riesling. The vineyard was planted in 1995 and we have owned it since 2009. We have recently opened a rustic cellar door which is open every Sunday or by appointment at other times.
Kingsdale Wines, NSW 745 Crookwell Rd, Goulburn NSW 2580
Kingsdale wines is a boutique award-winning winery, vineyard and cellard door located on the Crookwell road only 7 minutes from Goulburn. From only seven acres we make a range of wines which have gained numerous awards and which are very popular in the local restaurants and with our customers. We have three red varieties – Shiraz, Merlot and Malbec, and three white varieties – Semillon, Chardonnay and Sauvignon Blanc. These wines all develop their own flavours at Kingsdale due to our unique terroir.
Wollumbi Estate, NSW 152 Wollumbi Rd, Marulan NSW 2579
Wollumbi - set within the beautiful southern highlands of New South Wales and only an hour and a half south of Sydney and an hour and a half north of Canberra, lies the spectacular private rural estate, Wollumbi. Land holdings of this size close to the two major cities in Australia are rare. Value is added to Wollumbi as a long term investment as it comprises multiple titles allowing for future subdivision or the addition of further accommodation to be constructed on individual lots if required. Wollumbi is one of the largest private holdings within easy access to the international and domestic airports in Sydney, offering more than 1950 acres or 800 hectares of commercial vineyard, award-winning olive oils, and beautiful grazing land ideal for cattle or thoroughbred horses.
Yarralaw Springs Wines, NSW 133 Muffets Rd, Quialigo NSW 2580
The unique Strawbale Winery provides a rustic and organic venue for the cellar door complementing the sustainable practices employed on the vineyard and farm generally. The main varieties include the classics - Cabernet Sauvignon, Chardonnay, Riesling, Pinot Noir, Merlot and Chenin Blanc. The winery could best be described as micro-boutique, with varietal runs from as few as 100 bottles to 1000 bottles. Great care is taken in producing the highest quality wines from the sustainably grown grapes. Tasting and cellar door sales are open the 1st, 2nd and 3rd Sunday of every month - 11 - 4pm. Changes do occur - please check our home page info column "What's Happening"... Also by appointment, just give us a call and we'll accommodate you if we can...