Jump to Winery List
Araluen Wine District
The Araluen Wine District includes the area south of Braidwood in the headwaters of the Moruya River. The District is surrounded by some spectacular pristine bush and National Parks that are ideal for bushwalking, camping, ecotours and 4WD adventures. The area has a remarkable heritage linked to goldmining, and you can still get specks of gold by panning in the local rivers and streams. The villages of Majors Creek, Araluen and Mongarlowe each have their own set of stories about the past and many myth and legends which you can discover at the local pubs. The district is close to Braidwood and you can take the track down the escarpment to Moruya.

The Southern Tablelands Wine Region is home to 5 districts: Araluen ; Braidwood ; Crookwell ; Goulburn ; Collector.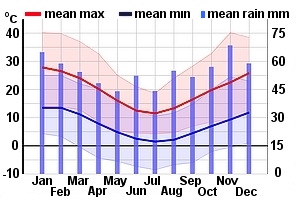 Winery Tour Map
Wineries
Sully's, NSW 92 Sawyers Ridge Rd, Reidsdale NSW 2622
At Sully's Cider we pride ourselves as being a bastion against the sugary, industrialised drink that has flooded the market posing as cider. Our cider is made using genuinel cider apple varieties using traditional techniques. As with wine our cider is made on a vintage using either a single variety or a blend of cider apple varieties. The result is a diversity of styles and flavours that change from season to season, batch to batch. Sometimes chewy and tannic, sometimes smooth and woody. They can be sweet and fruity or mouth puckering dry. The one thing we can pledge is that our cider will never be ordinary! Sully's ciders can be sampled and purchased at the Old Cheese Factory, Reidsdale on Sundays from 11am to 4pm. Or by appointment.