Jump to Winery List
Moffatdale & Murgon District, Darling Downs
This district has a number of wineries and cellar doors in the foothills of the nearby ranges. Moffatdale is located within the local government area of South Burnett, about 160 km from Brisbane. The main grape varieties planted in the area are: The region's main wine styles include Verdelho, Chardonnay, Semillon, Shiraz, Cabernet Sauvignon and Merlot. There are a wide range of attractions and recreational activities for visitors to the area.

The South Burnett Wine Region includes five districts : Bunya Mountains ; Goomeri ; Kingaroy ; Moffatdale & Murgon ; Nanango .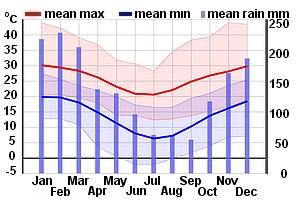 Winery Tour Map
Wineries
Barambah Wines, QLD 79 Goshnicks Road, off Redgate Road, Moffatdale, Qld 4605
Barambah produces hand-crafted wines from world class pastoral land in the South Burnett, Queensland. In 1861, Queensland's first Governor, Sir George Bowen, when he visited the South Burnett declared that it was 'the greatest pastoral district of the whole colony'. Barambah in the South Burnett has, for generations, exemplified first class produce – its future is first class wine… pure quality, pure Queensland. In order to produce 'wine without compromise' we have sourced the best winemaking products and put together the best possible team of professionals.
Bridgeman Down Cellars, QLD 59 Waterview Drive, Moffatdale via Murgon Qld 4605
Bridgeman Downs Cellars is located 14 km south-east of Murgon. The property overlooks Lake Barambah and the Bjelke-Petersen Dam and its vineyards were established by the Brydges family in 1996. Bridgeman Downs is a charming boutique vineyard with a colonial-styled homestead and cellar door, acres of rolling lawns and gardens complete with an antique barn and matching stables. The principal grape varieties grown on the property are shiraz, cabernet sauvignon, merlot, chardonnay and verdelho. Grapes grown on the Bridgeman Downs estate are routinely purchased and blended with other South Burnett grapes by local winemakers to produce specially crafted, high quality blends. And the estate's own branded wines have won many awards at the prestigious Queensland Wine Awards; the Australian Small Winemakers Show and from leading Australian wine magazine Winestate. You can visit Bridgeman Downs' cellar door from 10:00am to 4:00pm
Clovely Estate, QLD Steinhardts Road, Moffatdale QLD 4605
Clovely Estate's roots are in the South Burnett and our heart is in bringing people closer through outstanding artisan wine and food. Our vineyards and olive groves are on land that has been in the family for more than a century. This is a place where we love to be and where our enthusiastic small team come together to plant, to grow, to nurture, to imagine, to harvest, to press, to bottle... and always to create something that captures the unique flavour of our region. Over the past two decades our vineyards have matured to take advantage of their perfect terroir and our artisan approach has resulted in some of Queensland's most-awarded wines. We celebrate the region and the best of local fare in everything we do. We cultivate a sense of community and village. We unite with other producers and partners to promote the joy of unique local fare produced with passion.
Dusty Hill Wines, QLD 80 Waterview Dr, Moffatdale QLD 4605
In keeping with our philosophy that wines must have a sense of place. All grapes are grown on our vineyard and made on site by our resident winemaker. The tasting bar forms centre stage where guests can discover our extensive range of wines, guided safely by our winemaker or knowledgable team. Delve deeper into our wines with the Discovery Tasting and uncover wines from an ever evolving list of alternative varieties and unique styles that are not usually available for tasting.
Moffatdale Ridge , QLD 681 Barambah Road, Moffatdale Qld 4605
Moffatdale Ridge Wines is located 10 km south-east of Murgon on the Murgon-Barambah road. The 260-acre property is owned by Jason and Sue Kinsella and it was originally selected by Sue's grandfather in 1909. Its vineyards were established in 1996. Moffatdale Ridge grow verdelho, semillion, cabernet, shiraz and merlot grapes in their 12 acre vineyards, along with experimental plantings of albarino and sangiovese which have yet to bear fruit. They also produce shiraz, cabernet-sauvignon and a semillion chardonnay from their grapes along with a botrytis semillon; a rose; strawberry and melon liquers; and white and dark ports. Their wines have won a number of awards in recent years including the Australian Small Winemakers Show and the Queensland Wine Awards.
Nuova Scuola, QLD 167 Tipperary Rd, Redgate QLD 4605
At Nuova Scuola we believe it is time to throw aside tradition and let go of the over thrashed varieties that fill the rows of bottle shops everywhere. Its time to embrace a new way of thinking about wine! We think it is about time more of us get our lips around some locally grown versions of a few of the fantastic old world varieties that the rest of the world has been clued into since ancient times but we have forgotten! We have taken the plunge in the beautiful South Burnett in Queensland and we are starting to make our own wines based on this philosophy. We began with small parcels of Barbera, Nebbiolo and Sangiovese, and have since added Tempranillo and Viognier, not only because they are filled with amazing flavours and textures, but also because they are so much better suited to our emerging regions and grow so fantastically in our new world climates. This means less additives, less sprays and more fantastic wine!
Tipperary Estate, QLD 167 Tipperary Road, Moffatdale, QLD 4605
Tipperary Estate offers wine tasting in its well appointed tasting room and dining in its Vintner`s Restaurant which offers stunning vineyard and panoramic views. The estate`s Tipperary Cottage B & B offers couples and young families a quiet country experience with the bonus of the breathtaking views of the Barambah Valley, all within only a few minutes of some of Queensland`s most popular winerie...